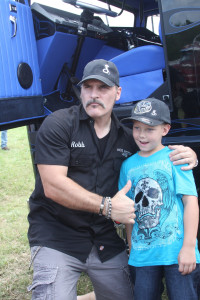 It's no surprise to find big rig drivers at motorcycle events; plenty of truckers ride bikes. Maybe that's why Brad Wike's Southern Classic Truck Show in Lincolnton, NC, was such a comfortable and interesting place to hang out on a late summer's day. For its 13th annual running yesterday, an eclectic mix of vehicles turned out, including restored and unrestored examples, trucks with film credits, even hot rods and one-offs.
I admit it: I know next to nothing about the world of trucks, so the logical thing to do was talk with a big rig expert. Lucky for me Rob Mariani, host for two seasons of "American Trucker" on Speed Channel, was there. Rob was meeting fans, signing autographs and showing off "Low Patrol," his restored rig he calls the working man's hot rod. Rob's flat out passion and enthusiasm for trucks and truck people is contagious. But in addition to that, in a few minutes of conversation he made several excellent points about the importance of over-road trucking in America.
First, let's give trucks and truckers their due: so much of what we all take for granted, from the food we eat to the cars we drive, gets to us on trucks. They're moving stuff all over the country, every day and night, bringing commodities of all kinds to market for us. As Rob says, "Trucks move America!"
And trucking is a noble profession that includes not only drivers but dispatchers, manufacturers, parts suppliers, repair technicians, restoration experts, metal fabricators and more. Like motorcycling, it's an entire industry!
That said, the nuances of brand were pretty much lost on me during Brad's show but there was plenty to look at and great people to talk with. So enjoy these images and watch for next year's event. With any luck, Evel Knievel's Mack rig "Big Red" will be totally restored by then and open for touring at Brad's Southern Classic Truck Show 2015.