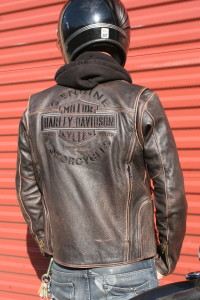 Story by Jeremy Bryan
Photos by Vincent Stemp
When looking for a riding jacket, you're not just looking for a jacket. You're looking for something functional and safe, but also something stylish that really embodies the spirit of the road. Harley-Davidson's Roadway jacket offers both useable protection for today's hectic streets and an unmistakably cool look. At first glance, the Roadway looks like an attractive accessory with stylishly distressed brown leather and a large Harley Davidson logo embroidered across the chest and back. Take a ride with this handsome hide though, and you'll find a plethora of well placed, rider friendly additions that can improve most anyone's ride.
My first experience with the Roadway had me not wanting to take it off. It's just one of those pieces of clothing that just fits, owed largely to the suppleness of it's thick but pre-worn-in leather. There is none of the typical strain in the behind-the-shoulder areas, even when reaching for taller handlebars, and the sleeve and waistlines are neither too long nor too short. I didn't try it with shoulder and elbow padding, but there are pockets to accept both if you feel the need. The inside is lined only with mesh, freeing it from a lot of bulk and weight and keeping it useful at a moderate to warm temperature range, perfect for spring and early summer or fall for riders in luckier climbs. It certainly did well in North Carolina's 40-60 degree March weather. Zippered vents on the front, back, shoulders, and even a double-zippered wrist vent mean this jacket can handle hotter temperatures too – if you're avoiding red lights.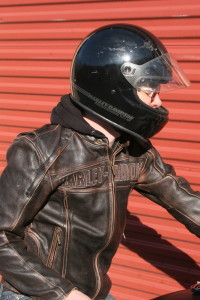 The three inner and two outer pockets on the jacket are easy to reach and don't have you fumbling around, which is as useful in daily life as it is on two wheels. So is the zippered media pocket, located on the inside right. With an outlet for headphones, pens and the like, as well as an accompanying Velcro strap to secure your headphone wire, the media pocket is goes a long way towards shortening those long commutes.
A true balance between attractive and functional, the Harley Roadway makes use of modern features while looking timelessly cool. Most riding gear asks for a compromise in one direction or the other, so save yourself the trouble the next time you go looking for a good three season jacket for road and street wear.
Check it out along with other jackets H-D has to offer HERE!