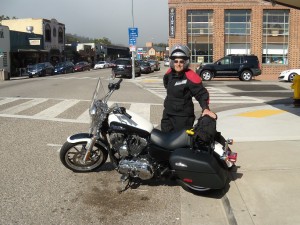 The media depot where I am to pick up my test bike is in an anonymous warehouse in Los Angeles. The cab showed up early, amazingly, and I knock on the door at ten minutes before the announced opening time of eight am. It's going to be a hot day, and I want to get started early. The efficient depot staff are there, and a half hour later I have a white and black Superlow 1200T Sportster loaded with my gear and swinging out onto the road.
When Harley-Davidson invented the Sportster, back in 1957, the Company thought of it as a junior Big Twin, something to go touring on, or ride to work. The California dealers had a different idea- they saw the Sportster as a sport machine, a platform for stoplight to stoplight racers, off road competition enthusiasts and nitro breathing dragsters. Harley, with some misgivings, went along with the dealers, and never regretted it. For years, most people bought Sportsters for speed.
About twenty years ago, the number of women who ride their own bikes started increasing exponentially. Harley noticed this trend– one of the reasons Harley-Davidson is still in business is that management is focused on keeping up with what the buying public wants – and started revamping the Sportster into a user-friendly ride for a short person. The idea worked, and now Harley has taken the idea one step further – backwards into the past. The Superlow 1200T, introduced in the winter of 2014, is intended, just like the original Sportster, as a junior Big Twin, a touring machine for people between 5′ 1" and 5′ 7. As I fall squarely into this segment of the motorcycling public with my five foot five frame, I am an ideal person to test a Superlow, and Editor Marilyn Stemp agreed.
So here I am, going for a ride up the California Coast. Tough work, but someone has to do it.
There is really no quick way out of Los Angeles, especially at rush hour on weekdays, so I resign myself to Interstate 405. Trying to look at the bright side, I am learning all about the gearing, the clutch and the brakes. The Superlow, like most Harleys, has a very wide powerband, so you pick a gear based on other considerations – such as vibration. Historically, Harleys vibrate. This modern Sportster still vibrates, but only at certain RPM ranges, which would be easier to figure out if this bike had an analog tachometer. There is a digital tach, but it is hard to read when the bike is moving. Despite the hard to see tachometer, by the time I finally escape LA, I have figured out how to avoid the vibration band in most gears. The buzz starts around 3100 and stops around 3450 or so, depending on road conditions.
The clutch is smooth, and the lever fits my hands, but the pull is a little heavy. The brakes, especially the front brake, respond best to a light touch- grabbing the lever results in the brakes grabbing back. When traffic comes to a dead stop, my feet are not only firmly on the ground, but my knees are bent.
Trust me, tippy-toeing around straddling a heavy motorcycle is not fun. I have done it too many times. My short female friends have tipped over more than occasionally. It is really reassuring to have feet firmly planted, especially on gravel or in the rain.
With Interstate 405 a bad memory, I ride North and West out to the coast on Highway 118, which starts as generic Southern California freeway, but soon becomes a pleasant two laner through fields, lemon orchards and a palm tree farm. 118 merges with 101 North, and the scenery turns spectacular, with sky and sea on the left hand and rocky cliffs to the right. Sporty has a fair amount of inertia, and needs to be muscled into turns, but tracks well through them. Like everything else in life, the low seat height is a tradeoff, and longer rear shocks might help the handling at the expense of raising the seat. The low profile radial tires help with the handling. You don't need to keep the rpm's up- Sporty will pull from almost zero revs. Torque is 70.9 foot pounds @ 3500 rpm.
After a good lunch at a scenic roadside deli, I settle back in the saddle. The sun climbs in the sky, the road turns inland and the air becomes a little too warm. The Sporty rumbles pleasantly onwards. The seat is comfortable over the long haul, the mirrors are excellent (and don't vibrate) and the engine is happy going with the flow of traffic – which in Southern California doesn't match the posted speed limit. Since some law enforcement type might read this, let's just leave it at that. Compression is 10:1. Horsepower is 60 bhp @ 5800 rpm with the stock equipment and 68 with a Screaming Eagle pipe and a high flow aircleaner. Most people who buy a Superlow are unlikely to be carrying a passenger, and as long as you don't plan to pack the entire contents of your house on the back, the Screaming Eagle upgrade is probably overkill.
If you plan to go touring on your Superlow, an upgrade that does make sense is adding a sissy bar and a luggage rack. The Superlow comes with a windshield and slim bags that will hold commuting and overnight gear, but only if you pack light and plan to motel it. Adding the sissy bar and rack gives you the option to add larger saddlebags, a tail bag, and go camping. The mounts on the standard bags are bungee friendly, making it easy to strap a duffle on the back.
The Superlow gives a shorter person who wants to commute and go on trips on her own bike a confidence inspiring easy to live with alternative to the heavy and tall traditional bagger.
SPECS:
Engine: Air cooled Evolution Sportster
Bore: 3.5 inches
Stroke: 3.811 inches
Displacement: 73.4 inches
Fuel system: fuel injection
Transmission: 5 speeds
Running Weight: 598.82 lbs.
Unladen Seat Height: 27.65 inches
Fuel Capacity: 4.5 gallons
Oil Capacity: 2.8 quarts.