(Mitchell, SD) February 1, 2016 – There are thousands of ways to customize a motorcycle. Some are loud and bold while others are modern and muted. Rocky's Harley-Davidson and Parts Canada teamed up with Klock Werks to produce a 2015 Road Glide that is bold and clean, but not too over-done. This bike, according to Laura Lang, National Marketing Manager for Parts Canada, was a collaborative effort meant to show consumers a finished product they could be inspired by. And there was no shortage of inspiration at recent custom motorcycle shows in Canada.
"The Fat Front Tire Road Glide Rocky's put together for Parts Canada using a variety of our Klock Werks parts turned out amazing," said Makel Juarez, Sales Manager at Klock Werks.
The 180 front tire brought the bike to a new level and turned a lot of heads. The blacked out look further emphasized the aesthetic and can be achieved by anyone with Klock Werks precision fit parts.
Ian Daniel, Parts Manager at Rocky's Harley Davidson, said the opportunity to work with great companies like Klock Werks and Parts Canada really got them excited. "This Road Glide was a blast to put together and is truly a mean-looking bike," Daniel said.
Rocky's Harley Davidson, a Harley dealership in London, Ontario, assembled the bike using almost a dozen Klock Werks parts. Randy Rothlisberger, R&D at Klock Werks in Mitchell, SD, shaved the lower fork legs and modified a Klock Werks Benchmark Front Fender to fit the larger, 180 mm front tire. Painting was completed by Brad from The Factory Match.
Juarez attended the North American International Motorcycle Supershow in Toronto January 8-10, and he said the bike was very successful. According to Juarez, show-goers loved the bike and there weren't many moments it didn't have a butt in the seat. Favorite features included the fat front tire, blacked out parts, and the Klock Werks adjustable KlipHanger Handlebars.
Klock Werks innovative, machined "klamps" on the KlipHangers allow the control/grip portion of the handlebar to be positioned exactly where you want your wrists to be, limiting strain and fatigue on the back, shoulders, arms, and wrists.
Klock Werks innovative parts add visual appeal, and also improve your ride. The Flare™ Windshield has been called "the last windshield you will ever buy" as it eliminates bobblehead, or wind buffeting, and reroutes air for improved stability. Klock Werks makes it simple to achieve a look that matches your style, and they back their parts with pride and unmatched customer service.
"We are very excited to be able to work hand in hand with our manufacturers and dealers to put together "show bikes" like we have this year for our Canadian consumer motorcycle shows," Lang said.  "Nothing shows the best use of aftermarket parts like seeing them on a bike."
Lang added that seeing parts on a shelf just doesn't have the same effect.
The Fat Front Tire Road Glide was shown in Toronto, the Northlands, and the Vancouver Motorcycle Show at the Tradex Centre in Abbotsford and will be shown at the Montreal Motorcycle Show and The Congress Palace of Montreal February 26-28. After the bike makes the rounds, it will be returned to Rocky's Harley Davidson to be sold.
Klock Werks parts on Fat Front Tire Road Glide (includes part number)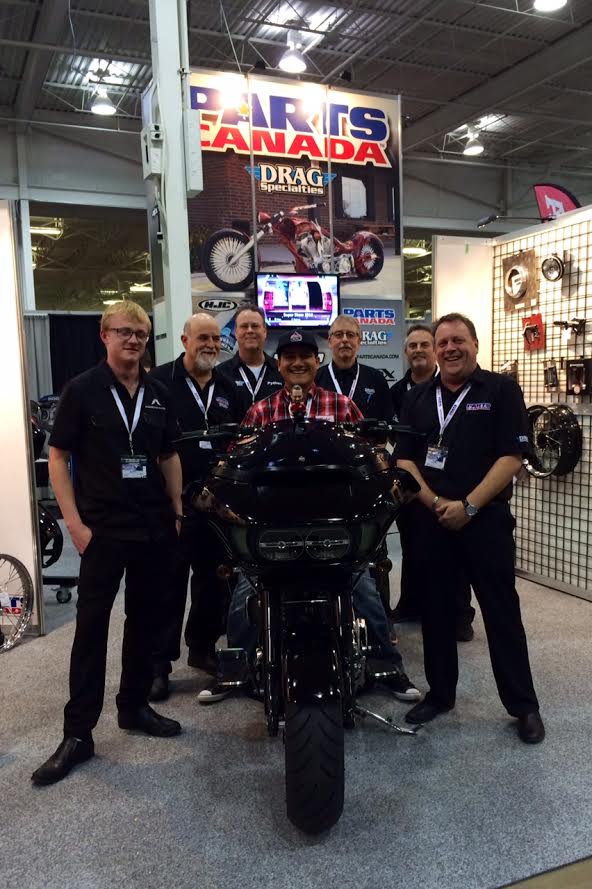 2310-0581   9" Sport Low Dark Smoke FLARE Windshield
2330-0153   Road Glide Vent Screens, Round
1401-0196  Benchmark Front Fender (modified for 180mm tire)
Performance Machine 18" x 5.5" wheels
1410-0074   Benchmark Mounting Blocks (spacers and hardware)
0214-0357   Flush Mount Axle
0601-3127   14" KlipHanger Bars, Black/Black
2202-0111   Curvaceous Dash (gas tank)
1401-0485   "The ONE" Rear Fender, Frenched Plate Pocket
2030-0803   Chrome and Lighted License Plate Frame
3501-1011   Saddlebag Hinge Inserts "Special"
About Klock Werks
Located in Mitchell, South Dakota, Klock Werks has grown from humble beginnings to a nationally and internationally recognized Brand. Achieving status as "Air Management Experts", Klock Werks credits this to the success of the original, patented, Flare™ Windshield. Also supplying fenders, handlebars, and other motorcycle parts, Klock Werks proudly leads the industry through innovation in design and quality of materials and fitment. Team Klock Werks has been successful for years designing parts, creating custom motorcycles, and setting records on the Bonneville Salt Flats. You will find motorcycles, family, and faith at the core of Klock Werks, along with a commitment to caring for the needs of enthusiasts around the world who enjoy their products.
For more information please Contact Amber Hiles at amber@kustomcycles.com.