New Wireless Screamin' Eagle Pro Street Performance Tuner Simplifies Engine Set-Up
MILWAUKEE (March 1, 2023) – Harley-Davidson® riders craving no-compromise performance have a thrilling new option with the introduction of the Screamin' Eagle® 135ci Stage IV Performance Crate Engine. This complete Milwaukee-Eight® engine for 2021-later Touring models is the new benchmark for factory-engineered American V-Twin performance, offering the most displacement, and the most power, ever created by Harley-Davidson for a street-compliant crate engine. Its development was fueled in part by the efforts of the Harley-Davidson® Screamin' Eagle® factory racing team competing in the MotoAmerica Mission King of the Baggers roadracing series. To simplify set up of high-performance engines Harley-Davidson offers the new wireless 
Screamin' Eagle® Pro Street Performance Tuner, the only tuner available to maximize performance while being emissions and warranty compliant.
Engineered and tested as a complete collection of high-performance components and assembled from the bottom up at Harley-Davidson Powertrain Operations in Menomonee Falls, Wisconsin, this street-tuned 135-cubic-inch (2212cc) Screamin' Eagle Crate Engine is designed to run with a wide-open throttle at high engine speeds and provide instant passing power from cruising speed. The engine delivers 143 lb.-ft. of rear-wheel torque at 3500 RPM and 130 rear-wheel horsepower at 5500 RPM – approximately 28 percent more torque and 41 percent more horsepower at the rear wheel than a production Milwaukee-Eight® 117 engine.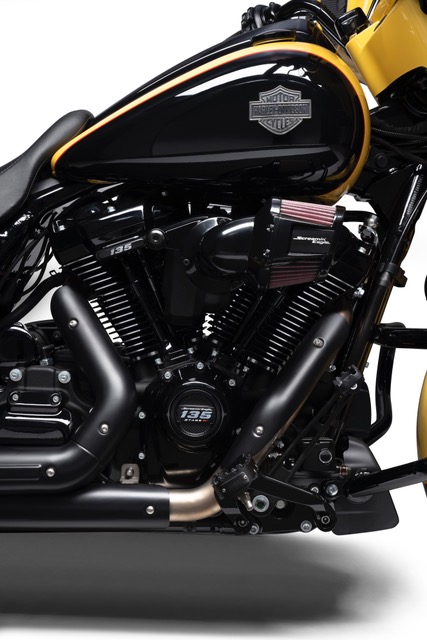 This street-ready performance engine features premium Screamin' Eagle components:
New 68mm throttle body and matching CNC-machined intake manifold, originally developed for Harley-Davidson Screamin' Eagle factory racing team engines, to maximize airflow to the engine.
Screamin' Eagle Extreme CNC-ported cylinder heads provide significantly improved efficiency of cylinder filling, leading to more explosive power and increased rear-wheel torque when compared to stock. High-performance valve springs remain stable with the high-lift cam and in high-RPM operation.
Screamin' Eagle Pro Billet Cam Plate and Oil Pump provides higher pressure when the oil is hot to keep pressure drops to a minimum.
New 10.7:1 high-compression forged pistons.
SE8-517 high-lift camshaft, high-performance cam bearing and high-performance tappets.
Patent-protected 4.31-inch steel sleeve cylinders and new 4 5/8-inch flywheel (bore x stroke is 4.31 x 4.625).
New high-capacity 6.8 gram/second fuel injectors.
Screamin' Eagle Ventilator Extreme Air Cleaner and Screamin' Eagle Street Cannon mufflers (each sold separately) are not required but are highly recommended for peak performance.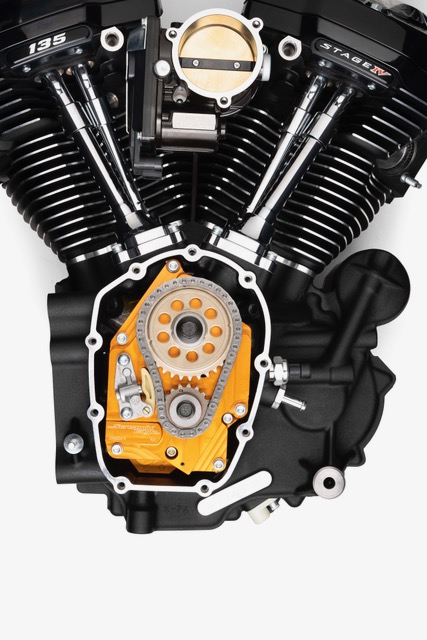 The Screamin' Eagle 135ci Stage IV Performance Crate Engine is intended for bolt-in installation in an original equipment-style 2021-later Harley-Davidson® Touring chassis. No special fabrication or engine-mount relocation is required. The engine is backed by up to two-year manufacturer's warranty for unmatched confidence when dealer-installed through the Custom Coverage® program.
With an MSRP of $7,999.95 the Screamin' Eagle 135ci Stage IV Performance Crate Engine is offered in Black or Chrome finish with 135 Stage IV badging on the cylinder heads and timer cover.
Two versions of the engine will be offered: For 2021-later Touring models equipped with Air/Oil-Cooled Milwaukee-Eight® engine, and for 2021-later Touring models equipped with a Twin-Cooled™ Milwaukee-Eight engine. The engine does not fit Trike models. Installation requires the separate purchase of Head Pipe P/N 65600177. Air-Cooled models require Oil Cooler Fan Assist P/N 62700204 or Fan for Factory Oil Cooler P/N 26800195. All models require ECM recalibration with Screamin' Eagle Pro Street Tuner for proper installation. Does not fit California models.
Harley-Davidson stands for the timeless pursuit of adventure and freedom for the soul. Go to 
H-D.com
 to learn more about the complete line of 2023 Harley-Davidson Grand® American Touring, Sport, Adventure Touring, Cruiser and Trike motorcycles, Harley-Davidson Certified™ pre-owned motorcycles, Harley-Davidson® Genuine Motor Parts & Accessories, Harley-Davidson® MotorClothes® apparel and gear, and Harley-Davidson Financial Services.
About Harley-Davidson 
Harley-Davidson, Inc. is the parent company of Harley-Davidson Motor Company and Harley-Davidson Financial Services. Our vision: Building our legend and leading our industry through innovation, evolution and emotion. Our mission: More than building machines, we stand for the timeless pursuit of adventure. Freedom for the soul. Since 1903, Harley-Davidson has defined motorcycle culture with an expanding range of leading-edge, distinctive and customizable motorcycles in addition to riding experiences and exceptional motorcycle accessories, riding gear and apparel. Harley-Davidson Financial Services provides financing, insurance and other programs to help get Harley-Davidson riders on the road. Learn more at
www.harley-davidson.com
.