Mecum Auctions Joins the MotorTrend Family Beginning January 2022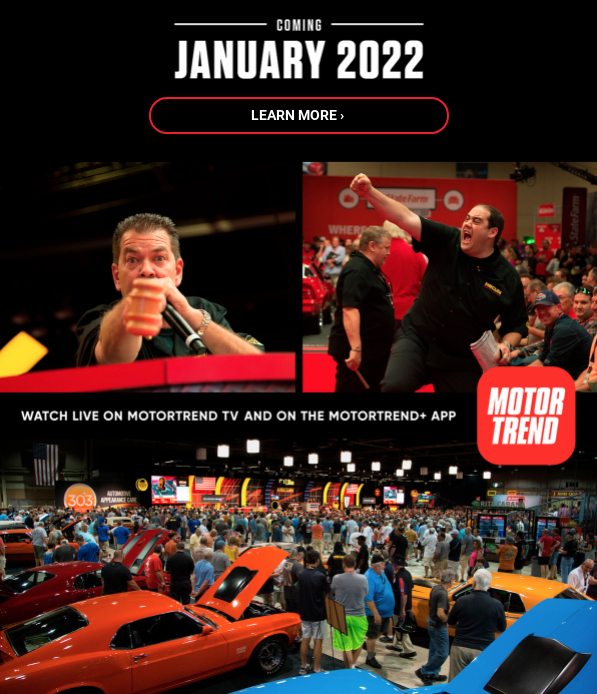 MotorTrend and Mecum Auctions to Share Details of New Partnership at SEMA
WHAT:
MotorTrend and Mecum Auctions executive leadership giving insight and providing additional context to the recently announced multi-year partnership by the two companies during a roundtable discussion with media Q&A following.
WHO:
Alex Wellen, Global President and General Manager, MotorTrend Group
Dave Magers, CEO of Mecum Auctions
Frank Mecum, Vice President of Consignments, Mecum Auctions
WHEN:
Wednesday, Nov. 3 at noon (PDT)
Roundtable Discussion
Wednesday, Nov. 3 at 1 p.m. (PDT)
Interview Availability
WHERE:
SEMA Show
MotorTrend Stage – Booth #81059
Located OUTSIDE in-between the North and Central Halls of the Las Vegas Convention Center
WHY:
MotorTrend and Mecum Auctions recently announced a new multi-year agreement that delivers exclusive, live coverage of Mecum Auctions on MotorTrend+ and MotorTrend TV beginning in January 2022. Under the agreement, MotorTrend will broadcast and stream more than 160 hours of live coverage of the Kissimmee, Fla., Glendale, Ariz., Houston, Indianapolis, Harrisburg, Pa., Monterey, Calif., Dallas, Chicago, Las Vegas (autos and motorcycles), and Tulsa, Okla. auctions.
CONTACTS:
Andrew Scafetta
MotorTrend
C: 571-314-2272
David Morton
Mecum Auctions
C: 317-225-6016
MECUM AUCTIONS // 445 S MAIN ST // WALWORTH, WI 53184
M-F 7AM-6PM CT // 262-275-5050
EMAIL mecum@mecum.com