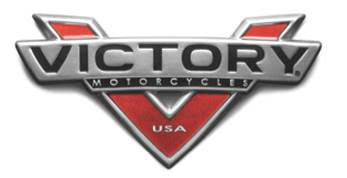 Smith takes Victory Gunner to 18th career win at Auto Club Raceway
MINNEAPOLIS — November 14, 2016 — Victory Racing's® Matt Smith this past weekend rode his Pro Stock Victory Motorcycles Gunner to his first win of the season and the first for Victory Motorcycles during the NHRA Auto Club Finals at the Auto Club Raceway at Pomona, Calif.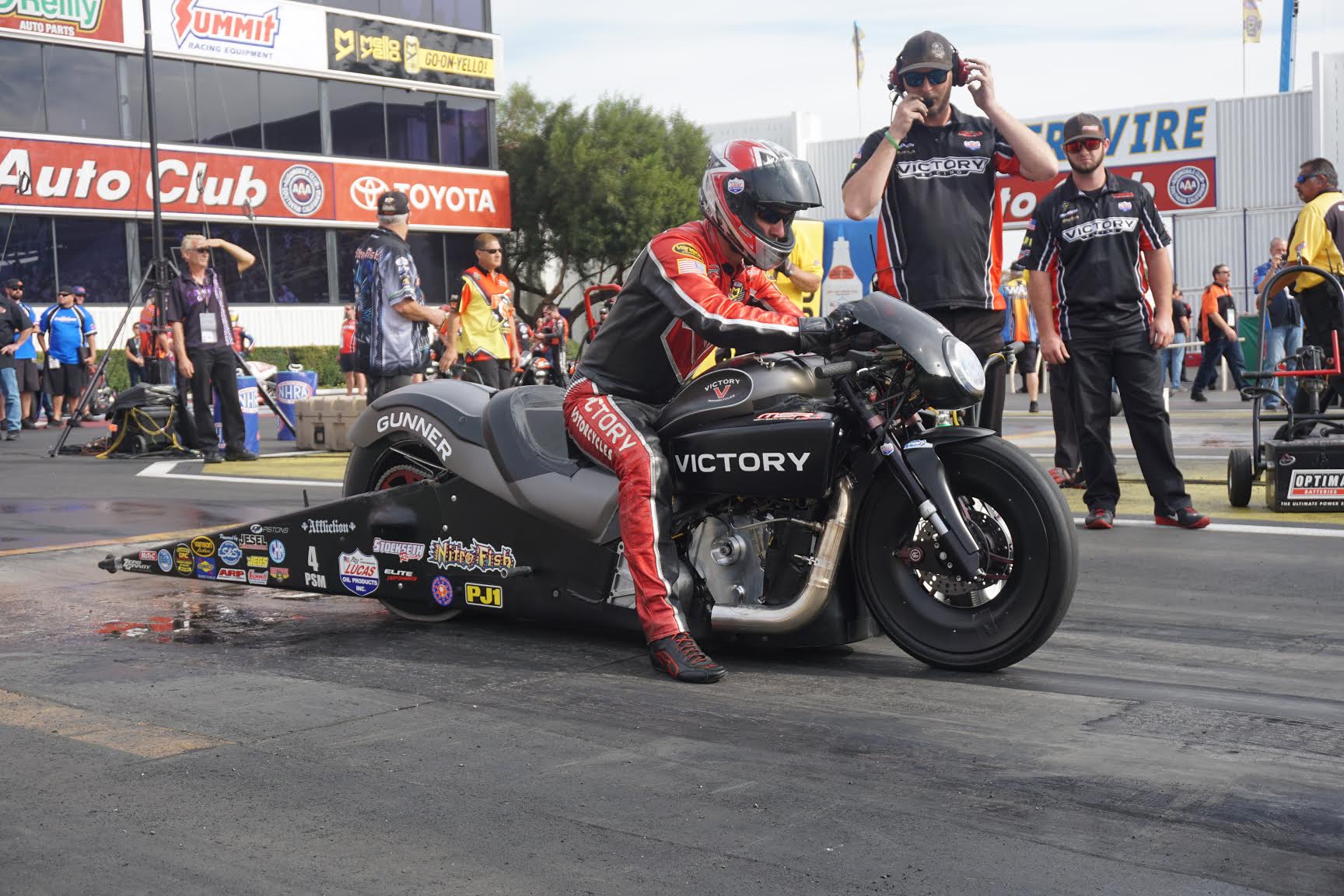 The celebration began before Smith and his Victory Gunner crossed the finish line. Smith knew he would stand on the top step of the podium when opponent Angelle Sampey went red at the start, so he pulled in the clutch and pumped his first in the air, celebrating as he went down the track.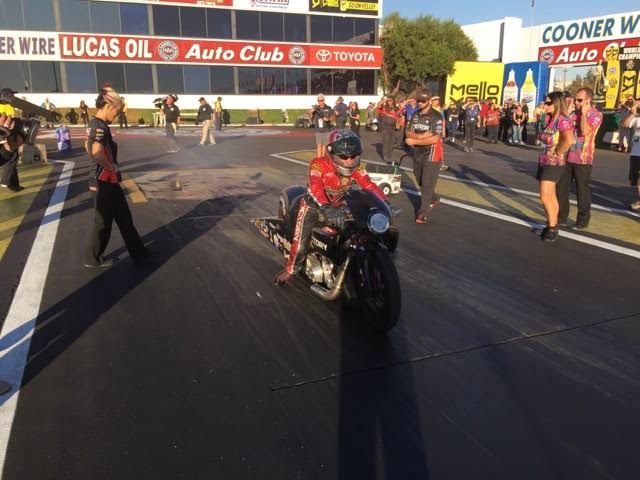 "You don't realize how much you miss being in victory lane until you get back to victory lane," a smiling Smith said. "To get a victory for Victory – I like that saying. Hopefully we can do it more next year. I know we are going to have some teammates with Victory next year, and I'm just glad we got to do it first."
Sunday, Smith had an eventful day to earn his 18th career win. He beat Hector Arana Sr. in the first round when Arana Sr. went red, and won with a slower 6.916-second pass at 193.35 mph (Arana completed his pass and went 6.871 seconds at 196.62 mph).
Smith then accelerated past Eddie Krawiec in Round 2. Smith's .029-second reaction time and run of 6.904 seconds at 192.99 mph was enough top Krawiec's 6.871-second pass at 195.31 mph – after a .063 light.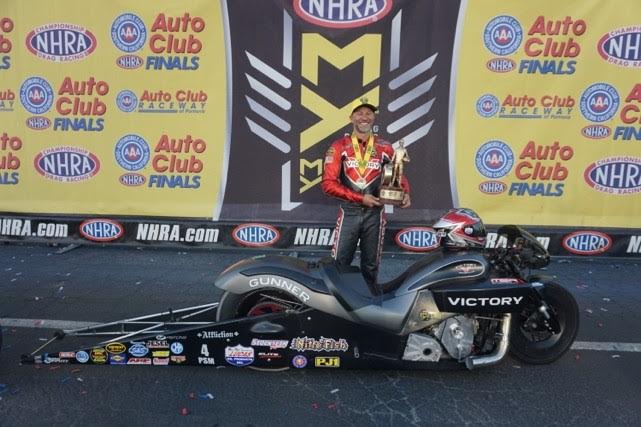 Smith then faced Hector Arana Jr. in the semifinals, where a stellar .018 light gave him an advantage on the starting line. Arana Jr. pulled the clutch in and coasted to a 7.569-second pass at 134.10 mph while Smith sped to the final with a run of 6.946 seconds at 192.44 mph. The final was over early, when Sampey left .020 seconds too soon. Smith's run of 8.044 seconds at 117.34 mph included a celebration down the track.
"What a deal!" Smith said. "It's a good finish to what's been a bad year. We've had gremlins this year and to cap it off here in Pomona for Victory, Lucas Oil, Mark Stockseth – I mean that guy's been helping me since I started my own deal – is amazing. Thank you Mark and Marshall (Stockseth) for everything you have done for me. And thanks to Nitro Fish, Kenny Koretsky and Elite Performance, too."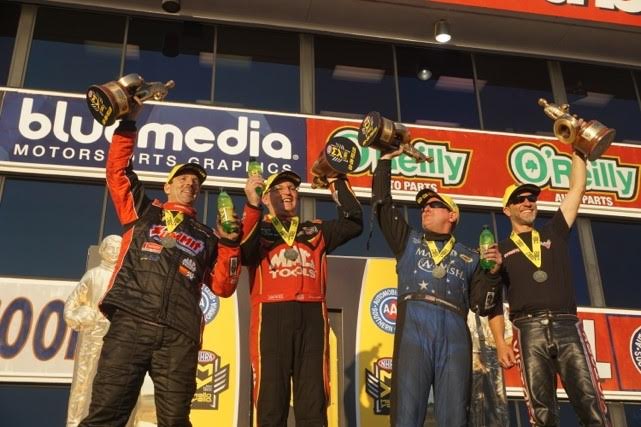 "It has been a while in coming for Victory Gunner in NHRA," says Rod Krois, General Manager for Victory Motorcycles. "But Matt's historic win and the teams relentless tenacity is exactly what Victory Motorcycles is all about."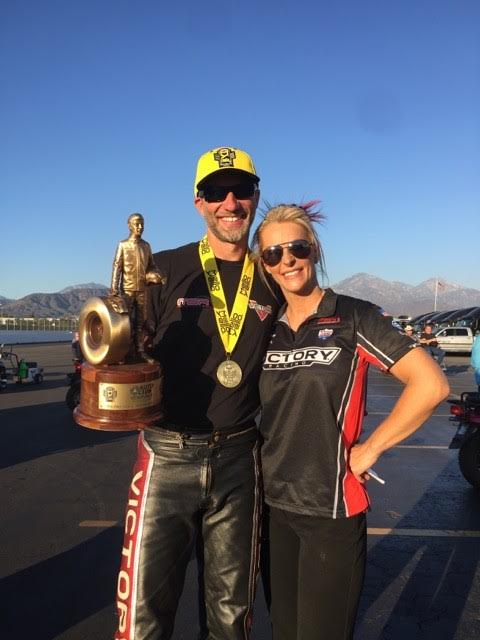 Showcasing Victory Motorcycles' commitment to deliver Modern American Muscle, Victory Racing's NHRA team is comprised of NHRA power-couple Matt and Angie Smith and their Pro Stock, custom Victory Gunner drag bikes. Matt boasts two World Champion titles and seventeen career wins. He brought his Matt Smith Racing Victory Gunner into the Mello Yello Drag Racing Series in 2015, and subsequently went to two final rounds last year and two semifinal appearances this season before finally breaking through with the win for Victory.
Visit NHRA.com for up-to-date news about the NHRA Mello Yello Pro Stock Motorcycle Drag Racing Series. Learn more about Victory Motorcycles at VictoryMotorcycles.com or follow on Twitter, Facebook, Youtube and Instagram. An interview with Matt Smith can be found here.
ABOUT VICTORY MOTORCYCLES®
Victory Motorcycles designs, engineers, manufactures and markets a full line of cruisers, baggers and touring motorcycles. Every Victory model delivers industry-leading performance, comfort, style, storage and reliability. The first Victory was produced on the Fourth of July, 1998, in Spirit Lake, Iowa, where every Victory motorcycle continues to be produced today. Information about Victory motorcycles, apparel and accessories is available at www.victorymotorcycles.com and on Facebook at facebook.com/VictoryMotorcycles
ABOUT POLARIS® INDUSTRIES
Polaris Industries Inc. (NYSE: PII) is a global powersports leader with annual 2015 sales of $4.7 billion. Polaris fuels the passion of riders, workers and outdoor enthusiasts with our RANGER®, RZR® and POLARIS GENERAL™ side-by-side off-road vehicles; our SPORTSMAN® and POLARIS ACE® all-terrain off-road vehicles; VICTORY® and INDIAN MOTORCYCLE® midsize and heavyweight motorcycles; SLINGSHOT® moto-roadsters; and Polaris RMK®, INDY®, SWITCHBACK® and RUSH® snowmobiles. Polaris enhances the riding experience with parts, garments and accessories sold under multiple recognizable brands, and has a growing presence in adjacent markets globally with products including military and commercial off-road vehicles, quadricycles, and electric vehicles. www.polaris.com