IRVINE, Calif., July 27, 2023 — Motorcycle enthusiasts that don't ride and are attending the legendary City of Sturgis Motorcycle Rally in 2023 will get a chance to be in the rider's seat at Ride With Us' Moto Intro produced by the Motorcycle Industry Council. This first-ride experience is free, with bikes, gear, and personal coaches provided.
"While they may not be coming to Sturgis this year as riders, after participating in a Moto Intro ride experience, I know they'll be leaving inspired and ready to take the next steps towards becoming a rider themselves.  said Cinnamon Kernes, MIC's vice president of market expansion. "first-time riders in 2023, Sturgis riders in 2024!"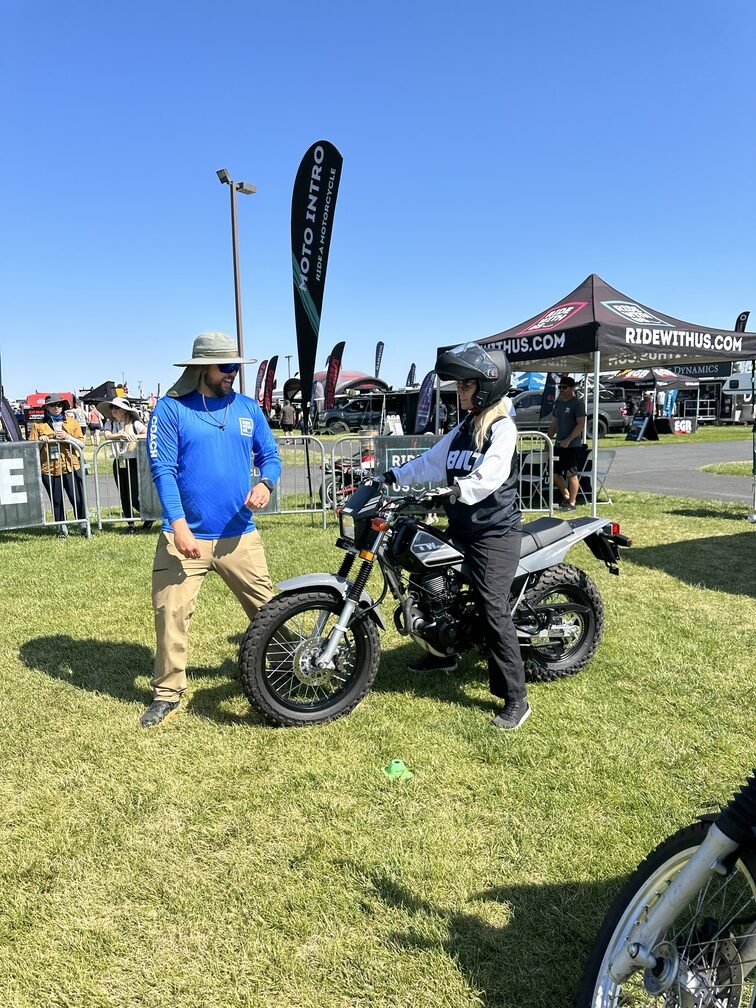 Ride With Us Moto Intros help people who have never ridden a motorcycle before get their first experience behind the handlebars, operating the throttle, clutch, and steering. The motorcycles, riding gear, and Motorcycle Safety Foundation-certified coaches are all provided to the participant at no cost.
"The entire experience — from sign-in, to riding, to high-fives and smiles — takes about 20 minutes," Kernes said.  "Most and many of our past participants were amazed at how approachable motorcycle riding can be. Each rider is paired up with an MSF coach who accompanies them every step of the way, allowing the new riders to go at their own pace."
This is the first year Ride With Us is at Sturgis, which is celebrating the 83rd Rally.
"The Motorcycle Industry Council's Ride With Us Moto Intros are the perfect addition to this year's 83
rd
 Anniversary of the City of Sturgis Motorcycle Rally," said Sturgis Mayor 
Mark Carstensen
. "While the rally has traditionally been thought of as an event only for those who ride, activations like Ride With Us Moto Intros are about introducing non-riders, family, and friends into our lifestyle and culture. Together we can spark interest in riding with even more people."
All those curious about motorcycling are invited to join Ride With Us in the parking lot of LifeSpring Wesleyan Church, 2105 West Lazelle Street in Sturgis near the Boss Hoss Display. Moto Intros will run from 9 am to 5 pm Saturday, August 5, to Tuesday, August 8.
"We look forward to inspiring more potential riders to start their journey to becoming lifelong moto enthusiasts," Kernes said.
ABOUT THE MOTORCYCLE INDUSTRY COUNCIL
The Motorcycle Industry Council, under its marquee market expansion brand, Ride With Us, is working to introduce everyone to the incomparable thrill of riding a motorcycle. The MIC is a not-for-profit trade association representing motorcycle manufacturers, distributors, aftermarket companies, dealers, retailers, and a variety of related organizations providing vital support to the powersports industry. The MIC advocates for fair policy and regulatory environments, works to deliver valuable data to the industry, and strives to bring the joy of riding to everyone, everywhere.
Established in 1914, the MIC is headquartered in Irvine, Calif., with a government relations office in metropolitan Washington, D.C. Keep up with the industry association on Twitter 
@followMIC
, online at 
MIC.org
, and through the weekly 
MIC RideReport
.
All media — riders and non-riders — are invited to experience the Ride With Us Moto Intro. For more information or images about the program, training opportunities, the Motorcycle Industry Council, or for interview requests, please contact our media relations team.