Here's the story: Every rider looks for different elements in riding glasses. Some want style, others are all about practicality, while still others put vision correction at the top of their list of demands. So with the help of Liberty Sport eyewear, we sent three reviewers on a quest to find their perfect riding glasses. Fortunately, Liberty Sport offers such a variety of styles and features, not to mention the latest in technology and function, that each reviewer found just what they were looking for. It's what you might expect from a company that specializes in purpose-built eyewear for extreme outdoor use. No compromise on quality or detail. Read on.
1.) The Rider: To be honest, I've ridden the majority of my life with a full-face helmet. I like the warmth it provides during colder commutes, and protection from the clouds of insects often sent my way. It's a habit I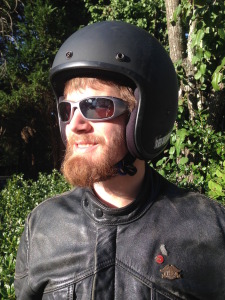 never shook until I finally picked up a three-quarter lid for summer riding. It was cool enough (in more ways than one!) but limited my riding; I was uncomfortable anywhere outside of town at highway speeds, with the wind whipping past my various sunglasses blowing dust into my eyes. Squinting might make you look like a badass, but it also makes it hard to see!
So my three-quarter helmet sat on a shelf, along with my wireless tire patch kit and a box of mega-smudge visor wipes, all doomed never to see the open road. At least until I tried a pair of Liberty Sport's Rider model sunglasses. While a lot of sunglasses claim to hold up to high speed wind, the truth can be murky until the wind hits the…face. Take, for example, the pair of stylish goggles I'd picked up at a stealership that had a foam rim on the inside. It seemed like a good idea when I plopped down my money, but they fit so poorly and the foam liner was so thin that they were soon relegated to costume duty.
Liberty Sport Rider style shades are another story. First of all, they fit well around the eyes, thanks to a foam lining that has gaps to reduce pressure points and eliminate fogging. The frames hug my face but don't pinch or press uncomfortably anywhere. The lens shape is also optically neutral and doesn't impair my peripheral vision. That's what's really nice about these glasses: they've paid attention to the kind of differences you don't think are important – until you try a truly well-made product.
The best feature, though, is the lenses. They're prescription compatible…with magnetically removable and replaceable lenses; also scratch resistant due to a premium coating, along with UVA and UVB protection for your eyes. I've never worn riding glasses this capable, and I'm looking forward to many more miles with them! — Vincent Stemp
2.) The Switch: I ride almost every day of the year and I live in the North East where the weather changes drastically. It's never been easy to find eyewear that can suit the variety of conditions I might encounter in a given day. I recently tested two sets of riding glasses from Liberty Sport, both from the Switch line featuring magnetic interchangeable lenses, and I was impressed! This may be the best eyewear I have ever worn for daytime, night time, windy, cold, sun and extreme conditions. The curve of the frames fit my face snugly for good protection and their patented SWITCH® magnetic lens technology makes the change from different colored lenses so easy, they're a must have for every rider. A form fitting protective lens case makes storage of extra lenses safe and easy, too.
For me, the Lycan model is the perfect blend of "great looking" and "extremely versatile." When conditions require a change in the lens, simply push the lens forward to remove it, replacing it with either a clear or amber lens. Once in place the lenses fit tightly and stay put. The eyewear performs beautifully in all types of conditions and while traveling at high speeds. The easy switch to night lenses is by far one of my favorite options with these glasses. Kits are available with polarized or non-polarized options. All kits include a magnetic chassis, 1 pair of polarized or non-polarized lenses, and 1 pair of low-light rose/amber lenses. —Jack McIntyre
3.) The Free Spirit: A fan of full-face helmets for many years, I gave little thought to riding glasses. But when I switched to a smaller, lighter open face helmet several years ago, riding glasses became necessary, but finding the right pair was an elusive pursuit. I wanted them to fit my face snugly and have temples that slipped smoothly between head and helmet with no pressure points. Add to the list my need for prescription lenses and you'll see why I immediately became the problem child of the riding eyewear community!

Until Liberty Sport came along with a solution: these versatile Free Spirit frames are built with rider-specific features and are compatible with most any prescription. "Wings" on each side, inside the frames—which attach to the frames via strong magnets (what Liberty calls their MagTraxion technology—create a tighter fit to keep debris out of my eyes. They pop right off and store in an included case for off the bike.
Another practical feature are the vertical vents on each side that allow for airflow to eliminate fogging. And I love this part: the temples get softer and more flexible as they taper toward the back to wrap tightly to my head so there are no hard plastic arms digging into my head under my helmet. The frames are incredibly lightweight and offer a wide field of vision. Scratch resistant, photo-gray lenses darken when needed.
All this and my prescription, too? I think the problem child just became Liberty Sport's poster child! —Marilyn Stemp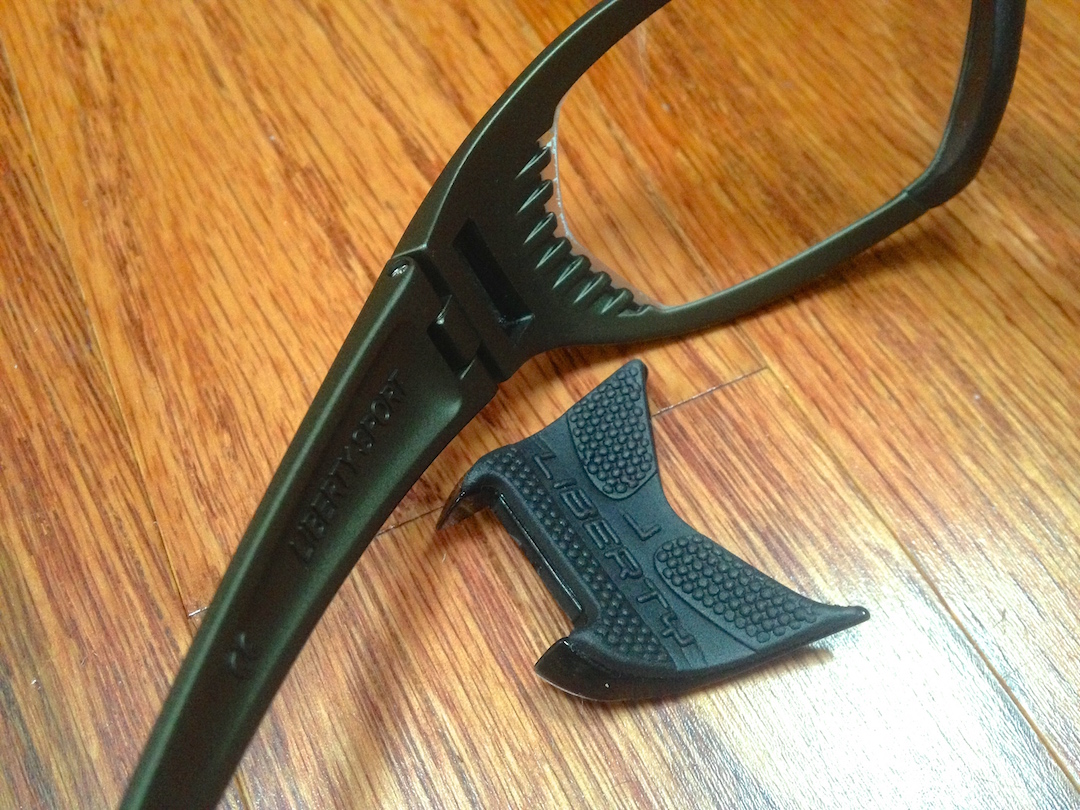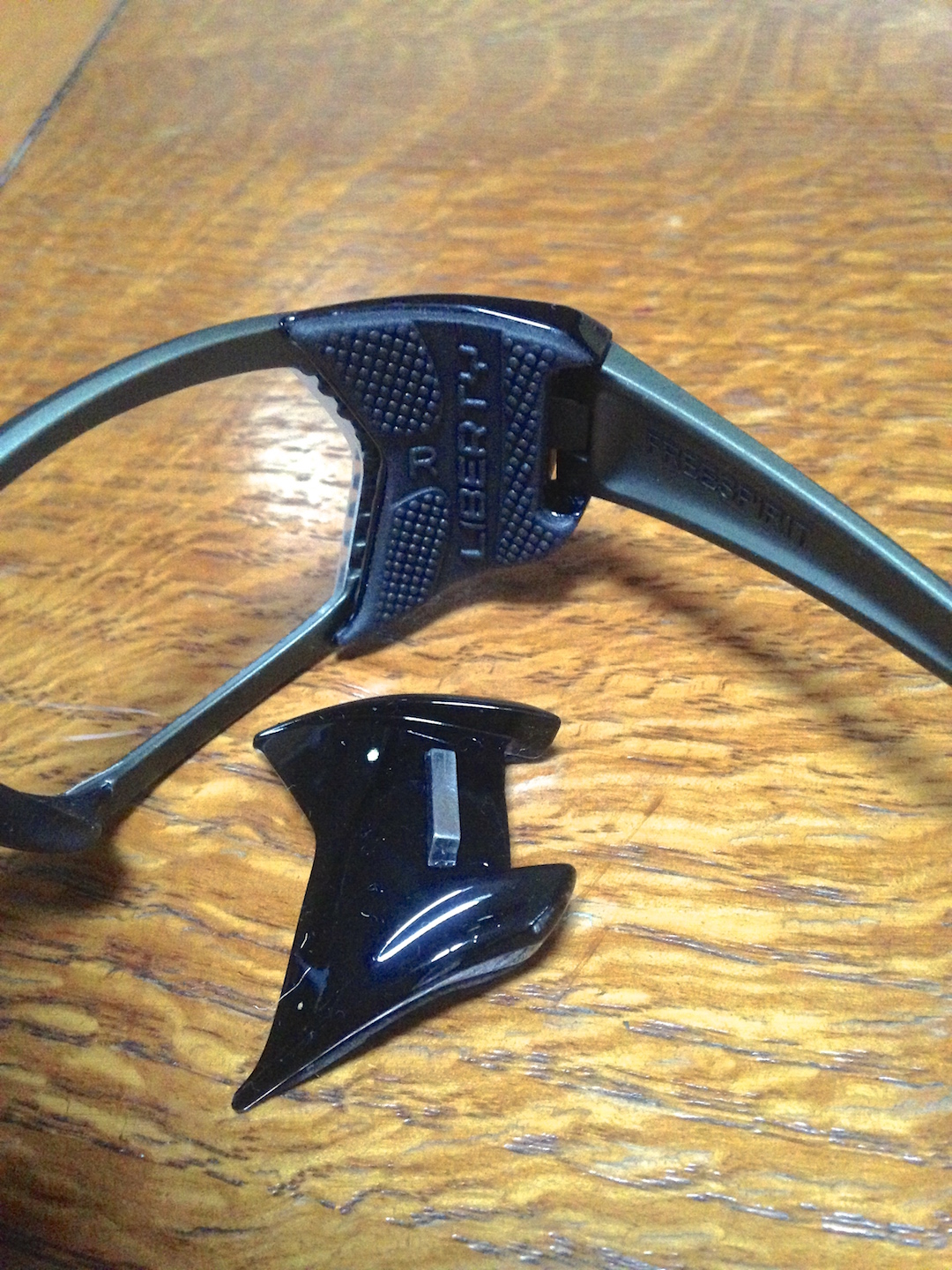 Resource
Liberty Sport
800-444-5010
www.libertysport.com