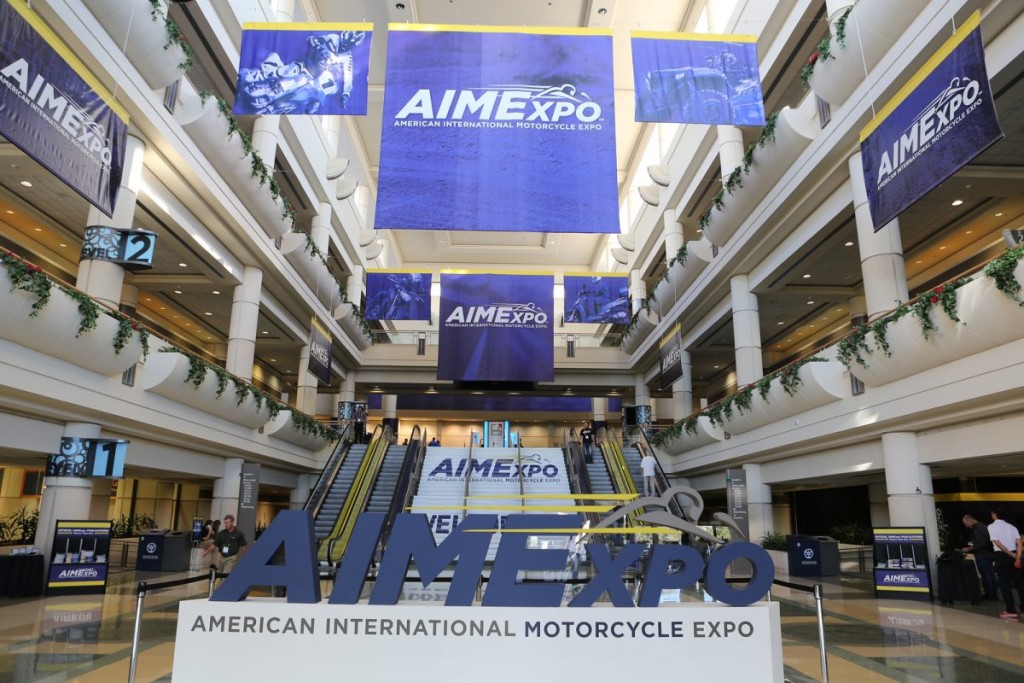 ORLANDO, Calif. (October 17, 2015) – The 2015 American International Motorcycle Expo (AIMExpo) kicked off its weekend activities at the Orange County Convention Center (OCCC) and saw the largest Saturday consumer turnout in the event's three-year history.
Just days after brand new products were showcased to media and industry the doors were opened to consumers, riders and enthusiasts alike to experience the all-new offerings. Not only were consumers able to witness the new products, but they were also able to demo them at AIMExpo Outdoors! OEMs Honda, Yamaha, Star, Suzuki, Kawasaki, Can-Am, KYMCO, Zero and Harley Davidson offered street demo rides, while Arctic Cat, BRP, Honda, Massimo Motors, Suzuki, KYMCO and Yamaha offered off-road demos of ATVs and side-by-sides.
BMW
The German manufacturer offered attendees the opportunity to be transported to a variety of locales across the globe for an immersive virtual reality experience aboard some of its latest models. Visitors were able to spin laps around the Circuito De Almeria, the iconic test facility in Almeria, Spain, as they battled with other riders aboard the BMW S1000RR; navigate along a dirt trail on the R 1200GS Adventure bike; and cruise down a tree-lined country road while enjoying the popular R nineT.
AGV Helmets
AGV showcased its all-new AGVisor, an innovative motorcycle helmet visor able to quickly change from clear to dark in less than one second with just a push of a button. The transition is achieved through a low voltage that is applied to the liquid crystal system and is capable of staying in dark mode for up to 12 hours. A small, rechargeable battery powers the AGVisor that features a fail-safe system, anti-fog property and patented visor lock. The AGVisor is available for the Pista GP, Corsa and GT-Veloce helmet lines.
Garage Party
Rounding out Saturday's action-packed schedule was the first-ever Garage Party, presented by Ace Cafe. With a flood of custom bikes lining the show floor thanks to the Chopper Legends Showcase, rockabilly great Jason D. Williams showcased his electric style before a huge crowd. Garage Party ambassador Leticia Cline was on hand to help with the festivities, meeting fans and sharing her own bike build stories.
About American International Motorcycle Expo
The American International Motorcycle Expo's (www.aimexpousa.com) purpose is to serve as the catalyst to bring together industry, press, dealers and consumers in a single arena that creates a grand stage for motorcycling and powersports in the U.S. and North America, and delivers an efficient and energetic market-timed expo platform for B2B and B2C in the greater powersports industry. AIMExpo is the single most important event of its type in the North American market and has international impact within the motorcycling and powersports community. AIMExpo was recently honored in Trade Show Executive Magazine's Fastest 50, recognizing the fastest growing trade shows in the U.S. AIMExpo is produced by the Motorcycle Industry Council (www.mic.org).