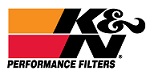 For performance-minded drivers, installing a new K&N air filter or intake system in their vehicle is the simplest route to the emotion and adrenaline that horsepower and acceleration deliver. That's exactly the message creative agency, BPN, will drive home in its innovative, "Pedal Down" integrated campaign.
K&N Engineering, Inc. selected BPN last July as its agency of record and challenged the Portland, Oregon-based company to develop an integrated campaign that would grow the brand and highlight its benefits in an emotional, inspirational way. K&N, a 45+ year-old company is making a huge commitment to its marketing efforts with double the marketing spend in 2015 versus 2014. BPN worked in tandem with K&N to capture attention among all levels of driving enthusiasts, from racecar drivers to the performance-minded individual.
Installing a K&N air filter or intake system is the simplest route to the emotion and adrenaline that horsepower and acceleration deliver
"This is a remarkable opportunity to take a coveted automotive brand to the next level by introducing it to consumers who were previously unaware of it," said Mark Waggoner, executive creative director, BPN. "We are thrilled with this new work. It's been a tremendous journey with K&N. The new work showcases the adrenaline-fueled emotional benefits of their products in a big way."
The campaign includes national TV, print and digital. The commercials launch with a sponsorship of Spike TV's anticipated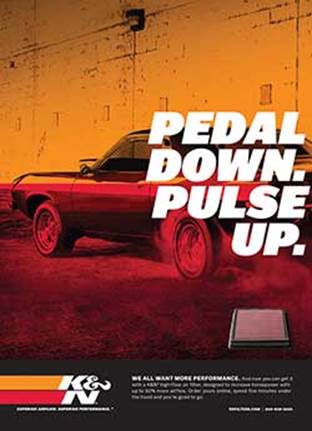 documentary "I Am Dale Earnhardt" on March 2, 2015. K&N will receive additional TV exposure and product integration on NBC Sports Network, Fox Sports 1&2, Discovery Channel, Velocity and others. National print includes mass men's, automotive enthusiast and outdoor enthusiast publications including Men's Health, Motor Trend, Hot Rod, Field & Stream and Outdoor Life. A series of new, and updated, point of purchase (P.O.P) materials will tie into the "Pedal Down" integrated campaign.
"We believe BPN showcases a great combination of emotion, brand and product," said Jesse Spungin, chief sales & marketing officer for K&N. "The creative is powerful. We know BPN has captured what matters to our consumers. We are proud of the work and excited to get in in the market."
About BPN
Founded in 1977 as Borders Perrin Norrander, BPN has been credited with helping to spark the Pacific Northwest's thriving creative revolution. For nearly 40 years, the agency has specialized in helping brands punch way above their weight through equal measures of craft, courage and conviction, developing strategies and creative that engages audiences from an emotional, rational, and yes, even reptilian perspective. A full-service agency featuring client service, strategic planning, creative and media planning/buying all under one roof, notable clients over the agency's storied history include Columbia Sportswear, Valvoline, Oregon Lottery, Oregon's Mt. Hood Territory, Mountain Hardwear, Old World Industries, Regence Blue Cross Blue Shield, Restoration Hardware, Pendleton, and The Surfrider Foundation, among many others. For more information, visit bpninc.com.
About K&N
K&N Engineering, Inc., with headquarters in Riverside, California, has been the world's leader in performance filter technology since 1969, serving the needs of the automotive, motorcycle, marine, industrial and military markets. K&N is heavily involved in nearly every form of motorsports, from off-road and powersports, to drag racing, stock cars and road racing.