From Johnny Mac's Chopper House: We had HUGE success with our first charity build for Philabundance in Philadelphia, only to be followed up by our latest Tunnel to Towers Foundation Custom Build at the MECUM Auction in Las Vegas 1/28/22, which brought in $41,000.00. What's up next? Well we are already on it, two new builds again, for our charities. Want to be involved, donate some parts from your company or a few dollars, all help is accepted. Email bikerprojack@gmail.com (Jack McIntyre). All PayPal donations are accepted by Jack McIntyre Photo and saved for the build. Everyone will be notified of updates during the bike build via email & how each donation helped. PLEASE LOOK BELOW to see our latest charity builds. IRON TRADER NEWS is a sponsor of these builds and proud to be.
So if you are wondering why all of this is so important, watch this video. A few dollars, or a bit more, whatever you can do helps. We will build a wonderful motorcycle to auction off, and at that point, we will write the largest check possible, 100% of ALL PROCEEDS.
January 2023, this motorcycle will be on stage at the Mecum Motorcycle Auction in Las Vegas. If we have the same experience as we did in 2022 with the Tunnel to Towers Auction Motorcycle, we will be able to yet again write a HUGE check to the chosen charitable organization. This build has some added excitement as well, FOX & Friends will be filming the build for a special news report to be aired later this year. More to come on that! Please stay tuned.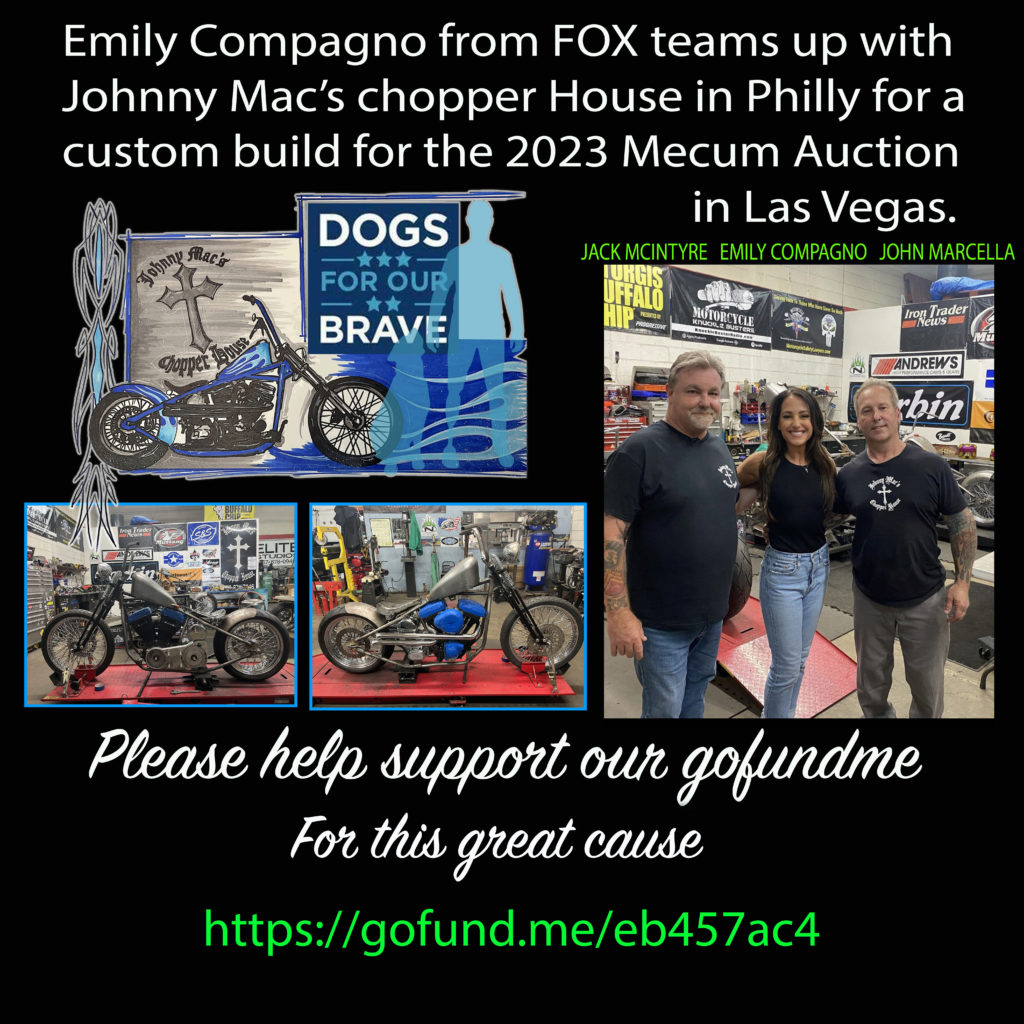 As seen in the picture below, we came through with our promise to the Tunnel to Towers Foundation with a massive check for $24,000.00. This was a fantastic project for us, and we just announced to them yesterday, that we are doing it again for 2023. Stay tuned.
In the image below, left to right: John Marcella, Jack McIntyre, Donny Hudec, and Austin Byrd.
Below was our Freedom Bike for the Tunnel to Towers Foundation.
The Bike is a custom build for the Tunnel to Towers Foundation. It's a Johnny Mac Chopper House build, built in 2021. Motor is an 88 cubic inch custom Harley-Davidson (10.5 to 1, Weisco Pistons, Andrews EV27 Cam, Milled & polished heads, S&S Super E carburetor, Dyna 2000 Ignition). Nash Motorcycle Handlebars, Led Sled fender, Drag Specialties 5 speed, 2″ Belt Drive, Custom leather seat, Custom 1 off paint by Franny Drummond / Paint Zoo, 60 spoke chrome wheels, GMA Hand controls, 180 rear tire, 21″ front tire, Metzeler tires, & Custom Johnny Mac High Low  exhaust pipes. .