Indian FTR750 Secures Back-to-Back Podium Sweeps;
Jared Mees Closes Season Standings Gap on Wrecking Crew Teammate & Points Leader Briar Bauman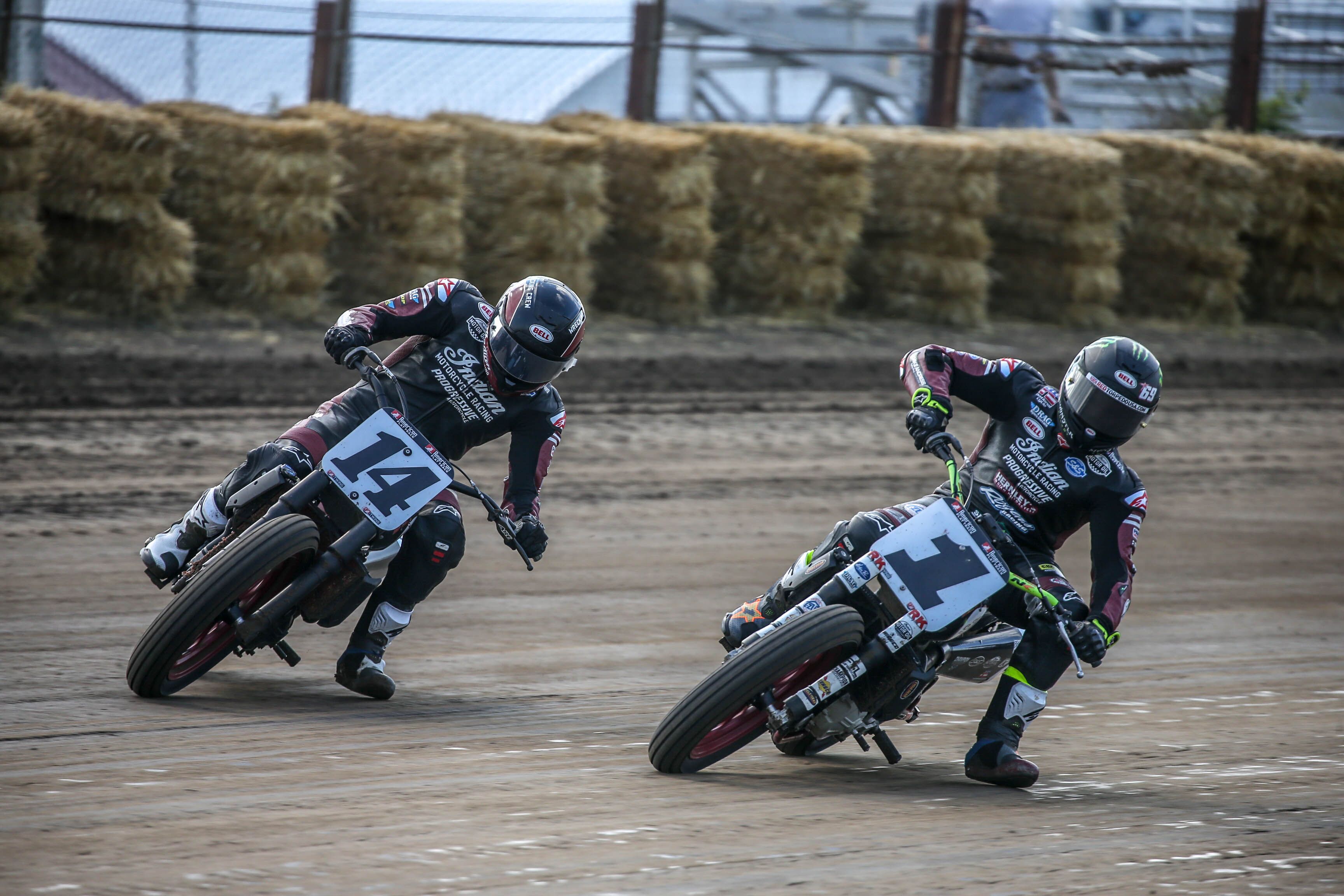 SPRINGFIELD, IL. (September 4, 2019) – Indian Motorcycle Racing, presented by Progressive Motorcycle Insurance, stayed victorious this past weekend in Illinois, as the FTR750 swept the podium at the Springfield Mile doubleheader. Reigning AFT Twins Champion Jared Mees secured back-to-back wins, while Indian Motorcycle Privateer Jeffrey Carver Jr. placed second at Springfield Mile I and Wrecking Crew Rider and current points leader Briar Bauman finished third and second, respectfully. Bronson Bauman completed the all-Wrecking Crew podium sweep at the Springfield Mile II with a third-place finish.
Springfield Mile I featured a close battle between Mees and Carver as they each separated themselves from the pack early on. Mees led for a majority of the main but Carver was able to catch Mees and overtake him briefly. The heat turned up during a neck-and-neck battle on the final lap, as Carver pulled past Mees but exited turn three too wide – allowing Mees to undercut him, pull ahead and earn his fifth win of the season.
The second half of the doubleheader brought even more excitement with each of the top 10 racers finishing within one second of each other. After starting the race from row four, Mees was able to make his way to the front of the pack, where he joined multiple riders in a heated battle for the lead. The 25-mile Main saw multiple lead changes and It wasn't until the final lap that the Indian Motorcycle Wrecking Crew broke free to take first, second and third. The culmination of the event resulted in Mees capturing his sixth win of the year, Briar Bauman securing his 13th podium of the season and Bronson Bauman reaching the podium for the fourth time this season.
"It was another great weekend for our team and we're proud to see them having continued success week-in and week-out," said Gary Gray, Vice President – Racing, Technology & Service for Indian Motorcycle. "It's been a great season – fun and entertaining as a fan – and with the AFT Twins Championship still up for grabs, we're excited to see Jared, Briar and Bronson battle it out during the home-stretch of the season."
As the current points leader with 280 points, Briar Bauman has secured 13 total podiums, including four wins. The defending champion, Mees, who has won three out his last four races, has caught momentum and currently stands with 255 points – holding six wins and reaching the podium a total of nine times. Bronson Bauman, who is enjoying the best season of his Twins career, is currently third in the points standings with 215 points, and has one Twins Main victory along with 10 top five finishes this season.
The AFT Twins season continues on September 7 with races at Williams Grove Speedway, in Mechanicsburg, PA. For more information on Indian Motorcycle Racing, visit IndianMotorcycle.com and follow along on Facebook, Twitter and Instagram.
For more information on Indian Motorcycle Racing's sponsors, visit their websites: Progressive Motorcycle Insurance, S&S Cycle, Indian Motorcycle Oil, Parts Unlimited, Drag Specialties, Alpinestars, Bell Helmets and J&P Cycles.
ABOUT INDIAN MOTORCYCLE®
Indian Motorcycle is America's First Motorcycle Company®. Founded in 1901, Indian Motorcycle has won the hearts of motorcyclists around the world and earned distinction as one of America's most legendary and iconic brands through unrivaled racing dominance, engineering prowess and countless innovations and industry firsts. Today that heritage and passion is reignited under new brand stewardship. To learn more, please visit www.indianmotorcycle.com.