Expanded ABS Offering, New Paint Options & USB Charging Port Headline Upgrades to 2019 Indian Scout Lineup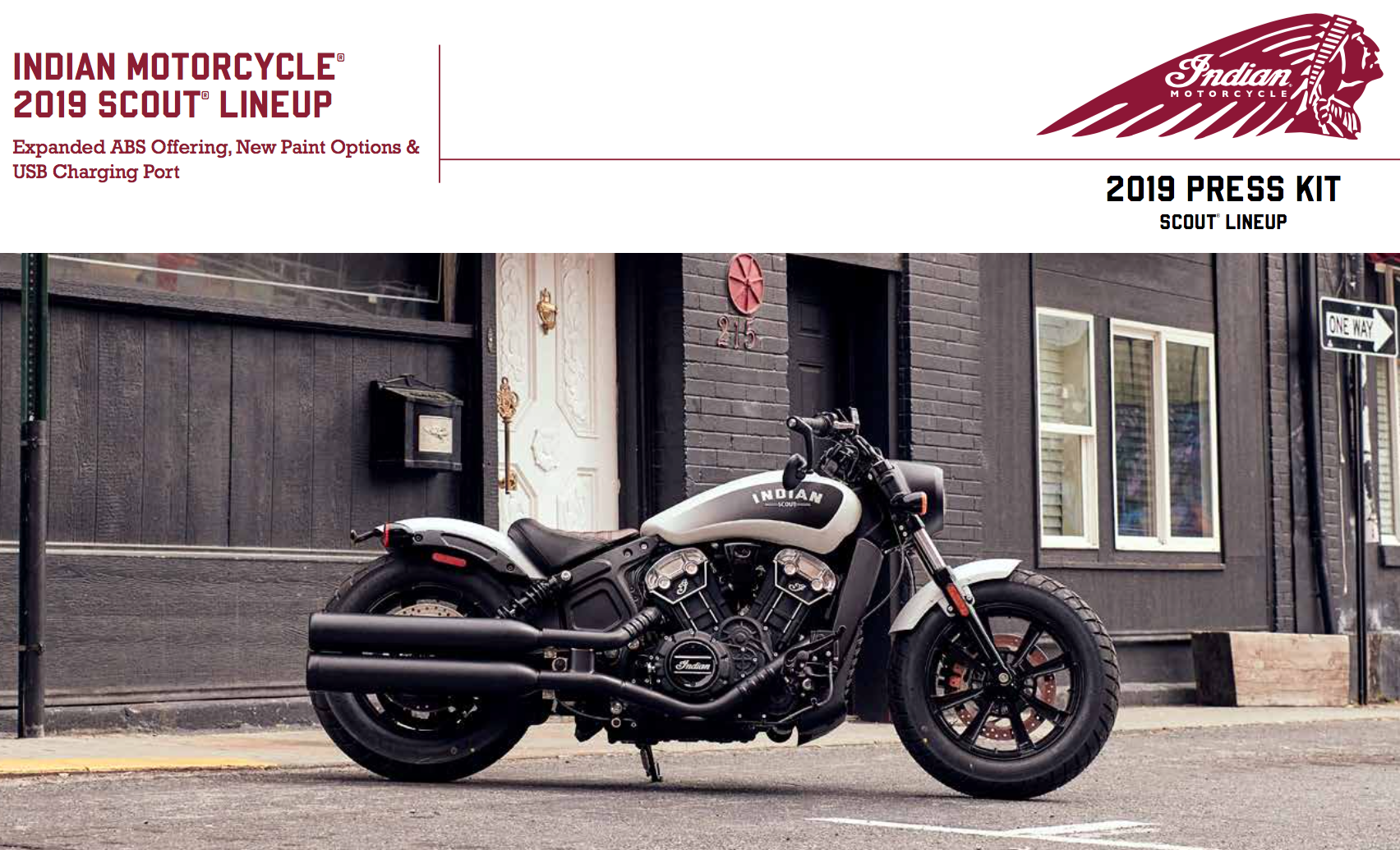 MINNEAPOLIS (August 27, 2018) – Indian Motorcycle, America's first motorcycle company founded in 1901, today announced its 2019 Scout lineup with new paint options on Scout Sixty, Scout and Scout Bobber. Key feature upgrades for 2019 include an expanded ABS offering and a new USB charging port on Scout and Scout Bobber models.
New for 2019, an ABS (anti-lock braking system) is now standard on every non-black Scout Sixty, Scout and Scout Bobber model. For the Thunder Black color option, riders can choose between a model that's equipped or unequipped with ABS. The Scout and Scout Bobber will also receive a USB charging port in 2019, a convenient feature that allows riders to charge a personal device while riding. The charging port is located near the speedometer for easy access.
"The iconic Indian Scout family is a favorite amongst riders across the globe," said Reid Wilson, Senior Director for Indian Motorcycle. "Since the addition of the Scout Bobber in July 2017, we've continued to evolve our Scout offering to meet the tastes of various riders, whether they prefer the classic, heritage-inspired look of Scout Sixty and Scout or the stripped-down, blacked-out attitude of Scout Bobber. The refinements we've made for 2019 and the new paint options accentuate the wide appeal of the Scout line."
Color options for the Scout Sixty, which packs a 60-cubic-inch, liquid-cooled and blacked-out engine, include Thunder Black, White Smoke, Ruby Metallic and Star Silver over Thunder Black. The iconic Indian Scout, which packs a 69-cubic-inch, liquid-cooled engine that puts out 100 horsepower, is offered in Thunder Black, Deep Water Metallic, Metallic Jade, Indian Motorcycle Red over Thunder Black and Willow Green over Ivory Cream. Rounding out the lineup is the aggressively-styled Scout Bobber, now offered in Thunder Black, Thunder Black Smoke, White Smoke and Bronze Smoke.
For current Scout owners looking to add the benefits of the USB charging port, Indian Motorcycle will now offer a USB Charging Port Kit, which can be installed on any 2015-2018 Scout or Scout Bobber model and any 2016-2019 Scout Sixty model.
Indian Motorcycle offers a full line of Scout touring accessories, including bags, passenger seats, and windscreens and a full line of Scout performance accessories, including shocks by Fox®, Stage 1 Slip-On Exhaust, and Air Intake. With Indian Motorcycle Accessories, a rider can customize their Scout with reduced and extended reach seats, handlebars and foot controls to achieve the perfect fit.
Pricing for the 2019 Scout Sixty starts at $8,999 in the U.S. and $10,999 in Canada, while the Scout starts at $11,499 in the U.S. and $14,499 in Canada. The Scout Bobber starts at $11,999 in the U.S. and $14,999 in Canada.
-MORE-
Arriving at dealerships now, riders can learn more or test ride by visiting a local Indian Motorcycle dealership. For more information on the 2019 Scout lineup, or to find the nearest dealer, visit IndianMotorcycle.com and follow along on Facebook, Twitter and Instagram.