Indian Motorcycle has announced its latest in dealer customization contests, Project Chieftain. Customized by the dealership's internal team, 10 Indian dealerships created the most badass Chieftain bagger they could imagine.
You have a chance to vote for your favorite at: http://www.indianmotorcycle.com/en-us/project-chieftain.
The top three bikes will be unveiled at an Indian VIP party in Daytona Beach during Daytona Bike Week in March.
Better still, every voter will be entered to win a new 2017 Chieftain – and you can vote every day increasing your chances of winning. Each daily vote is equal to an entry in the sweepstakes.
See all 12 custom Chieftains here then go to http://www.indianmotorcycle.com/en-us/project-chieftain to vote.
American Proud – Coastal Indian Motorcycle 
Our Custom Chieftain will mesh history with the present. First, we want to honor the American men and women that created Indian back in 1901 while recognizing the awesome team that brought it back to us. Another Special Thanks to all the Service men and women that make what we do possible. This bike is designed to Honor or our past and our future….AMERICA PROUD..
Arizona Sunset – Indian Motorcycle Peoria
26″ custom front wheel matching rear. The air ride system allows the rider style and looks. Duel exhaust, Stage 2 Indian Pipes, custom tips, with the Indian cam system for the performance needed. Blended with the stretched bags, side body panels, and custom front fairing, this bike has been designed around the Ride Command system. Enjoy this Chieftain as much as we enjoyed building it. Help from our friends at: AZZKIKR Len, Hoagie, and Darwin
Classic Elegance – Head Indian Motorcycle
This beautiful bike evokes the feelings of days gone by, living up to its name "Classic Elegance". The mystic and golden brown paint scheme along with cream accents and rich leather creates a striking visual and almost tactile image. We didn't forget the legendary chrome. With 17 factory accessories, 22 Indian engravings and emblems it's impossible to confuse this bike's classic linage. Custom bags, tank and the striking 26″ billet spoke wheel complete the transformation of this legendary bike.
Tequila Sunset – Indian Motorcycle of Hollister
This bike features a 23″ custom front wheel, stretched front fender, raked triple trees, custom gold metallic paint, custom made side covers, custom made air cleaner, and frenched in turn signals in the saddle bags.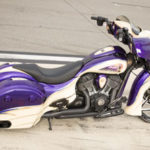 Violent Tendencies
The paint mastery of Chris Cruz Artistry launches this Indian Chieftain into a thoughtful level of edginess and class. A commanding 30" Gorby wheel pulls you into the front fairing's perfectly flushed lighting then effortlessly over the Master Lugo seat, down to the true dual turnout exhaust before wrapping around the AZZKIKR rear end. To recognize America's first motorcycle company, we proudly present Violet Tendencies, a showcase of modern muscle with a classic soul. History is in the details.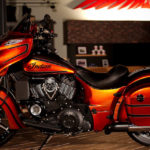 Force Fed
Custom Aztec gold paint job. We added a supercharger so the heart of the motorcycle matches the paint. Custom cut front fender to expose the performance machine wheel. Rinehart racing exhaust to compliment the supercharger sound.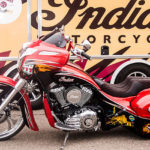 Sin City King
The King is back! This member of Royalty has a 26″ wheel being pushed by a 111 cubic" thunder stroke cam engine. The iconic Sin City style airbrush runs from the stretched tank to the tail dragged rear end. It will have you singing Viva Las Vegas as you twist that throttle to the Heartbreak Hotel. With a 2 in 1 exhaust that will get you all Shook Up! Hope you enjoy this Chieftain Build as much as we did building it with the help from our friends at AZZKIKR Len, Hoagie, and Darwin.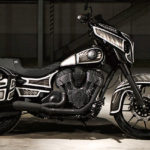 Barnstorm Chieftain
Our goal was to elevate the aspects of the Chieftain performance platform. Because this particular model was already well known for its handling and ergonomics, the challenge was exciting and interesting. Increasing power output with the Indian Motorcycle performance cams, intake and a handmade stainless exhaust was a key step. This, paired with aggressive styling, stunt-inspired bars and controls, bring the bike to an unprecedented level of comfort, ability & aesthetics.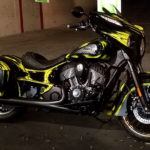 Don't Tread on Me
This bike is based on a second amendment theme, using inspiration from the Gadsden flag (aka "Don't Tread On Me") with a distressed black & yellow color scheme. It features the snake emblem on the bags in an reflective gunmetal grey, " Shall Not Be Infringed" lettering across the fairing, and a hint of the American flag on the saddlebag lids.
It also features a 21″ copper wheel with thick spokes, chopped front fender, six shooter exhaust with Indian air intake, and highway bars with pegs.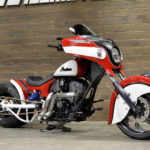 The Holeshot
This motorcycle was built to perform on drag strips. The Indian Motorcycle racing colours are bound to turn heads. The frame, swing arm, fork, wheels, engine, the whole motorcycle has been customized to give it this original drag look! The addition of a NOS bottle is our final touch!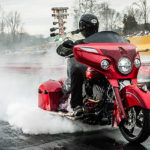 Lightning Bolt
Flashes of light seen in the sky during a discharge of atmospheric electricity—usually occurring during a thunderstorm or on a street near you.
This bike features an Arsenal Racecraft 119 CID Thunder & Lightning engine, custom heads, cylinders, cams, hand-built brakes, 6 degree rake, 4″ wheelbase, carbon fiber wheels, hydrographic printing/painting, custom seat and more.
Heartfelt Thanks to: Will Wagner, Richie Ward, Jere Peterson, Arsenal Racecraft, Will Perry, Wayne Hagler, Andy Jay and Dan Moses.