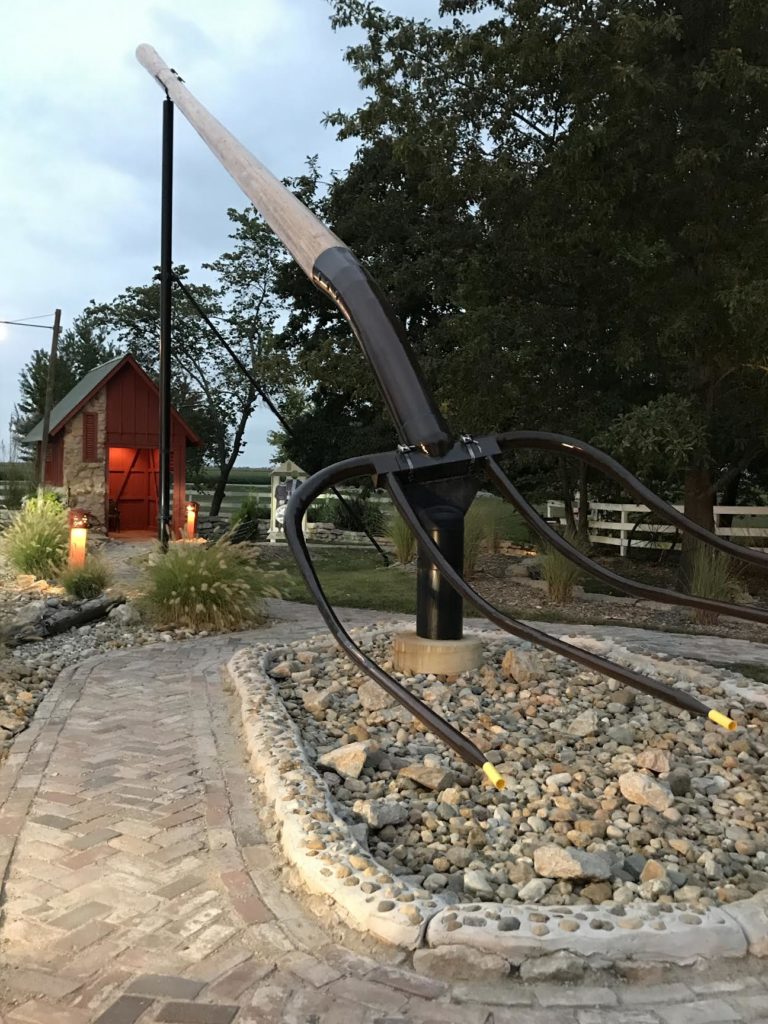 Small town life has romantic connotations: there's no rush hour, the cost of living is reasonable, and you know your neighbors. But reality is often in contrast. Many small towns across the country find it difficult to promote economic development as once-thriving industries change and people move out.
The Bolin family of Casey, Illinois, saw this happening in their town, a quiet hamlet with a population under 3000 that's just a dot on the map off I-70 between St. Louis and Indianapolis. But it wasn't always that way: Casey experienced an oil boom after the turn of the 19th Century. In fact, in 1910 the likes of John D. Rockefeller spent a million dollars on an oil field there. The train station prospered and businesses such as banks, saloons and a racetrack were established.
Alas, the oil boom ultimately ended and over subsequent decades Casey settled back to a more bucolic pace. But instead of complaining or worrying, the Bolins took action about five years ago: they gave people a reason to visit Casey, something to see there that couldn't be found anywhere else.
"My brother came up with the idea, said Troy Bolin. "It started with the wind chime. The rocking chair was next," See, with his brother James and parents Judy and Ed, the family owns and runs Bolin Enterprises, Inc. a pipeline and tank maintenance company located in Casey. When they saw the town dying they brainstormed about how to drive tourism to reboot the local economy. Their solution? Constructing giant versions of everyday things and getting them certified by the Guinness Book of Records.
Bolin Enterprises is a substantial firm; not only do they understand big projects but they have the capability to manufacture and execute them. They also have facilities to paint and sandblast large vehicles in paint bays that are up to 40 feet long, and a body shop where Troy restores old cars and bikes under the moniker "T-Built."
"The welders who work for me and my brother do awesome work," said Troy. "We all have our parts. James has the ideas, I pick the colors and paint." For example, he sandblasted and rusted the pitchfork up to make it look authentic.
The first two giant objectsthe wind chime and rocking chair— were chosen in memory of Troy's maternal grandmother, then the idea expanded. Visitors can now mail a letter at the Guinness-certified world's largest mailbox. In the former train depot and car dealership, now the sweet shop, there's a pair of giant wooden shoes. Giant knitting needles sit inside another local business and the giant pitchfork is placed just outside of town at a local restaurant. As you'd expect, the world's largest golf tee is located at the local country club. These business owners say these attractions definitely increase their visitor numbers and boost sales. Another group of "just big" things are placed around town: a pencil, a birdcage, a yard stick and a wooden coin. All of the giant objects are set in beautifully landscaped gardens.
The majority of the materials used in all the objects are recycled pipe and flanges from the Bolin's company and old telephone poles. On my visit to the Small Town/Big Things workshop a giant gavel and base were being finished up to be placed outside a nearby county courthouse and a giant golf club was underway.
Troy and a friend have plans to refurbish an old garage in town as a bar and grill, with a 1930's hand-carved bar and a set of the world's largest wrenches, of course. He's already designing the furnishings in his head from engine parts he's been saving and thinking about a distillery, too.
Now it's not unusual to find traffic jams in Casey. Said Troy, "On Saturday you can't even come thru town it's so packed." In just five years Casey has become a tourist attraction especially popular with families. The feature on CBS Sunday Morning and article in USA Today didn't hurt, either. Another effort that's bringing attention to Casey: A tiny house that Troy built for his daughter was just featured on HGTV's program on that topic.
Now if you're wondering what any of this has to do with motorcycles, there are two things: First, Casey is a great regional day ride or a fun place to stop for a photo opp when passing through. Second, we met Troy Bolin at the Big Engine Bar at the Buffalo Chip CrossRoads during the Sturgis Rally this year. No surprise, he's a long time Harley rider and shade tree customizer. You should have guessed. All the cool people ride, right?
http://bigthingssmalltown.com/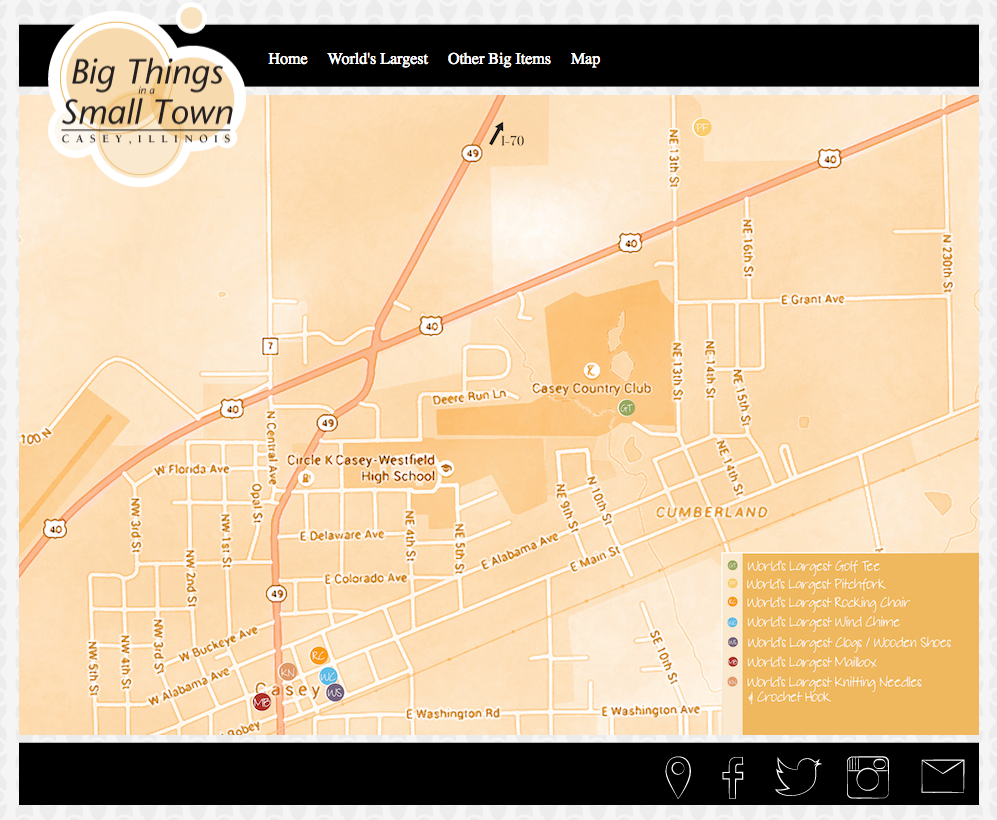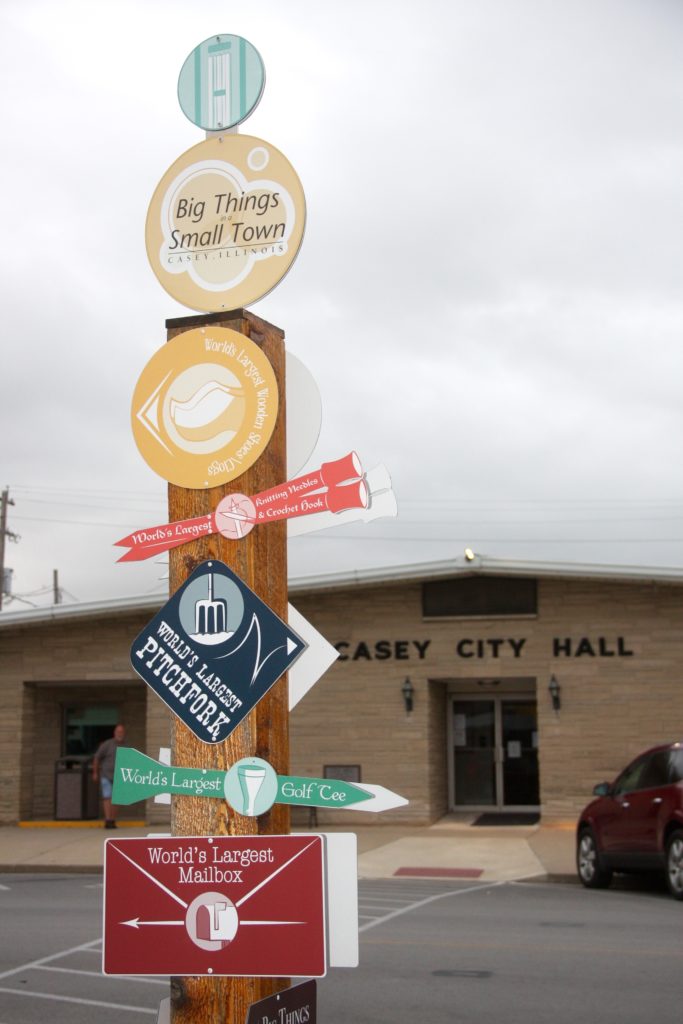 Had new business opening up in town. Gift Shops. On Saturday you can't even come thru town it's so packed.
Dad used to be the mayor – but he's retired now.
Who doesn't want to see the world's largest golf tee or mail a letter from the world's largest mailbox?
Born and raised in Casey – it's home. We've had people wanting to move in and start businesses. They see what's happening.
Nobody's brought the checkbook out!
Hedge against someone beating them: can be cranked up
They're the biggest employer in the state. They employ 300-350 work in 42 different states, have teams of pipeline monitors. They train their own people and have to meet strict regulations. We like to do everything in house that's feasible.
They still own the objects, they just lend them out.
Troy built a tiny home for HG TV. Roof that raises up and sides that pop out like an RV. His daughter sent in the application to HGTV describing the ideas and they were immediately accepted.
and additional business such as gift shops, a coffee shop and lodging options are in the works to accommodate visitors.
Little by little have moved buildings in town and refurbished them, again landscaping beautifully and enhancing the surroundings.