Words and photos by Marilyn Stemp
If you live in a four-season climate, this is about that time when the gray, unkind winter gets on your last nerve, while it drags on… and on. 
So I'm here to bring you out of the doldrums with a virtual trip to sunny jewels of islands sprinkled in a shimmering turquoise sea: the Western Caribbean last October/November, actually, on the High Seas Rally cruise. It was the inaugural sailing of this much anticipated event, reinvented by Entertainment Cruise Productions, who bought it from the founders, Dean Anderson and company. That change in ownership was in 2019, on the cusp of the pandemic which delayed the trip till 2022.
So, after a two year delay, there were finally no barriers to boarding Royal Caribbean's Mariner of the Seas at Port Canaveral, FL. Bike builders, entertainers, seminar presenters, vendors and hundreds of regular riders climbed aboard and enjoyed days in Nassau, Coco Cay, Puerto Plata, and Labadee. The ship's bars, restaurants, pools, casino, and spa provided great times while sailing the seas, along with Foghat, Molly Hatchet, Black Smoke Sinners and Colt Ford in concert.
A charity auction, crazy game shows and zany contests netted tons of prizes plus support for Dialysis at Sea and Wounded Warrior. Alter egos were much in evidence on Halloween, along with Pirate Night and Hillbilly Night, as the promenade deck became a parade of characters.. 
Xavier Muriel's hand-built custom motorcycle, built to be given away pre-pandemic, finally went home with a happy winner. Selected companies showcased their products on the vendor deck and well-known builders like Paul Yaffe, Dave Perewitz, Rick Bray and Pat Patterson shared stories with Barbie the Welder and Jason Hallman on the Cycle Source stage. 
In addition to all of this, shore stops provided the expected cruise elements such as beach time, shopping and sightseeing. And with a whole week at sea, there was time for it all. In contrast to prior sailings, this one, with the entire ship exclusive to High Seas revelers, allowed for a distinctive vibe that made all the difference.
Pictures tell more of the story so check them out, then learn about the 2023 High Seas Rally at https://highseasrally.com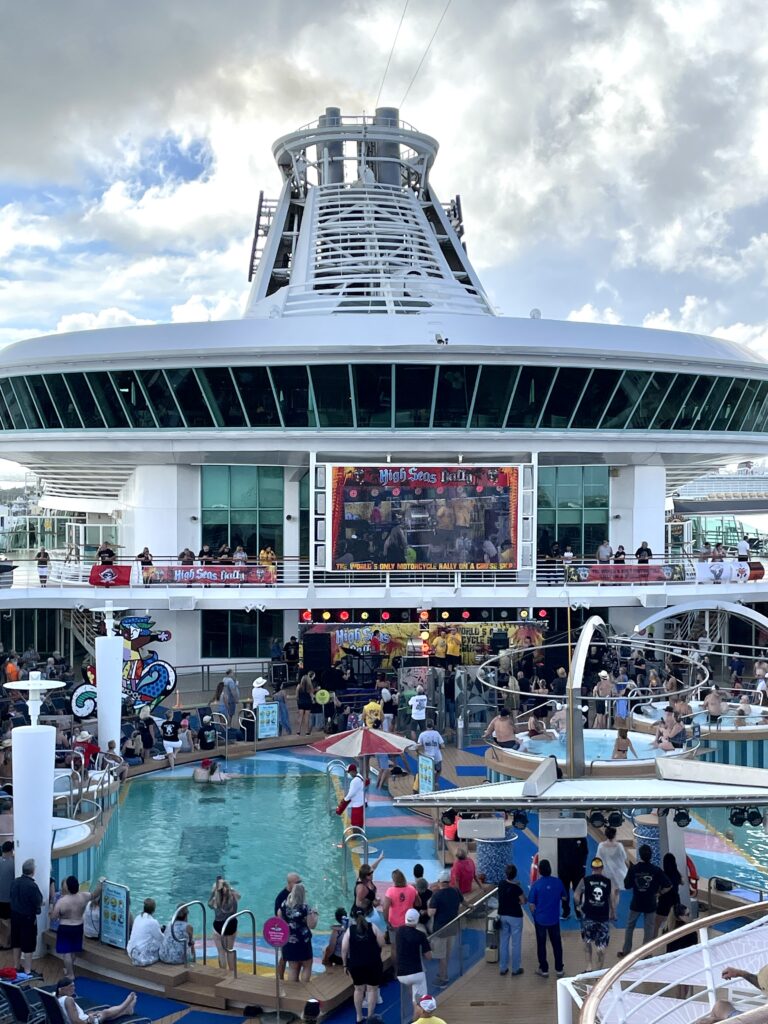 The 2022 High Seas Rally was a total ship takeover!
Posh ports and stellar sunsets , as you'd expect on a Caribbean cruise, as seen below.
Ranging from awesome to zany, some cruisers brought separate suitcases just for their costumes!
Casual interface with vendors kept the focus on fun.
Enjoy the rest of the cruise images.