Legendary bikes of old to race on the same turf as the top flat track machines of today in the American Flat Track's AFT Twins presented by Vance & Hines class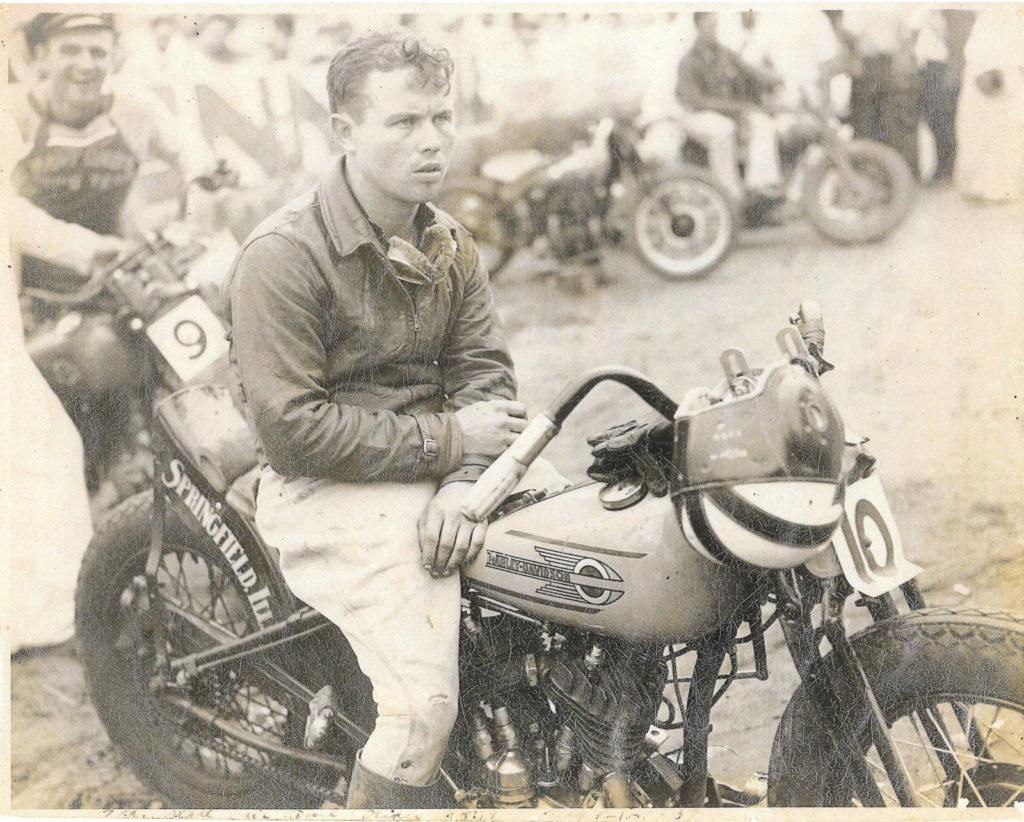 DAYTONA BEACH, Fla. (August 3, 2017) – During Labor Day weekend, the Harley-Davidson Springfield Mile II will feature the best of the old and the new with the addition of a vintage support class to the 15th round of the 2017 American Flat Track season on Sunday, September 3.
With a history that goes back to 1937, the Mile track at Illinois State Fairgrounds in Springfield, Ill., is hallowed ground for the sport of flat track. To honor that rich legacy, the 98th running of the Springfield Mile will feature bikes of the past competing on the same turf as the best flat track machines of today in American Flat Track's AFT Twins presented by Vance & Hines class.
The vintage class will have two heat races separated by categories – tank shifters and foot shifters – and a combined main event. Invitations have been sent out to the top vintage racers from across the country, and excitement grows for this special event. Vintage racers will be pushing those machines with no brakes to limits that were unheard of in the days they first came to this track. To highlight the vintage experience, there will be a 1936 Harley-Davidson RLDR race bike that competed in the inaugural Springfield Mile on display for fans to see in person.
The Springfield Mile has been famous for its close racing. It has been an important battleground for deciding the Grand National Championship, and this year promises to be no exception with defending series champion Bryan Smith and rival Jared Mees locked in another tight title chase. Expectations are set for another barn burner at the Springfield Mile II, which kicks off the season's final four-race homestretch. There "Mile Master" Bryan Smith will look to complete his 2017 Springfield Mile sweep and increase his career record to eighth victories at the legendary venue.
In addition to the action on the Mile track, fans get a double dose of racing action on the nearby Springfield Short Track, Saturday, September 2. Held in conjunction with Steve Nace's All Star series, American Flat Track's rising stars will duke it out for Short Track honors.
There are also a host of off-track activities with a live band and large vendor area for fans to enjoy on Sunday. The displays will include Harley-Davidson, Vance & Hines, Indian, Kymco, Rekluse, AFT merchandise, beer, food, jewelry, sun glasses, ABATE bike raffle, event shirts, and much more.
To purchase tickets for the Springfield Short Track and Springfield Mile II, click here: https://www.springfieldmile.org/Tabs/Events/EventList.aspx
Fans can keep up-to-date with American Flat Track on Facebook (@American Flat Track), Twitter (@AmericanFlatTrk) and Instagram (@AmericanFlatTrack). AFT mobile apps are available for iPhone on the App Store and for Android at Google Play. For more information, please visit http://www.americanflattrack.com.
How to Watch:
NBCSN and FansChoice.tv are the official homes for coverage of American Flat Track events. All 18 rounds, from the season-opening Harley-Davidson DAYTONA TT to the American Flat Track Finals in Southern California, will air in one-hour primetime telecasts throughout the summer and fall on NBCSN. FansChoice.tv remains a cornerstone of AFT's digital strategy and provides live streaming coverage of every event.
About American Flat Track:
American Flat Track is the world's premier dirt track motorcycle racing series and one of the longest-running championships in the history of motorsports. Sanctioned by AMA Pro Racing in Daytona Beach, Fla., the series is highly regarded as the most competitive form of dirt track motorcycle racing on the globe. For more information on American Flat Track, please visit http://www.americanflattrack.com, like us on Facebook, follow us on Twitter, check us out on Instagram, live stream the events at FansChoice.tv and catch all the American Flat Track racing action on NBCSN.