Dura-Knit Is the First Automotive Work Glove to Incorporate Advanced 3D-Knit
Technology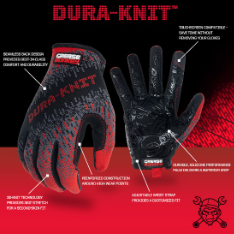 Cincinnati, OH, June 16, 2022 — Mechanics, gear heads, and auto enthusiasts alike can celebrate the
groundbreaking advancement in glove technology and performance with the introduction of Grease
Monkey Dura-Knit gloves.
Dura-Knit is the first 3D-knit automotive work glove that
enhances durability, control, and comfort, while offering
superior protection. Featuring a breathable fabric that
provides 360-degree stretch, Dura-Knit is digitally optimized
to mold to the hand for a second-skin fit and all-day comfort.
The seamless back design eliminates failure points and
uncomfortable seams, while the grip-enhanced palm delivers
the confidence and control to safely handle tools or small
parts.
"Dura-Knit is reinventing gloves with cutting-edge, 3D-knit
technology," said Mark Butts, Vice President of Research &
Innovation, Hillman Solutions. "From the beginning, we
listened to professional and DIYer mechanics that said dexterity and comfort were the most important
attributes of a glove, with protection being table stakes. Dura-Knit technology delivers without
compromise, featuring 360-degree stretch for a second-skin fit, breathable construction for all day
comfort, and an unmatched precision feel."
Whether working on the production line, in a local repair shop, or just tuning up engines in the garage,
Dura-Knit is the Revolution in Automotive Work Gloves that are built stronger to last longer to help keep
hands and fingers protected.
To learn more about Dura-Knit, please visit www.greasemonkeygloves.com.
Protective Solutions – a Division of Hillman
Protective Solutions, a division of Hillman, is the leading provider of personal protection and work gear
products. Hillman Protective Solutions has a broad portfolio ranging from knee pads, tool belts, jobsite
storage, and work gloves that deliver innovative solutions to the Home, Automotive, and Hardware
industries. Hillman Protective Solutions products are available in most major retail stores in North
America under the AWP®, Digz®, Firm Grip®, Gorilla Grip™, Grease Monkey®, and McGuire-Nicholas®
brands. Additionally, Hillman operates a dynamic private label division, creating products for major
retailers across the globe.
About Hillman Solutions
Founded in 1964 and headquartered in Cincinnati, Ohio, Hillman is a leading North American provider of
complete hardware solutions, delivered with industry best customer service to over 26,000 customers.
Hillman designs innovative product and merchandising solutions for complex categories that deliver an
outstanding customer experience to home improvement centers, mass merchants, national and regional
hardware stores, pet supply stores, and OEM & industrial customers. Leveraging a world-class
distribution and sales network, Hillman delivers a "small business" experience with "big business"
efficiency. For more information on Hillman, visit https://www.hillmangroup.com/us/en.