Harley created a genuinely excellent Adventure Bike with the Pan America, and Corbin has been a big part of that world for decades. Despite the remarkable tech and great bike design, the tush cushion from the factory turned out to be somewhat less than exemplary… Not that we're complaining.
Getting the ergonomics right on this one is challenging. Adventure bikes are tall by nature, and that creates a reach issue for a lot of riders. But in this case, the peg distance is a bit cramped while the reach to the bars is long, so having the correct body placement is critical. This predicament is complicated further with the admirable adaptive ride height feature.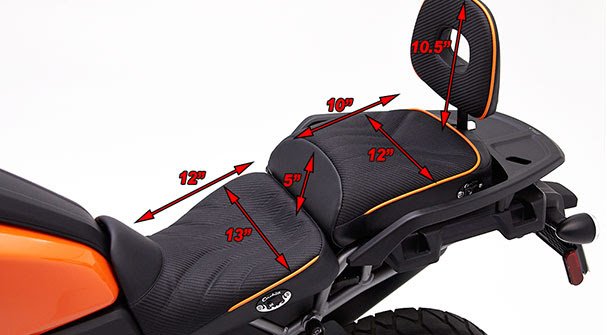 To meet the needs of various riders, we created a Low, Standard and High model to make the best possible seating rather than using the adjustable bracket. This allowed us to optimize seating for each position and ensure we keep a properly neutralized platform. Don't worry though, the Corbin front seats are still simple to install and integrate with your factory key lock. Each one of our solo models will work with your factory rear seat or the companion passenger saddle. Our rear seat will also work with your factory front seat if desired.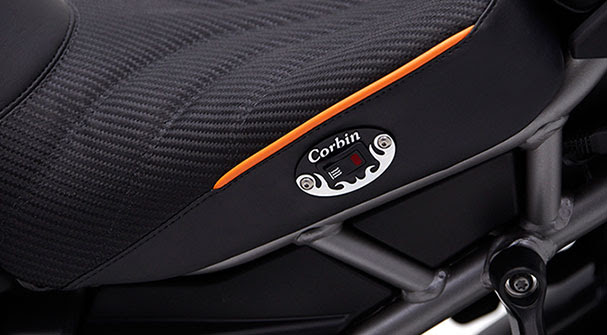 As of today, we only have photos of the Low model, but give us a week or so, and we'll have the full range posed here, along with comparisons alongside the OEM seat components.
We have built electric seat heaters into our saddle designs for an added luxurious touch. Conveniently located switches on the left side of the saddles make it easy to operate. Temperature is controlled and maintained automatically to provide luxurious heat on those chilly mornings. We use a tasteful stitch pattern in the leather seating areas to add a touch of class and conceal the heating pads.
Your new saddle will be your favorite investment for many years to come!
Proudly manufactured in the U.S.A
#HD-PA-SL Corbin LOW Front seat,
2021 Pan America $481
#HD-PA-SL-E Corbin LOW Front seat, HEATED 2021 Pan America $563
#HD-PA-SM Corbin STANDARD Front seat, 2021 Pan America $481
#HD-PA-SM-E Corbin STANDARD Front seat, HEATED 2021 Pan America $563
#HD-PA-SH Corbin HIGH Front seat,
2021 Pan America $481
#HD-PA-SH-E Corbin HIGH Front seat, HEATED 2021 Pan America $563
#HD-PA-R Corbin Rear seat,
2021 Pan America $383
#HD-PA-R-E Corbin Rear seat, HEATED
2021 Pan America $448
#BR Ovalbac Edge Backrest $298