A gift from your ancestors, a loan from your descendents
Story and photos by Marilyn Stemp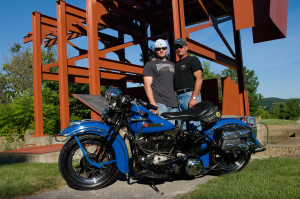 In the Steel City of Pittsburgh, PA, loyalty runs as deep as the three rivers that course through the heart of its downtown. Fierce devotion is evident in the endurance of the city's cultural heritage, the honoring of its industrial past, an all-encompassing ardor for local sports teams, and—most essentially—enduring family ties that persist through the generations.
A Pittsburgher by birth, I've known plenty of people who embrace this fierceness for their Western PA hometown, but seldom have I met a family that exhibits it with more heart than the Salernos. This story is as much about the family as it is about their 1948 Panhead, a motorcycle that has been handed down from father to son to son to son—yes, four times, so far.
The original owner, Ernie Salerno, Sr., passed the bike on to his son, Ernie, Jr., in 1961. Ernie, Jr. rode the bike for years, to work at the Mackintosh-Hemphill steel mill and all over the local area for fun. He gave the Panhead to his son, Mark, Sr. in 1985, who passed it on to its current rider, Mark, Jr. in 2006.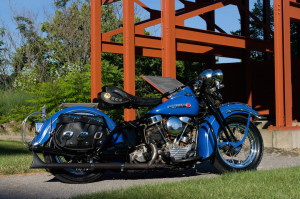 The Pan's presence in the Salerno family was a crap shoot—literally. See, as the story is told, back in 1948 Ernie Sr. won $800 in a crap game. "He took his winnings down to North Side Harley and bought the bike," said Mark, Sr. "He splurged and got the tour package extra. That consisted of the Hollywood bars with two spotlights on either side of the headlight."
That accessory kit, along with every other bit on the Panhead that rolled out of North Side H-D with Ernie Sr. that day, is still on the bike. This bike's patina is as authentic as its owners and there's only one real way to achieve such a finish: the passage of time in respectful hands. Motorcycling is simply what this family does; Mark Sr.'s brother Ernie (of course) has been ridding and wrenching for decades, too, and the family photo albums show various uncles and cousins in jodhpurs and leather helmets, ready to ride.
"When I was a kid, my dad and I rode the bike every nice Sunday to my grandfather's house," said Mark Jr. "I was 17 when my dad first let me take the bike on my own, though he let me kick it over when I was around 12."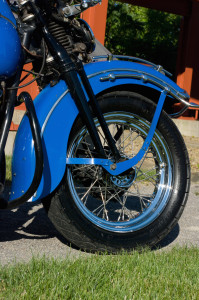 Since the '80s when the Panhead came to Mark Sr., family friend Jack Tepke has helped keep it in running condition. And though Mark Jr. and Mark Sr. admit that there were times through the years when the bike sat unridden, even then it didn't go untended. The top end was freshened up in 1988 because the base gaskets were leaking badly. Carb issues developed in 1998 that went undiagnosed for about eight years. But even though the motorcycle wasn't ridden daily then, there was no question in Mark Sr.'s mind that when the time came, the Panhead was headed for Mark Jr.'s garage. So in 2006, when Mark Jr. called his Dad to say he'd ordered a Night Train, Mark Sr.'s response was predictable. "He said 'Come and get the Pan—and get it running,'" said Mark Jr. with a grin.
News travels quickly in tight families so it wasn't long before Ernie, Jr. called Mark, too. Explained Mark Jr., "He said, 'Don't just let the Pan sit around. Get it running!'"
So with the sanction of both his father and his grandfather, Mark Jr. set out to get the Panhead back on the road. A sheetmetal journeyman, Mark Jr. has been riding dirt bikes since he was 11 and gained his mechanical aptitude the right way: by tinkering on hand-me-down bikes till he got them running. The '06 Night Train is fine, he says, but he prefers the old iron. "They're so easy," he says, about working on older machines. In testament to that, Mark Jr. also has a '76 Shovelhead he's currently rebuilding
As for the Panhead, the bike was all-original when he finally got it in his possession—and for the most part, it still is, allowing for a few small mechanical updates for safety.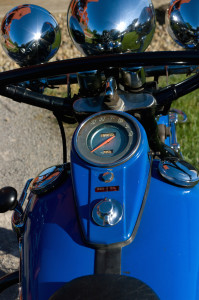 "The float was deteriorated so I put in a brass one and cleaned the Linkert carb," he said. "I cleaned the points and plugs and put new fluids in the bike, and that was it—the bike fired up and ran great." Obviously they built those 74 cu. in. FLs tough back in the day.
The engine cases have never been split and the Pan retains the 6-volt charging system with the original wiring. "I have the original chain and cigar exhaust boxed up," said Mark Jr. He added a set of new Metzeler tires and installed the Paughco exhaust for the sake of practicality.
As satisfying as it was to get the family Panhead back on the road, the best was yet to come. "I'd had it running for about a week when my aunt had a family picnic," said Mark Jr. When he rolled into the picnic on the Panhead, though Ernie Jr. was ailing, he was ecstatic and couldn't wait to get back in the saddle of his old friend "He was revving it to the moon and I thought it was gonna pop," said Mark Jr. "The picture of my grandfather on the Pan says it all."
Just like all of the men who have ridden, do ride, or will ride this motorcycle, the Salerno Panhead is a solid member of the family and it's as stridently connected as any flesh and blood member. The current owner, Mark Jr., might say that while the Pan is a gift from his ancestors, he respects it as a loan from his descendents. And it's likely to outlast him, too, considering its past; forged in iron, steeped in steel.
An Engineering Look at Panheads
by Margie Siegal
Panheads, Harley-Davidson's second iteration of its overhead valve V-twin, were the children of the postwar boom in motorcycling, with classic styling that still defines the cruiser look.
The Panhead story starts in the war years of the 1940's. Harley-Davidson's contribution to America's World War II effort included more than 88,000 motorcycles for the Allies. The Company invested over a million dollars in tooling and factory improvements during the war, and bought as much government surplus equipment as it could afford afterwards.
All this new tooling put Harley in an excellent position to upgrade the product. In addition, aluminum, which had been scarce, was now readily available in excellent alloys developed during the war for aircraft applications. Although it was logical to take advantage of the possibilities of this newly affordable material, Harley management, always cautious, did not want to design a completely new motorcycle. So their approach was to freshen up the OHV the Company was then building, nicknamed Knucklehead by riders.
Harley had built 61- and 74-cubic inch Knuckleheads in limited quantities through the war for police and some military applications. As the war wound down, Knuckle production increased, and it became easier for defense industry workers to get their hands on a new bike. After Japan surrendered, Harley ramped up the production of Knuckleheads while working on a new improved postwar bike.
The Panhead was introduced in the 1948 model year. It featured aluminum heads, internal oil passages, a larger oil pump, and hydraulic valve lifters. From the beginning of Knucklehead production, Harley had chased top end leaks. The Panhead engine improved oil tightness by bolting covers over the rockers and valves. These covers looked like baking pans, hence the nickname. The new Panhead came in 61-inch and 74-inch versions, and in several states of tune.
Panheads evolved at a deliberate pace. Although Harley sold a lot of Panheads during the '40s—4354 "E" 61 inchers and 8405 "F" 74's in 1948, for example—Harley did not intend to blow the budget on fancy innovations its customers might not accept. The 1948 Panhead had a rigid frame similar to the predecessor Knucklehead, hand shift, the same springer front end, similar tanks, wheels and fenders.
In keeping with Harley's philosophy of fixing one thing at a time, telescopic forks turned up in 1949, a foot shift and hand clutch in 1952 and a stronger bottom end in 1955. The 61-inch version of the Pan was dropped at the end of 1952 as a cost cutting measure.
Chrome, however was a sure thing, and Harley made a full selection of chrome accessories available, allowing new owners to doll up the 'bus like Saturday Night. 1948 Panheads could be ordered with a chrome air cleaner cover, fender tips, and exhaust pipe covers, among other parts.
There are still a lot of Panheads out there, at varying prices depending on the condition and originality of the motor and other parts. A Panhead is a strong but simple motorcycle, and one in good condition can still be ridden on a daily basis if the maintenance—especially the frequent oil changes a Panhead needs—is carefully kept up. You can take it to a show or a rally under its own power and display your classic with pride.