Keeping the focus tight and the goal clear
Story and photos by Marilyn Stemp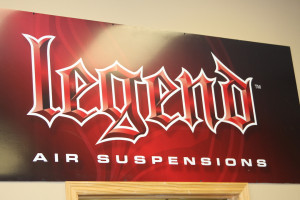 Listen up because this is how it is: "We have our own CNC equipment and we make everything here," said Jesse Jurrens of Legend Suspensions in Sturgis, South Dakota. "There are maybe three parts we don't actually make but they're all U.S. sourced," he added.
That qualifies Legend as a subject for the IronWorks Made in U.S.A. section, don't you think? We do too, so it was a good thing we stopped by to visit Legend during the 2012 Sturgis Rally. If you've buzzed down I-90 from Spearfish to Sturgis you've passed Legend, on your right as you head east, though it's not obvious. Not that the company is trying to hide, mind you, they're just busy is all. And that's a good thing for owners of V-Twin motorcycles.
The company is clear about their goal: Legend is committed to using the highest quality materials and best components available to produce the best performing air suspensions on the market. "We put a lot of effort into getting it right," Jesse said. "It's a long process to get new products into the market but once it's worked out right the product lasts." 
Legend started in 1998, when Jesse convinced the Gates Rubber Company to lend their patented Kevlar impregnated rubber air spring technology to the fledgling South Dakota company. That was the springboard for Legend's V-Twin air suspension systems, the heart and soul of the company's current product offerings. Jesse gained knowledge about suspension systems for motorcycles by riding and studying off-road vehicles; the company has been making off-road suspensions for several years, as well. "We've gained a good bit of knowledge about our components' abilities and limitations," said Jesse, "and that research has improved all of our products including suspension systems for motorcycles."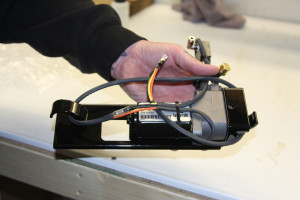 Research and development is always ongoing, too. Legend has to stay on top of every H-D model from an engineering perspective. "We test fit each new model for wheel travel, damping, shock spacing and compressor/electrical fitment," said Jesse. "The compressor is made in Wisconsin and is common on all of our systems but compressor location, wiring and exact model fitment is always a challenge," he said.
In addition to OEM model year changes that can affect any aftermarket product, manufacturing air suspensions is not a simple process. At Legend various components start out as aluminum bar stock that's CNC'd to tight tolerances for each application. Over and above the more obvious parts, air suspension systems also have compressors and electrical parts—and that adds complication. In fact, some of Legend's complete kits contain over 100 individually machined components. "We produce and wire our own handlebar controls or micro toggle switches in house," explained Jesse. "They're all so model specific we do it by hand to ensure quality."
Each suspension system is thoroughly tested before it goes out the door, too. The result is that warranty calls and claims are running about .07% combined, which is miniscule. That's why Legend is confident about offering a lifetime warranty, even for second owners. "As part of our lifetime warranty, current customers can take advantage of upgrades so they're riding the newest and best technology we have to offer," said Jesse.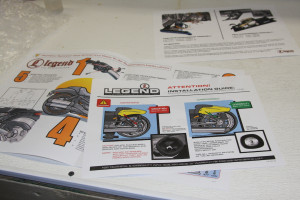 "We've been working hard on internal efficiency as an alternative to sourcing from other countries," he said, going on to describe the lean manufacturing model they've adopted. Part of that model means that ongoing employee training has become vital. "All the employees take classes one day a month," said Jesse. "It changes slowly and is never finished but eventually it becomes a company culture as everyone evolves and develops our efficiencies together."
Another aspect of lean manufacturing involves keeping inventory low so company funds aren't tied up in stock. Certain metrics are used that consider order history and track manufacturing times, so components are made only when they're needed. Standard work assembly stations are used for each model and everything required is within reach. "It's a common sense systems approach learned from years of continual improvements," said Jesse.
Careful thought also went into the design of Legend's Installation Guides, which illustrate the process in four or five steps. "We made sure anyone can install an entire system with a few common hand tools just by looking at the pictures," Jesse said. "It's more work up front but the easier we make installation the fewer calls and problems we encounter."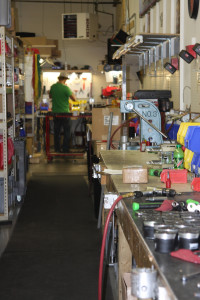 If you're considering a suspension upgrade to achieve the lowered look without sacrificing ride quality, look at Legend. The company has engineered their air suspensions so that when installed and adjusted correctly they'll provide the best ride you can get. That's the beauty of a specific product line: when you do just one thing you can do it well.
Having said that, Legend suspension systems are not inexpensive. You wouldn't expect them to be would you? Certainly not for high quality and top performance in a complete package—made right here, in the USA.
Resource:                              
Legend Air suspension
Sturgis, SD
www.legendsuspensions.com
605-720-4202