You might think that one bike shop is much like another, but that's not so. Sure, they have similarities due to essential equipment requirements, but they have individual personalities too. This became immediately clear when I visited Jim Jones, proprietor with his brother Bill of Custom Services in Lake Geneva, Wisconsin, southwest of Milwaukee.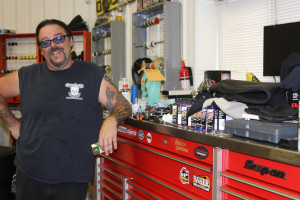 There was no snarling dog, no chainlink fence and no greasy parts pile. On the contrary, this shop was remarkably organized and as close to pristine as any shop I've seen. More impressive, it was chock   full of work. Each lift was loaded with a bike in progress and each nearby tool shelf was impeccably ordered. Don't get me wrong, this isn't the operating room at the local hospital, it's a working shop, but seldom have I seen one so well put together.
Though they've been in business for 20 years, I first learned about Custom Services from Tony Pan, whose Custom Services-built '48 Panhead bobber we found at the H-D Museum custom bike show in 2012 and featured last April. I'd talked with Jim Jones for the story on Tony's bike and decided to make a point of visiting his shop during H-D's 110th. But before that could happen, another bike caught our attention; Big Bird's Pan, featured here, came rolling into the Museum's 2013 custom show. It was quite a looker so I shouldn't have been surprised to learn it was a Custom Services build. Still, it was a serendipitous happenstance for sure.
Not one for fussing, Jim Jones gets right to the point: "We build plain, simple bikes," he said. "It's what we're known for." That may be, but like most things that appear simple, this isn't. They specialize in building the older models, Shovels, Pans, custom hardtails, bikes with hidden suspension, even trikes and bobbers like Tony Pan's built-to-ride custom. When the shop was younger, before they got so busy, they handled restoration work for the local Harley-Davidson dealers, but they have plenty of their own restorations to tend to these days. And there's no love lost here for unnecessary bling and functionless trifles. "It annoys me to see fake stuff in magazines and on TV," said Jim. This place is all about authenticity.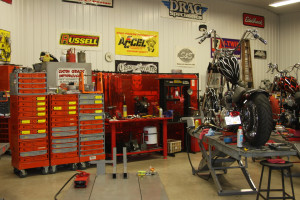 There's no showroom to speak of, you simply walk right into the shop. But Wisconsin business requirements dictate that a fabrication shop must maintain a separate retail space. So adjacent to Custom Services—the bike shop—is a separate business called Creeper's Customs reserved for retail traffic like T-shirt sales. The shop itself is well equipped with numerous work bays, mills and lathes, a wiring station, dyno, paint booth, and stacks of bright red toolboxes floor to ceiling. Welding and fabrication tools and materials are housed separately to keep noise and debris down.
Custom Services does quite a bit of overseas business, too, shipping finished bikes literally all over the world. For the H-D 110th, one customer was coming in from Australia to ride the '48 Pan they'd finished for him. It would be shipped to him in Australia after the week's end.
When I asked Jim how he and his brother Bill divide up the workload, he said, "We both just do it all. We even get along—at times."
There's nothing like a family business, huh? —M. Stemp
Resource
Custom Services Cycles
Lake Geneva, WI
262-248-2818
www.creeperscustoms.com