Further details of the 2014 Motorcycle Cannonball Run, have been announced by the event's promoter, Lonnie Isam, Jr. Scheduled for 17 days in September, the coast-to-coast run on antique motorcycles has its roster full and the route set. You can't ride in the event but you can follow along, as we will.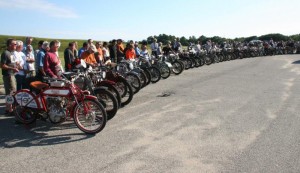 The continent-wide event is not a race but a timed test of rider endurance and the roadworthiness of the machines. Riders will navigate non-Interstate roads across 10 states. According to a press release, "the endurance ride for pre-1937 motorcycles gets underway in Daytona Beach, Florida on Friday, September 5 with 115 entries from 32 states, 11 countries and 3 continents as well as the island of Japan. The historic run will indeed be watched by the world as motorcycles of all marques tackle a demanding route across America."  A day of rest, repairs, and some festivities in the hospitable town of Junction City, Kansas is planned on September 12.
The lineup of antique bikes slated to run includes some lesser-known marques such a 1923 Ner-a-car, a Sokol 1000, and a Sunbeam m9. The field is dominated by 67 Harley-Davidsons, followed by 19 Indians, 16 Hendersons, 6 BMWs, 2 Moto Guzzis, 2 Moto Freras, as well as 1 each Rudge, BSA Sloper, and Brough Superior. In past Runs, the Hendersons were the ones to watch.
Five museums stops are on the route.
• Coker Tire Museum in Chattanooga, Tennessee
• Cyclemos Motorcycle Museum in Red Boiling Spring, Tennessee
• Rocky Mountain Motorcycle Museum in Colorado Springs, Colorado
• Legends Motorcycle Museum in Springville, Utah
• LeMay Museum in Tacoma, Washington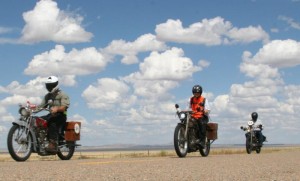 While organizers and MCR Course Master John Classen are still working out final details of some stops, there will be several opportunities for the public to meet the Motorcycle Cannonball riders during one of the 19-hosted events as they make their way along their arduous journey. After a total of some 3,944 miles, the ride concludes Sunday, September 21 in Tacoma, Washington.
Flying event colors for the Motorcycle Cannonball Endurance Run is a great way to support this remarkable event. Official commemorative t-shirts, caps and lapel pins are now available at the National Motorcycle Museum Store and website
http://www.nationalmcmuseum.com/category-s/1847.htm, or call (319) 462-3925 to order yours. These are the only official Cannonball apparel items.
Complete information about the Motorcycle Cannonball Run, including route details and promoted events, is available at www.motorcyclecannonball.com. Contact: Felicia Morgan, Director of Communications, feliciamorganrides@gmail.com, (916) 307-3606 mobile.