Carlile to make a run at the AFT Singles title on the Estenson Racing Yamaha YZ450F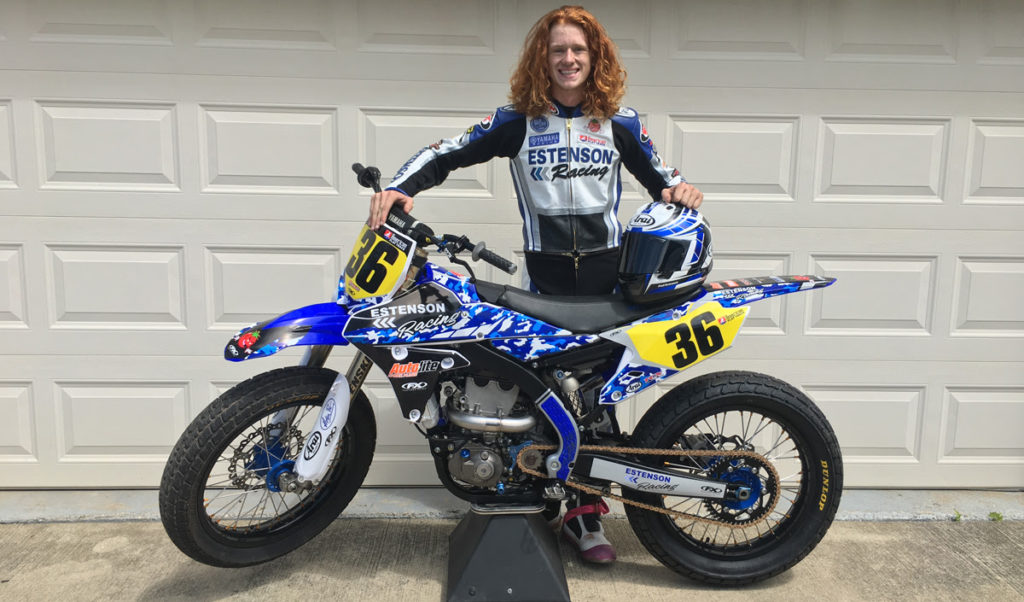 MESA, Ariz. (July 24, 2017) – Estenson Racing is thrilled to announce that AFT Singles title contender Kolby Carlile has joined the team effective immediately in a deal that includes the 2018 American Flat Track season.

Carlile's arrival completes a momentous couple of weeks for Estenson Racing that also saw Sammy Halbert earn X Games gold in Minneapolis.

With Halbert currently ranked fourth in AFT Twins competition on the strength of four podiums, the addition of Carlile rounds out the Estenson Racing team line-up. It also returns the squad to AFT Singles action in which it reigned victorious in the first two races of the '17 season with Dalton Gauthier.

Carlile, who just turned 20 earlier this month, is one of the sport's "Rising Stars." The New Yorker earned his first career AFT Singles victory last season at the Charlotte Half-Mile en route to an eventual fourth-place championship ranking.

Carlile has only continued his rapid ascension in 2017, and he currently sits second in the AFT Singles championship fight. To date this season, he has secured three podiums, seven top fives, and has a worst result of seventh outside of an unlucky DNS at Lima due to a mechanical issue suffered after demonstrating race-winning pace.

Andrew Butler has also joined the team to serve as Carlile's mechanic.

"I'm super excited to be joining up with the Estenson Racing team," Carlile said. "As soon as I started talking with them, I realized how professional and serious they are about this. The new Yamaha YZ450F bikes I am riding now are unreal fast, and I already feel at home on them.

"This is a great opportunity for me because it is allows me to grow into their Twins program one day. It is a late start to join a new team, but all of us here at Estenson Racing have no doubts where we can be at the end of the season."

Team owner Tim Estenson said, "I'm extremely excited Kolby has decided to join Estenson Racing. When I learned he was available, I knew I needed to sign him. Kolby is a person of integrity, tenacity, and motivation with a great future within AFT. I feel he will be a valuable asset to the Estenson Racing family."

Explaining the specifics of the deal, Estenson said, "We will continue having Kolby focus on the AFT Singles program through 2018 with the hope of getting him some seat time on our Twins along the way. Kolby is not only a great rider but a true professional in front of the media as well as his fans. I encourage all of the American Flat Track fans out there to continue to cheer Kolby on as he makes the transition to our YZ450 Yamahas."
How to Watch:
NBCSN and FansChoice.tv are the official homes for coverage of American Flat Track events. All 18 rounds, from the season-opening Harley-Davidson DAYTONA TT to the American Flat Track Finals in Southern California, will air in one-hour primetime telecasts throughout the summer and fall on NBCSN. FansChoice.tv remains a cornerstone of AFT's digital strategy and provides live streaming coverage of every event.
About American Flat Track:
American Flat Track is the world's premier dirt track motorcycle racing series and one of the longest-running championships in the history of motorsports. Sanctioned by AMA Pro Racing in Daytona Beach, Fla., the series is highly regarded as the most competitive form of dirt track motorcycle racing on the globe. For more information on American Flat Track, please visit http://www.americanflattrack.com, like us on Facebook, follow us on Twitter, check us out on Instagram, live stream the events at FansChoice.tv and catch all the American Flat Track racing action on NBCSN.