ARE YOU JEKILLIZED?!
'PROJECT 21'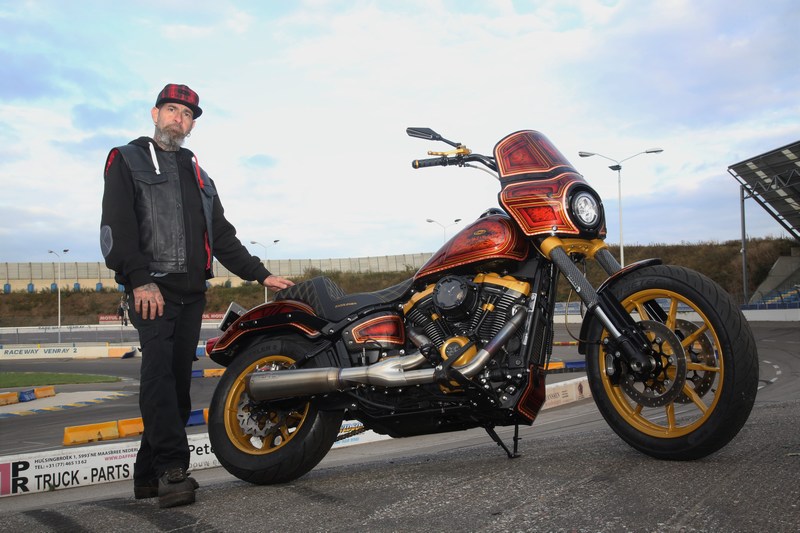 Dr. Jekill & Mr. Hyde presented a two-in-one exhaust specially developed for the Clubstyle. And that presentation was done in a big way, it happened on the Venray circuit. And not only the exhaust was presented, Dr. Jekill & Mr. Hyde unveiled a spectacular custom bike built specifically to promote that new exhaust.
We were welcomed with coffee and Sjoerd Ottenheim, Product Manager at Dr. Jekill & Mr. Hyde presented a wonderful program and with the introduction of a group of Clubstyle motorcycles that explicitly showed their presence by turning the throttle wide open and presenting the full, deep sound to the attendees of their pre-production Twenty-One exhausts! "Yes," explains Sjoerd, "The Twenty-One produces a sound that really takes the power of the M8 engine to new heights like you never expected. The thrill of riding is enhanced by better feedback from your exhaust, challenging you to demand that little bit extra from your bike. The exhaust has been subjected to extensive sound tests to create this perfect sound experience." He continues, "This exhaust has been designed with input from a specific group of performance and club style riders. First as a design in the computer, then a model was made in 3d with the scanner, after which we could proceed to make a prototype." There is more to making an exhaust than just sound, it is also the looks, the finish, the materials and the power that all influence the development and the final result. "The headers and muffler are made of stainless steel, it is a balance between performance and legal requirements. There are different end caps in different colors and with a nice logo, all specially developed for the M8, but perhaps also for other models in the future,"says Sjoerd.
While the first bikes are making their rounds on the track, we can admire the new exhaust in the pits that is fitted to various bikes. Ecomaxx provides everyone today with their petrol, which is not only of very good quality, but also has an extremely long shelf life. Kellermann is present, various companies and motorcycle shops with which has been worked together and at the Dr. Jekill & Mr. Hyde truck I get into a conversation with Peet Gerards, who is also closely involved in the "Twenty-One" project. "This is a unique 2-in-1 electronically controlled exhaust," he says, "The Twenty-One is really made for people who expect more in terms of performance and sound. With this in mind, we at Dr. Jekill & Mr. Hyde created an exhaust that meets all the needs of the Clubstyle- and performance scene, including the characteristic features and innovations of an ordinary Dr. Jekill & Mr. Hyde exhaust system." It has become an exhaust with an industrial matte finish that will appeal to many people, available in a brushed or matte black version.
Meanwhile, stunt rider Chris Pfeiffer has started his warm-up, rather the warming-up of the Don Performance M8 Softail's tires that screech across the tarmac transforming them  into clouds of smoke. The sound of the new 2: 1 exhaust is a powerfully recognizable sound. Chris plays with the Softail and then does sprints on the straight with Bas Leek of West Coast Motors. Afterwards our bellies are filled with delicious sandwiches, fresh from the BQQ. There was plenty of time for those who liked to do some more playing on the track. In the corners you can see that the Project 21 exhaust has more than enough ground clearance when the bikes are pushed to the limit by some riders.
A vintage pickup is started and the rear wheels spin enthusiastically. As the smoke from the burnout slowly fades, the newest Dr. Jekill & Mr. Hyde custom bike emerges. Everyone responds with loud cheers and while clapping their hands people watch in admiration. Sjoerd gives a brief explanation, "For extra exposure and to show how cool this exhaust looks and sounds, our own Harley-Davidson Softail Low Rider S has been converted by Mario Kyprianides into a real Clubstyle bike!" Mario, who already built a lot of customs under the company name Chopper Kulture, managed to convert the bike in cooperation with many great names in the industry, in a very short time with many special Clubstyle features and more than sufficient performance, with the custom paint and the exhaust being real eye-catchers.
Sjoerd then shows what is possible for different configurations with regard to the new exhaust system, after which Chris could take the honors when it comes to "running in". Burn-outs, wheelies, anything that you think is not possible, Chris can and does at ease, wonderful! The mood is good and even a Honda Monkey is put in the bed of the pick-up and after a joint burn-out, this day is almost over.
"Brace yourself for an exhaust that not only performs like a beast, but sounds like it. The rough and stripped-down design makes this exhaust a must-have for Milwaukee-Eight Softails," says Dr. Jekill & Mr. Hyde about the new exhaust. That new exhaust will soon be available for the M8 model line such as the Street Bob, Fat Bob, Low Rider, Low Rider S, Breakout, Fat Boy, Heritage, Deluxe and the Slim.
There are three sound modes, or, as they aptly put it themselves; "Our exhaust systems embody three different personalities: the Dr. Jekill mode, Dynamic mode and Mr. Hyde mode. With a simple push of a button, the valve that is placed halfway up the muffler closes or opens, which provides more sound and performance. You can choose per situation whether you are in the Dr. Jekill mode, dynamic mode or Mr. Hyde mode. You decide! " And finally, "The Dr. Jekill & Mr. Hyde / The Exhaust is a completely street legal system and complies with European legislation and laws, in short: your riding style can get you in trouble… your exhaust can't! "
Text & photography Onno "Berserk" Wieringa madnessphotography.nl
Info: www.jekillandhyde.com  /  https://www.jekillandhyde.com/en/clubstyle-exhaust-project21
Tech Specs / Parts used on the Project Twenty-One custom bike:
GENERAL
Builder: H-D / Mario Kyprianides
Owner: Jekill & Hyde
ENGINE
H-D M8 114
Arlen Ness air intake: Custom Chrome
Cam chest kit: Feuling
Oil: Motul
Gaskets: Cometic Gaskets
Clutch cover: Cera Carbon
Barnett Clutch cable: Custom Chrome
Tuning: Don Performance
Exhaust: Dr. Jekill & Mr. Hyde Project 21 two-into-one.
CHASSIS
Frame: H-D
Skidplate: Speedmerchant
Front forks: Cera Carbon
Adjustable Suspension: Hyperpro Suspension
Brakes: Rebuffini, wave discs front and rear, and rear brake mount
Rear brake: Brembo, nickel plated billet custom caliper
Brake lines: Goodridge / Custom Chrome
Sprocket: Cera Carbon
Tires: Metzeler, Cruisetec
Wheels: H-D
GENERAL
Saddle: Saddlemen, Step Up custom seat
Indicators: Kellermann, Atto Black
Hand controls and handles: Rebuffini
Mirrors: Rebuffini
Fairing: Memphis Shades
Handlebars: Factory Frankfurt
Handlebar bushings: Custom Chrome
Levers: Factory Frankfurt
Flo footrests: Factory Frankfurt
Carbon side covers: Italian Performance Parts
Vented dipstick: Feuling
PAINT
Powder coating: MBT
Paint: Chikos Pinstriping, Chicano paintjob