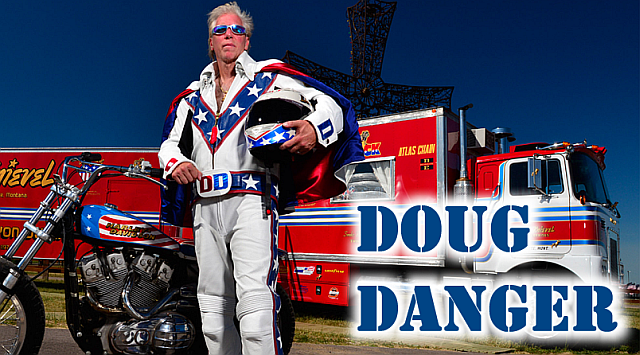 Doug Danger will be appearing at Bruce Rossmeyer's Destination Daytona on Friday, March 11th from 1-4 pm in the Budweiser Lounge. He will have spectacular posters of his World Record jump for sale, which he will be autographing. Doug will also have a video of his triumphs and tragedies. Doug will be wearing the Vanson Leathers that he wore for the World Record Jump, an exact replica of Knievel's 1974 Sports Illustrated cover photo and will have the Bell Helmet designed for this jump, by Knievel's painter, George Sedlak.
Doug Danger, professional motorcycle daredevil, recently successfully finished a jump for his hero and mentor, the famed Evel Knievel on Evel's own 1972 Harley Davidson XR 750. This 22 car Harley Davidson World Record Jump took place at the Legendary Buffalo Chip on August 6, 2015 in front of 35,000 excited fans. Danger was quoted as saying. "Now Evel Knievel and I hold the World Record together."
Doug's flight was in excess of 150 feet, landing 21 feet past the last car. The jump was voted "The Most Monumental Moment of the 75th Sturgis Rally. In a terrifying display of courage, motorcycle daredevil Doug Danger pulled off a jump that even the great Evel Knievel could never accomplish. Danger roared down a dirt path between packed campers, under a steel bridge, up an engineered ramp and over 22 cars set along the main street through the center of the Sturgis Buffalo Chip amphitheater. The back tire of the 40-year-old Harley bit the edge of the landing ramp and stuck after a quick bounce. Danger just barely missed the edge of the decking which surrounds the Chip's famed Top Shelf bar where onlookers gasped at the daring feat from just 20 feet away.
Doug Danger adds this latest accomplishment to his Guinness Book World Record Jump over 42 cars in 1991 on his Honda CR 500. It is still the most cars jumped to this date. Doug is also a Motivational Speaker for youth, colleges and corporations, he has survived Stage IV Cancer, fought his way back from a tragic crash that left him in a coma for a month, and has 36 years experience as a motorcycle daredevil.
At the tender age of 53, Doug has no plans of retiring. He has future aspirations of successfully completing the jumps his idol, Evel Knievel, missed. This includes the 13 bus jump in Wembley Stadium, London, jumping 15 tractor trailers to bring the record back to the Knievel-Danger name and finally, completing a jump at the Grand Canyon.