Championship of the Americas Competition Returns,
Brittney Olsen Named Custom Culture Ambassador
IRVINE, Calif.
(April 12, 2017) – The
American International Motorcycle Expo presented by Nationwide
(
AIMExpo
) announced the return of the highly popular
Custom Culture Pavilion
to the 2017 show, taking place this
September 21-24
from the Greater Columbus Convention Center in Columbus, Ohio. Custom Culture at AIMExpo is designed to attract young enthusiasts and provide an exhibit area for aftermarket manufacturers of custom products, performance engine components and lifestyle apparel. The pavilion will also feature the
Championship of the Americas
custom bike build-off and the interactive
"Artisan's Row."
For 2017, antique motorcycle racer
Brittney Olsen
has been named the Custom Culture ambassador.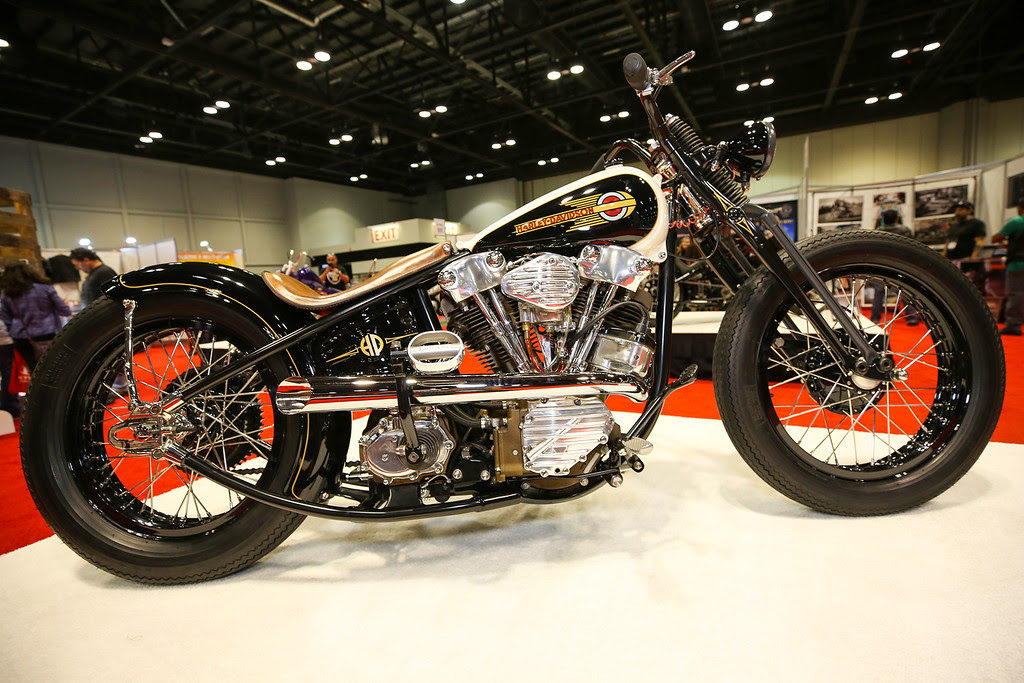 For the third year, AIMExpo presented by Nationwide will host the
Championship of the Americas
(CofA) bike build-off, an AMD World Championship of Custom Bike Building qualifying event. With each year the bikes continue to impress the crowds that flood the aisles of the show, and last year's entries were no exception. In addition to the established Freestyle, Street Custom, Retro Custom and Performance Custom classes, new awards will be given to best bobber, café, chopper and tracker that "Trended" across social media.  With the new location of this year's show within 50% of the United States population, the quality and quantity of builds showcased in the 2017 Championship of the Americas competition will be the best-of-the-best from North America.
In addition to the CofA bike build-off, the Custom Culture Pavilion will feature exhibitors that have embraced the custom lifestyle. Skidmark Garage, a 10,000 sq. ft. community motorcycle garage in Cleveland, will host the Skidmark Garage Showcase & Lounge, a marquee showcase in the pavilion that will provide an engaging area for attendees and builders to mingle, take photos and share dreams. The "Artisans Row" will showcase talent of industry craftsmen and craftswomen in a variety of fields including photography, tattooing, leather work, pinstriping, metal work and even kids face painting.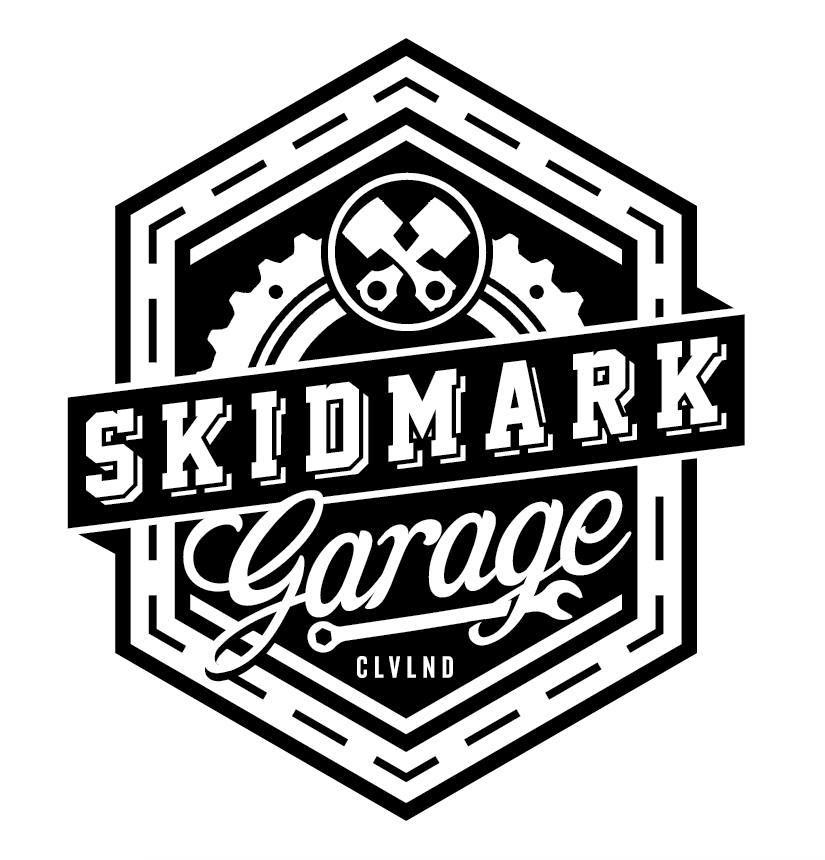 With the Custom Culture Pavilion bustling with activity throughout the four-day show, attendees will have a chance to meet and talk with the
2017 Custom Culture ambassador Brittney Olsen
. The antique motorcycle racer, who recently took top honors at the inaugural
Sons of Speed
race in Daytona Beach, Florida, will be on hand to share her passion for educating current and future motorcyclist about early American motorcycle racing – done through her company
20th Century Racing
. Leading up to AIMExpo presented by Nationwide, Olsen will also be a spokesperson for the show and its efforts to embrace the new custom culture taking place in today's motorcycle landscape.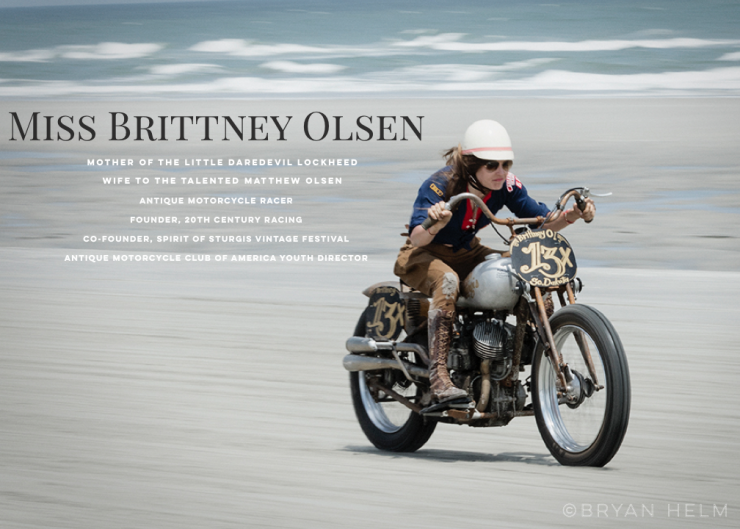 "Custom Culture at AIMExpo fulfills a request from the industry for an area where traditional V-Twin and newer genre custom products can be showcased," said Bob Kay, Custom Culture Director. "It is quickly becoming one of the show's highest traffic areas as we continue to develop and define what it means to be a part of the custom culture in 2017."
Be sure to stay tuned to the AIMExpoUSA.com website and keep up to date on exciting news as it happens by visiting AIMExpo's social media pages. "Like" the American International Motorcycle Expo presented by Nationwide on Facebook, and "Follow" on Twitter or Instagram: @AIMExpo.
Hear from last year's Championship of the Americas Freestyle winner and see all the talent from the bike build off!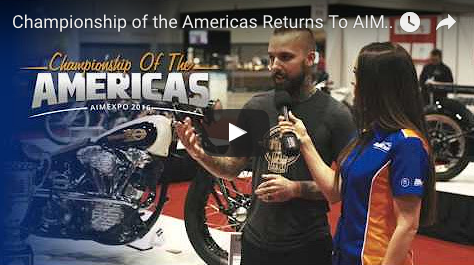 About American International Motorcycle Expo presented by Nationwide
The American International Motorcycle Expo presented by Nationwide (www.aimexpousa.com) was created to serve as the catalyst to bring together industry, press, dealers and consumers in a single arena that creates a grand stage for motorcycling and powersports in the U.S. and North America, and delivers an efficient and energetic market-timed expo platform for B2B and B2C in the greater powersports industry. AIMExpo presented by Nationwide is the single most important event of its type in the North American market and has international impact within the motorcycling and powersports community. AIMExpo presented by Nationwide is produced by the Motorcycle Industry Council (www.mic.org).
About the Motorcycle Industry Council
The Motorcycle Industry Council exists to preserve, protect and promote motorcycling through government relations, communications and media relations, statistics and research, aftermarket programs, development of data communications standards, activities surrounding technical and regulatory issues, and the American International Motorcycle Expo presented by Nationwide. As a not-for-profit, national industry association, the MIC seeks to support motorcyclists by representing manufacturers, distributors, dealers and retailers of motorcycles, scooters, ATVs, ROVs, motorcycle/ATV/ROV parts, accessories and related goods and services, and members of allied trades such as insurance, finance and investment companies, media companies and consultants.
The MIC is headquartered in Irvine, California, with a government relations office in metropolitan Washington, D.C. First called the MIC in 1970, the organization has been in operation since 1914. Visit the MIC at www.mic.org.
About Nationwide
Nationwide, a Fortune 100 company based in Columbus, Ohio, is one of the largest and strongest diversified insurance and financial services organizations in the U.S. and is rated A+ by both A.M. Best and Standard & Poor's. The company provides a full range of insurance and financial services, including auto, commercial, homeowners, farm and life insurance; public and private sector retirement plans, annuities and mutual funds; banking and mortgages; excess surplus, specialty and surety; pet, motorcycle and boat insurance. For more information, visit
www.nationwide.com
.
Nationwide, Nationwide is on your side and the Nationwide N and Eagle are service marks of Nationwide Mutual Insurance Company.

AIMExpo 
2 Jenner, Suite 150
Irvine, CA 92618
Media Contacts
Scott Roegner – AIMExpo