January 2021 • By Dave Boulé • Photos Larry Erickson, Dan Kaplan, Kris Kelso & Tony Thacker
Presented by BUAMotorsport, RatTrapRacing.com &  USAutomotive.co.uk 


In a coffee shop at one of the casinos lining the main boulevard in Wendover, NV, four guys are having breakfast. It's Speed Week 2008. Two are automotive journalists, one's a PR hack and the last one is an automotive designer—Larry Erickson. They're all friends enjoying the completely unique and sublime experience that is land speed racing on the Bonneville Salt Flats. As the conversation zigs and zags, and the laughs keep coming, Larry is sketching on one napkin after another. "What are you drawing?" someone asks. Larry looks up with a smile, "My race car."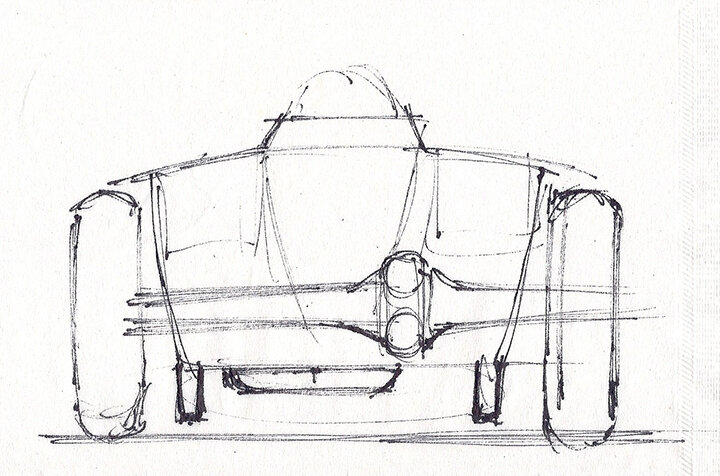 That may not have been the beginning of Larry's dream, but it certainly was where it started to become real. Erickson's worked for GM, Ford and at the largest automotive OEM parts supplier in North America, and has also penned CadZZilla, the Aluma Coupe, the '92 Cadillac Seville STS, the '05 Mustang and a host of other hand-built rides. This combination of corporate and hot rod has given him a unique appreciation of the required, the useful, and the just-because-it-looks-good. He's also a hands-on builder. A lot of car designers doodle racecars—they are, after all, the essence of what an automobile can be—but Larry has nurtured a serious desire to bring a pure performance car to life for decades.
It's been a circuitous journey. Decades ago, a friend found him a ready-to-go Bonneville roadster for $15,000. It was ugly, but it had four times the asking price in parts alone. Larry didn't buy it. "I don't want to just own a car; I want to build one," he said. And a big part of wanting to build it was wanting to work with a community of like-minded people to whom making things was important.
Larry's enthusiasm is infectious and it has brought together a group of extremely passionate, talented, skilled—and good natured—folk who love making things and who jumped at the chance to be part of this quixotic project. Metal shaper extraordinaire Ed Scutchfield sums up their point of view with his mantra, "Build something beautiful." Paul Beck, who's built more than a few cars himself—including Bonneville cars—got the ball rolling when he pulled from his parts collection a Model A cowl that he'd found years before in a Montana ditch.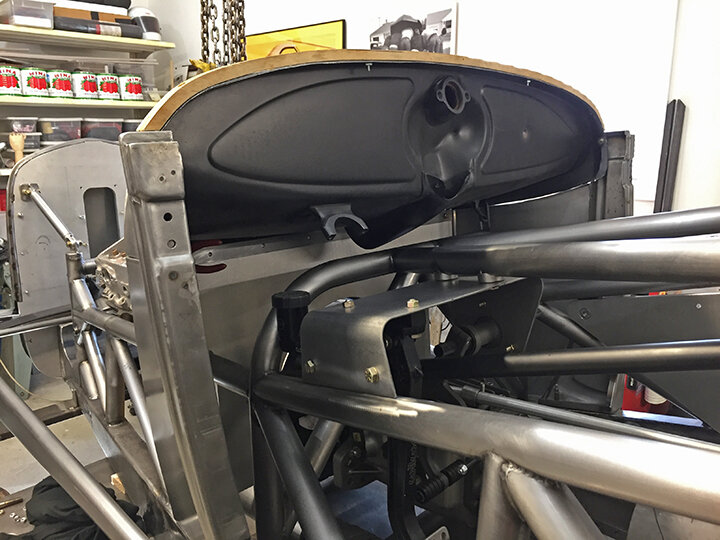 Time passed and more parts accumulated, but the going was slow as family, work and other responsibilities diverted time and resources. The slow pace proved to be an asset, however, as it allowed word of the project to percolate through the racing and fabricating world and attract a growing list of people who wanted to help this dream become real. Some of the others who've contributed include:
Dennis Kelso – Friends with Larry since high school, Dennis knows his way around a garage, is resourceful, perpetually positive…and the car's driver #1.
Keith True – Former Ford Design clay and digital modeler, talented utility player and driver #2.
Gary Maurer driver #3, Jeff Higel, Jim Musser, Mike Kleeves, Hans Sahling, and Joe McKeen
Finally, in 2020, all the labor, love and sacrifice passed a major milestone, the car made it to the World Finals. It wasn't ready when it was put on the trailer in Michigan, and the first two days (and nights) on the salt were spent finding, fixing, and completing roughly a million important details. It was exhausting and only humor and dedication got them through. The SCTA organization wants every participant to run and do well, and they were supportive to this effort at every step. They asked repeatedly "What can we do to help you?" and offered counsel and encouragement.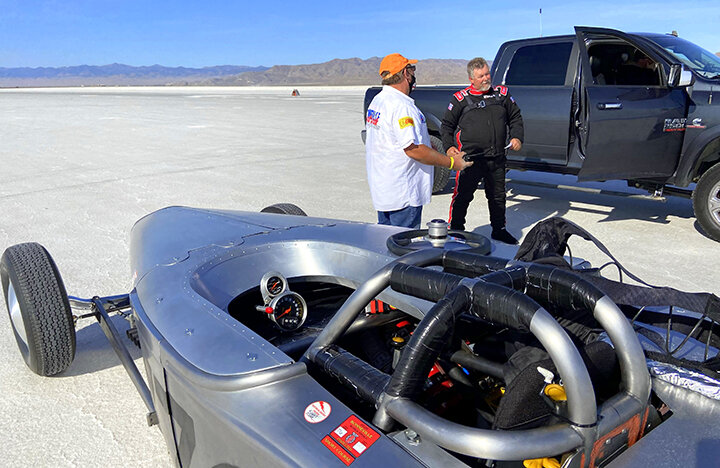 This spirit of camaraderie is one of the things that make Bonneville and land speed racing so compelling. The location is isolated, the environment hostile, the effort intense, and the ability to make any money out of all the hard work and financial investment is remote if not impossible. As Larry has remarked, "This is not an easy hobby."
On the last day, at virtually the last hour, the team felt like they were ready. They'd made it through tech, fixed a few more things, and got in line. The sun was brutal and the tension was high, but finally it was their turn. The starter remarked that driver Dennis Kelso was smiling, and leaned into the cockpit to say, "The track is yours." The car fired up, the push truck got things going, and a run was made. At the end, not much speed was achieved—which is normally the objective, of course. But on this day, for this team, this was a win. The car is in the books, nothing broke, much was learned and a dream was realized.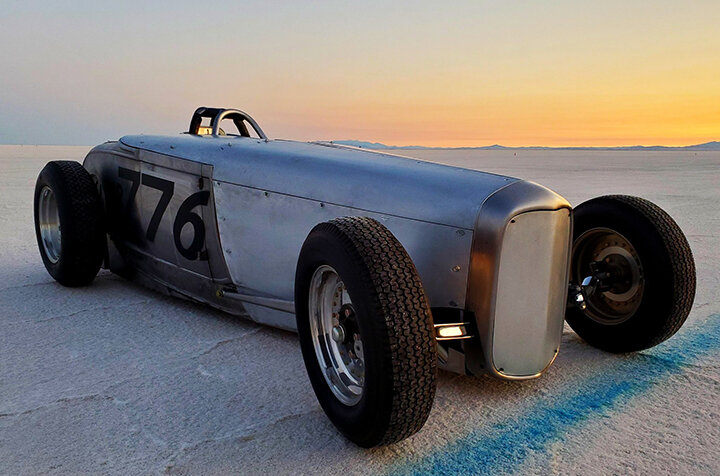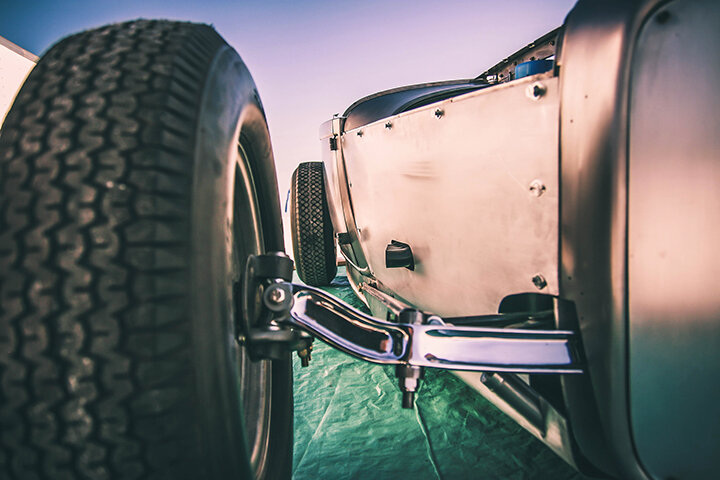 Larry's goals for the future are now firmly set: Go every year; get better, give a bunch of people the opportunity to go fast, and have fun. And that's what this dream has been about from the beginning.
Vehicle: Land speed Roadster
Class: D/GR Gas Roadster (D=261-305.99 ci/5.015-6.111 L)
Owner: Larry Erickson
• Engine: For 2020 World Finals – 305 Chevrolet with just enough horsepower to pass a rookie test. Supplied and built by Keith True
• Intake: Chevrolet Performance
• Carb: 650 Holley
• Ignition: HEi
• Headers: Gary Maurer
• Transmission: Jerico 4-speed with 0.96 4th gear ratio
• Rear axle: Winters quick change, 4.12 ring and pinion, 3.09 final drive ratio
• Body: Original 1928 Ford Roadster cowl, doors and upper firewall. Date stamp: 6-27-28
• Rear quarters and above and below deck lid panels: Brookville Roadster
• Water tank: Model A gas tank converted to water
• Body length:142 inches
• Weight: 3175 lbs.
• Frame: Extensively modified 1932 Ford
• Wheelbase:117.5-inches
• Overall length:153-inches without push bar
• Height: 46.5-inches to the top of the roll cage
• Front axle: Stock 1932 Ford chromed (Paul Beck says it makes them go faster)
• Front track: 60-inches
• Rear track: 55.5-inches
• Rear brakes: Winters hydraulic drums as found on heavy duty Ford 9-inch rear axles
• Front rims: Ken Huff 5.0 x 16 aluminum
• Tires: Dunlop Racing 6.00 L-16 (28-inch diameter)
• Rear rims: 11 x 18 Centerline aluminum (donated by Jimmy Shine)
• Rear tires: Dunlop Racing 7.00 x 18 (32-inch diameter)
• Parachute: Simpson
• Seat belts: Simpson
• Fire system: Deist Safety two 10 lb. systems
• Fuel tank: Fuel Safe 10-gallon