Story and photos by Marilyn Stemp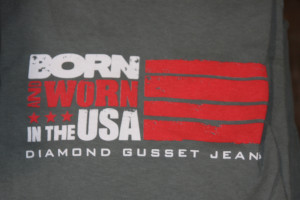 Some might say that doing things the hard way is the only way. For Diamond Gusset's David Hall it sure is. See, after working with the big name blue jeans manufacturers and watching as one of America's iconic touchstones was outsourced overseas, David decided he'd develop an American-made blue jean, a better one. That's not an easy task. "Someone told me it couldn't be done, but I'm stubborn," he said with a grin.
That was 28 years ago and since that time Diamond Gusset jeans have been made right here in the U.S. by Americans from 100% American materials—from the denim to the thread to the patches and rivets. That's impressive but David's approach was bigger than that. "I had this idea for an American made blue jean incorporating a new design, a gusset design, but I was told it would never work," he said. He persisted though and thanks to that breakthrough design combined with top quality materials, Diamond Gusset jeans rival any brand you can name for both comfort and durability.
Originally developed for the general market once people began wearing and talking about Diamond Gussets, unexpected audiences turned up. "We didn't go to bikers, they came to us," said David.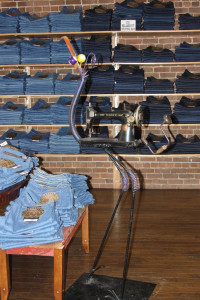 About eight or nine years ago riders discovered DG jeans and appreciated the greater freedom of movement, comfort and durability. This led the company to develop the Defender jean, which has all the heavy-duty aspects of regular DGs plus Kevlar protection. Of course, the company stepped up the design here, too, making improvements over other riding jeans by putting Kevlar panels in the hips as well as the knees and seat, and adding a front wallet pocket and Velcro tabs at the ankles. Said David, a longtime rider, "We've got families and if we go down we would like to come home safe, too."
But about that gusset design: it involves a delta-shaped insert in the crotch area that redistributes the stress on the fabric, adds room and results in fewer thicknesses being stitched together in a lump—a concept that put the functional aspects of blue jean styling back on the drawing board for the first time in decades. The company also uses reverse seams, as opposed to the more common layover seams, which are more likely to split when taxed. Diamond Gusset's reverse seams are tucked inside and reinforced three times. Zippers are from the U.S.-made YKK heavy-duty line and pocket lining is heavy milled pocketing that stands up to tools.
"We have faith in our materials," said Retail Manager Eddie Campbell who we met at the Lynchburg, TN store. Eddie first wore Diamond Gussets while working construction with his father. "We bought from David because he was a local guy making a US product," he said. "When we saw how indestructible the jeans were, we were won over. I have pairs that are eight or nine years old."
The company buys high quality denim from American Cotton Growers out of Texas, coincidentally the same company that supplied Levi for several years before their production moved offshore. "And it's sewn by people who care about what they're doing," said Eddie. "That means you're going to get a long lasting, quality product you can rely on."
When people raise an eyebrow at the $65 price tag or say they can get jeans for $20, he asks if they want three pairs of cheap jeans or one pair of great jeans with a better fit, that supports your own economy, and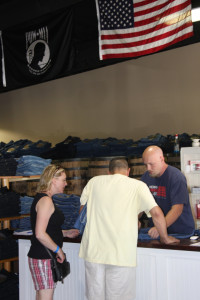 will wear better than three or four pairs of other ones. DGs are made in waist sizes from 29 to 60 and in women's sizes, too.
The main factory is now in Blue Ridge, GA and the original retail store is in Bon Aqua, TN where fine finishing and shipping also happen. The Lynchburg store is 2 years old. "Every day we're still growing. It's the great American story," said David.
Though motorcycle riders are mainly interested in the Defender style you should know that the company keeps adding items, all just as well made and with American lineage. Plans are to launch 20 to 30 new products including a Roadster style jean co-branded with Orange County Choppers and a Legends line of shirts and jackets starting with styles influenced by the Gatlin Brothers' Larry Gatlin. Bib overalls are being prototyped, too.
Don't be surprised if you see Diamond Gusset set up at rallies, either, because they're on the road quite a bit, touting the Defender's benefits and winning over riders. "We want to make sure you get the right fit for you, something that's comfortable that you're going to wear and tell every one about," said David. "That's what's kept us in business this many years."
Resource:
Diamond Gusset
www.americangusset.com
931-670-3589
Lynchburg Store: 931-759-5828