Buffalo Chip Challenge™ Scholarships
How often have you heard long time riders lament that not enough younger riders are into motorcycles? And if you work in the industry, how many times do you hear others lamenting the lack of new blood in the workforce?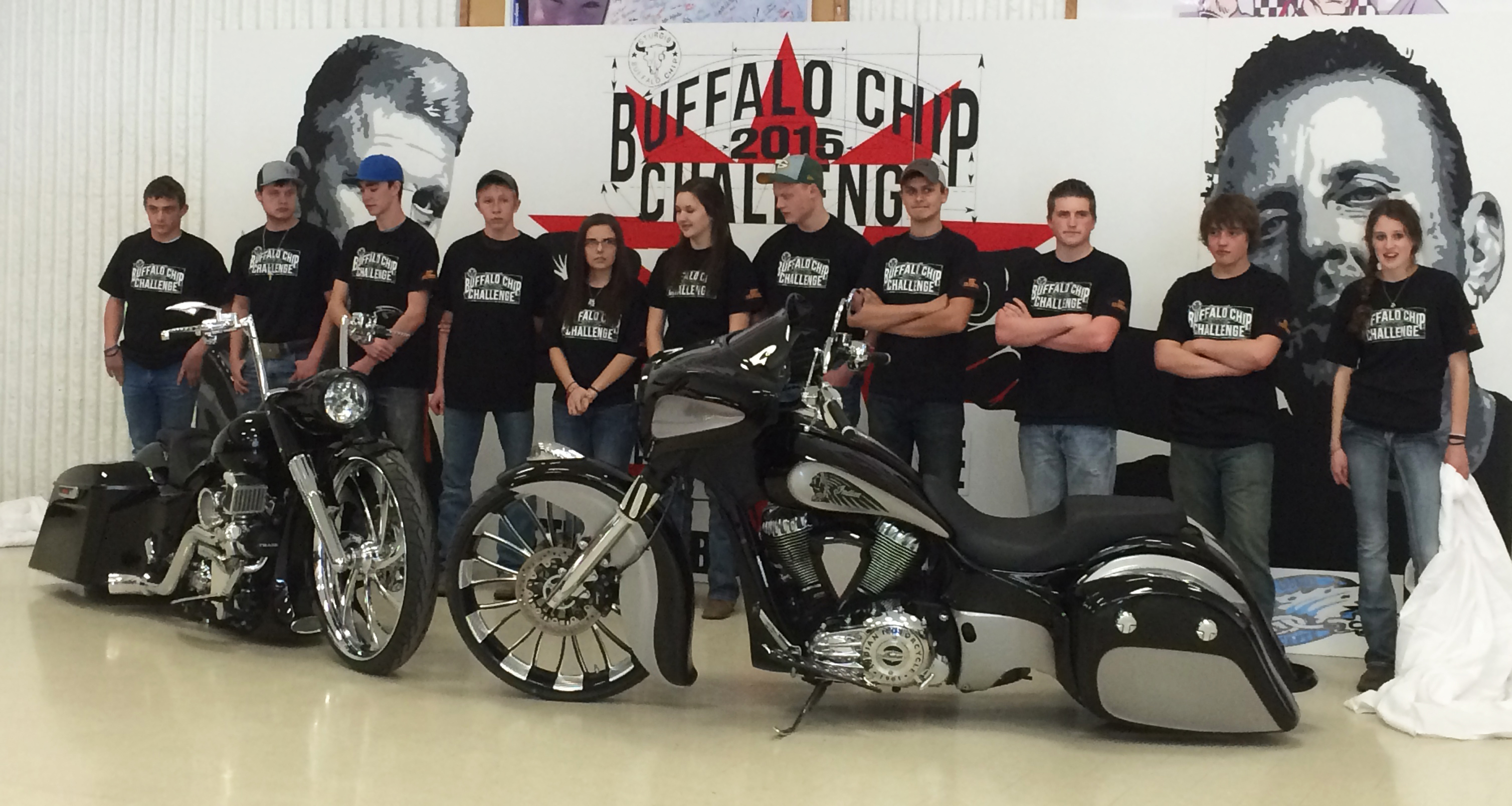 Well, at least one group of community-minded riders is doing something about that. Over the past five years, the Buffalo Chip Challenge has brought together veteran motorcycle builders, fabricators and manufacturers with Sturgis area high school students. While working with industry professionals to customize a stock motorcycle into a stunner for the Legends Ride charity auction, the students develop not only technical and interpersonal skills but perhaps an interest in motorcycling as a career, too. Keith Terry, Randy Cramer, Nick Cramer and Chris Malo are among those who have served as instructors and mentors to the students.
Initially partnered with only Sturgis Brown High School, the program expanded to include additional regional high schools this year resulting in greater participation and broader reach. Buffalo Chip President Rod Woodruff also offered students the opportunity to apply for $8,500 in scholarship money and three outstanding students have been chosen.
Sidney May, a junior at Spearfish High School, received the top award of $5,000. May showed great enthusiasm and invested more than 78 hours in the three-month bike building program. Shon Williamson, a junior at Sturgis Brown High School, won a $2,500 scholarship and Arianna Nelson, a junior at Sturgis Brown High School won $1,000.
"These students are simply outstanding and I am very pleased to be able to help them continue their education and further their career goals," said Woodruff. "These three students alone invested nearly 200 hours in the program, learning motorcycle customization skills from some of the best in the business. They took advantage of an opportunity not offered to many, let alone high school students, and showed great initiative."
A variety of criteria was used to determine scholarship awards including level of participation, interest and improved abilities over the course of the program.
In addition to input from Keith Terry of Terry Components, Chris Malo of Baggster led Team Indian to build a John Shope Signature 2014 Indian Chieftain and Nick and Randy Cramer led Team Harley to build a Paul Yaffe Signature Harley-Davidson Road King. The addition of industry super stars, John Shope and Paul Yaffe was just another of the many exciting changes to the program this year.
In March, the students competed against professional custom bike builders from around the country at the prestigious Donnie Smith Bike Show in St. Paul, MN. The student-built Chieftain received first place in the Full Custom/Other Bagger class and the 2014 Harley-Davidson Road King took second place in the Harley Road King (w/26″ wheel, full custom) category, both remarkable achievements.
About the 2015 Buffalo Chip Challenge™
The Sturgis Buffalo Chip® continues its commitment to education and the growth of South Dakota's motorcycle industry with its annual Buffalo Chip Challenge. The program pairs award-winning veteran custom builders, Keith Terry, Randy Cramer, Nick Cramer and Chris Malo with Black Hills area high school students to customize motorcycles. The goal is to develop students' skills and knowledge in a real-world environment as a career-path springboard after graduation.