By Marilyn Stemp
The best shoes are the ones you never think about – because they're so comfortable they
simply don't impact your consciousness. When I was gathering up my impressions for this
review of Harley-Davidson Footwear's Bateman 4" Metal Riding Sneakers that's one of the first
things that came to mind. But it's not the only thing.
First, some context. I started to test these sneakers at the worst possible time for them and for
me: during Sturgis Rally week as I ran the daily custom bike shows and a couple of other things
at the Sturgis Buffalo Chip. That's combat duty for sure. But it's also real-world use at a time
when "okay" or "good enough" isn't; these sneakers had to perform; no excuses, no caveats.
And I'm delighted to tell you they did! Here's how:
Sneakers like these, built for riding by a company that knows bikers, are inherently capable by
design. In addition to all-important comfort, I appreciate the comparative light weight of the
Batemans, a stealthy feature that contrasts with how substantial they actually are.
Tough leather construction and the consequential 1" rubber outsole combine with the proper
overall height for ample ankle protection. Extra thickness across the front of the toe adds
durability exactly where it's needed, for obvious reasons. And Batemans are cushioned inside,
sporting mesh lining plus cushy padding around the tops and along the tongue. These are
features that matter to riders. The fact that they're also great-looking and super capable for
traversing the urban jungle is a bona fide bonus.
Like most hi-tops, they take a few minutes to wrestle on: you have to pull open the laces then
wedge your foot in and wiggle until you feel that satisfying thunk as your heel seats. To that
end, the pull tab at the back of the shoe isn't an ornament – it's a functional tool that's thick
and substantial enough to use to effect. So, too, are the reflective laces, which importantly stay
tied, with or without heel lock lacing.
Such characteristics have made these shoes a staple of my gear kit – going seamlessly as they
do from bike to trail to street. The flat rubber outsole provides legit grip, on the pegs or
floorboards and on the street. That's a function of solid construction.
As for the "Metal" in the name, that refers to a bit of flash: nickel-like bar & shield logos
accented by several matching rivets. I chose the gray color, acknowledging the time I spend in
dusty parking lots, but they also come in black. For a few dollars more, the Bateman Ankle Pro
riding sneaker features built in ankle armor for an extra measure of protection. Women's
Batemans are priced at 108.95.
My ultimate assessment? Despite their trial by fire, these sneakers have lots more miles in
them. And I intend to take them wherever they lead.
See these and many more styles at the H-D Footwear website, which includes truly useful
reviews from real riders – super helpful when making a decision to buy shoes online.
https://www.harley-davidsonfootwear.com/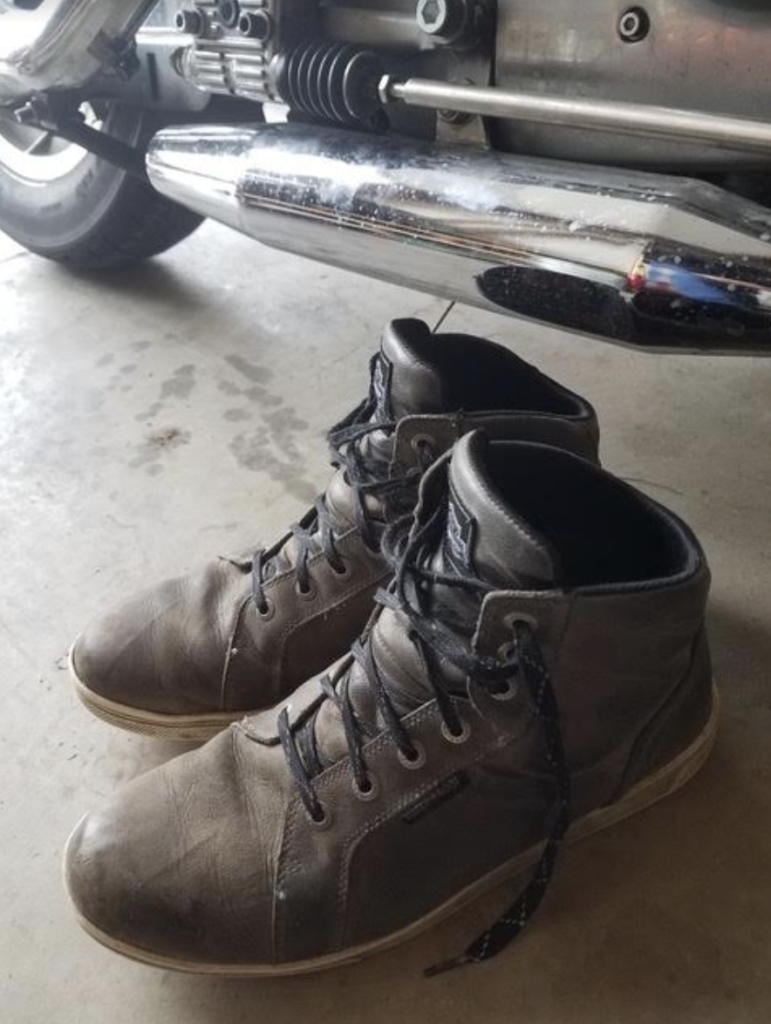 Before: Right out of the box.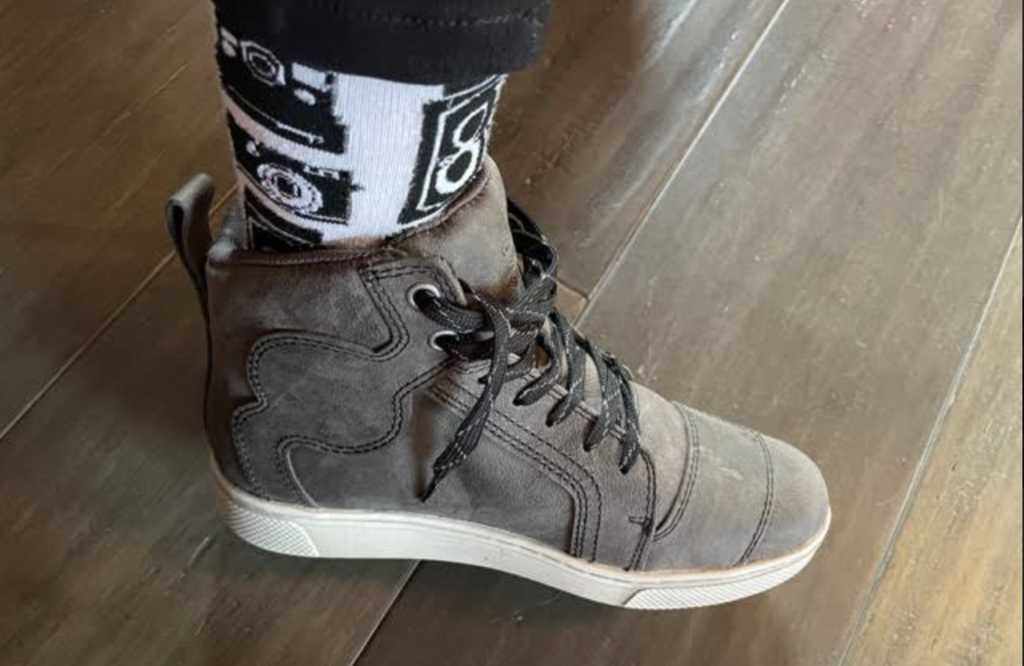 Ah, that satisfying "thunk."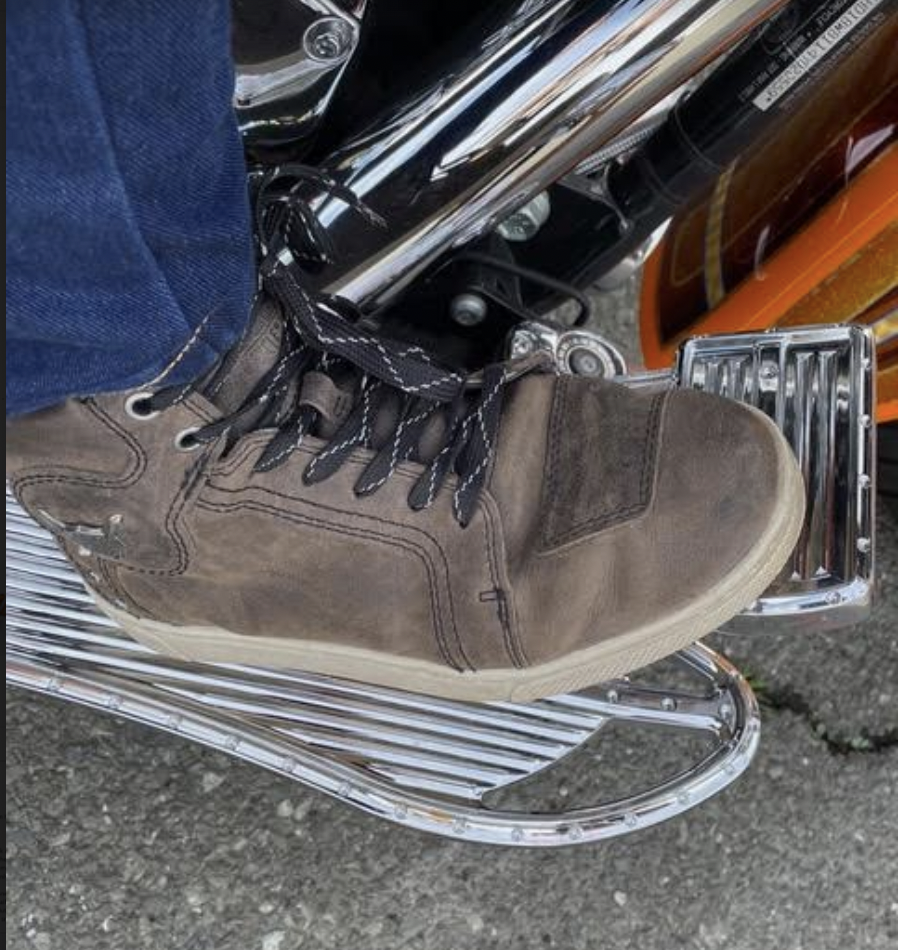 After: And miles to go before I sleep.