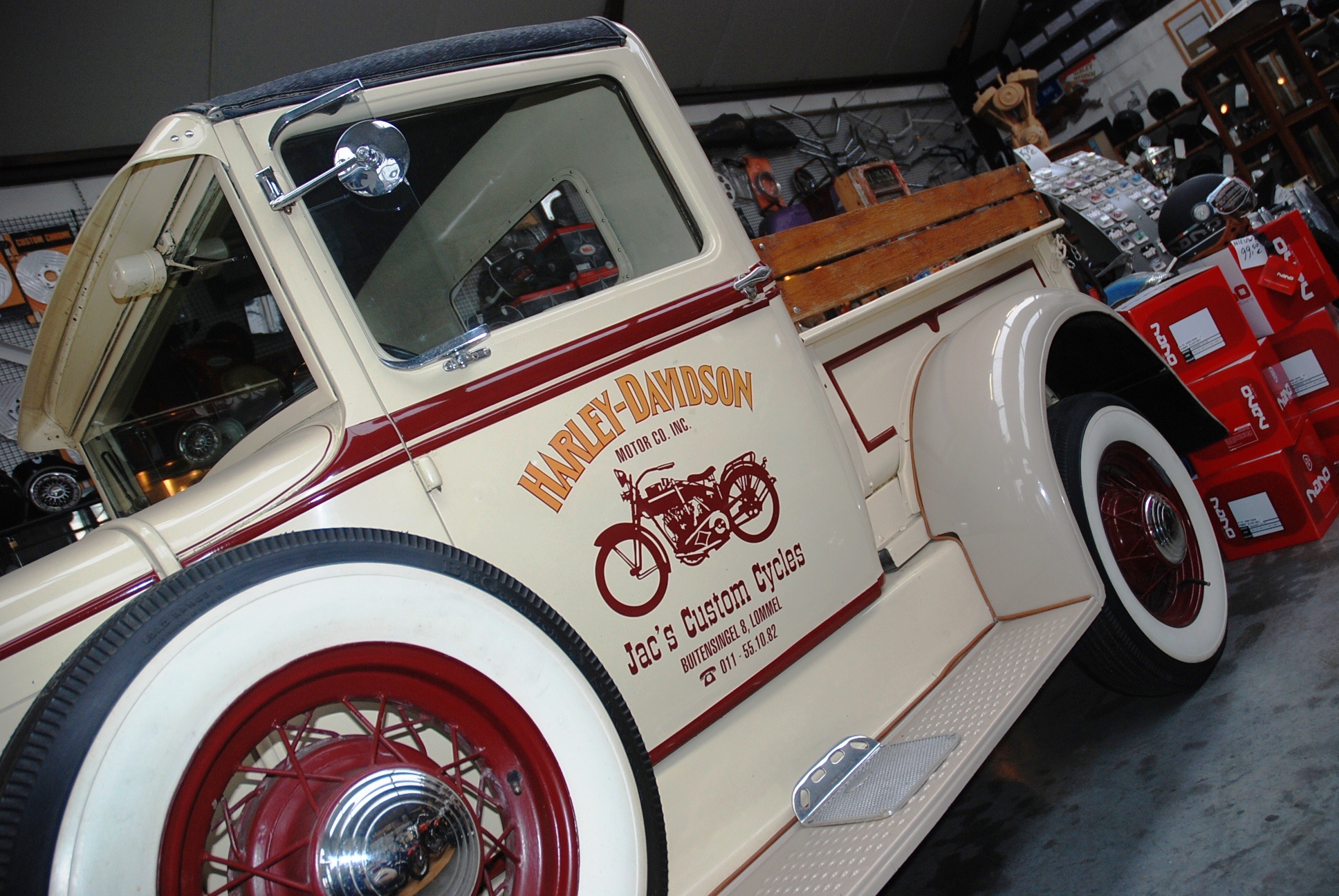 Story and Photos by ITN European Reporter Herve' Rebollo
Salut à toi American rider,
This time, let me take to  … Belgium, to introduce Mister Jac, the owner of JAC'S CUSTOM CYCLE!!!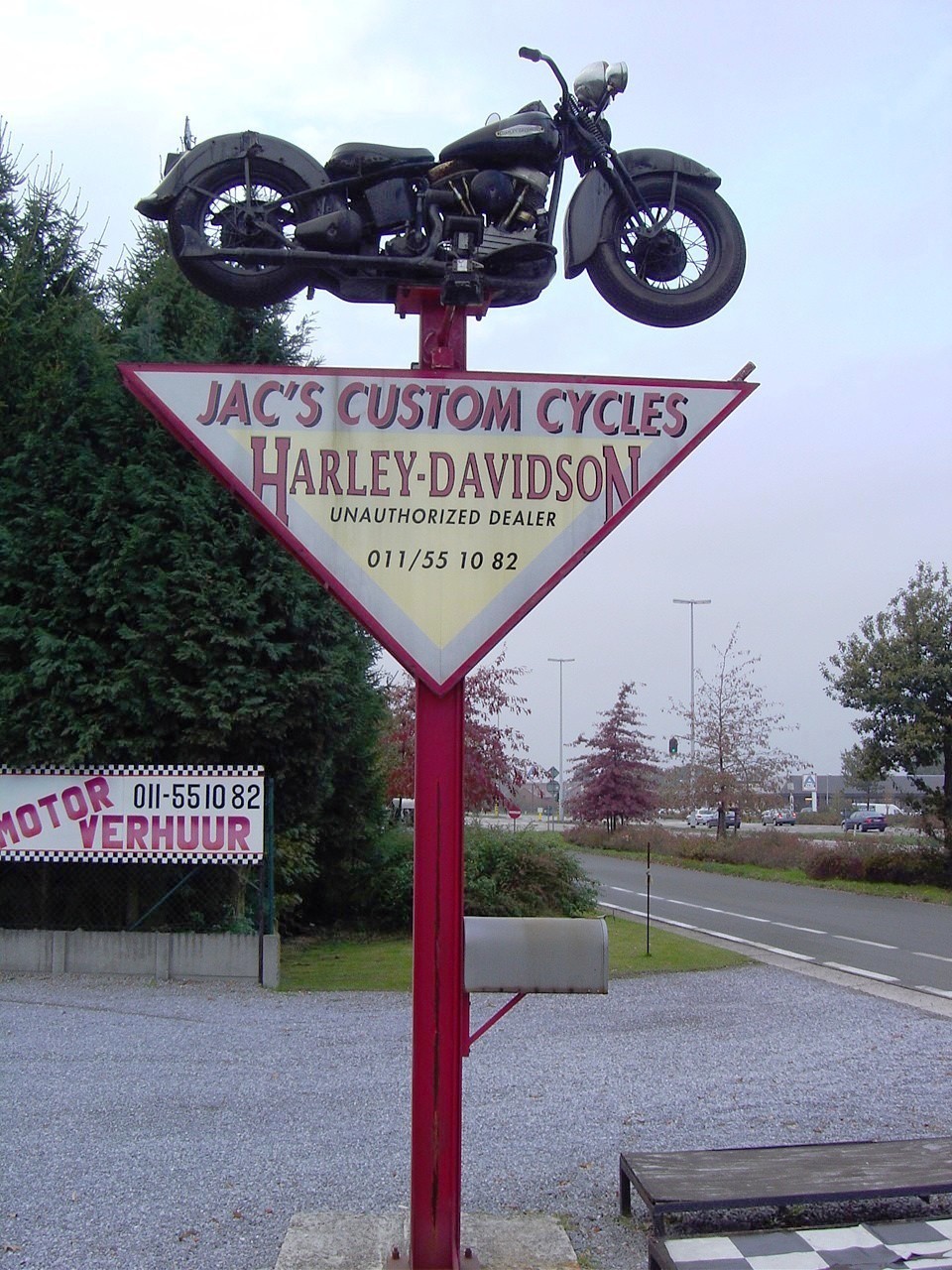 For years now I use to spend some days of vacation with my family and some friends in the little town of Lommel.
Lommel is a city in the Belgian province of Limburg. The Kempen city has about 34,000 inhabitants. Besides residential town of Lommel also has a number of nature reserves, such as the nature reserve De Watering, the Lommel Sahara, and numerous forests and heathlands. The silver sand that is mined here for the benefit of the glass industry. Some sand mining quarries are transformed into nature reserves and recreational areas.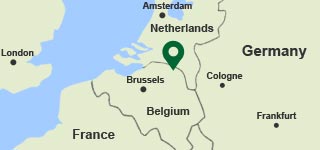 So nothing special, just a place for having some fun and good beers in a great hotel located right in the middle of a magnificent forest.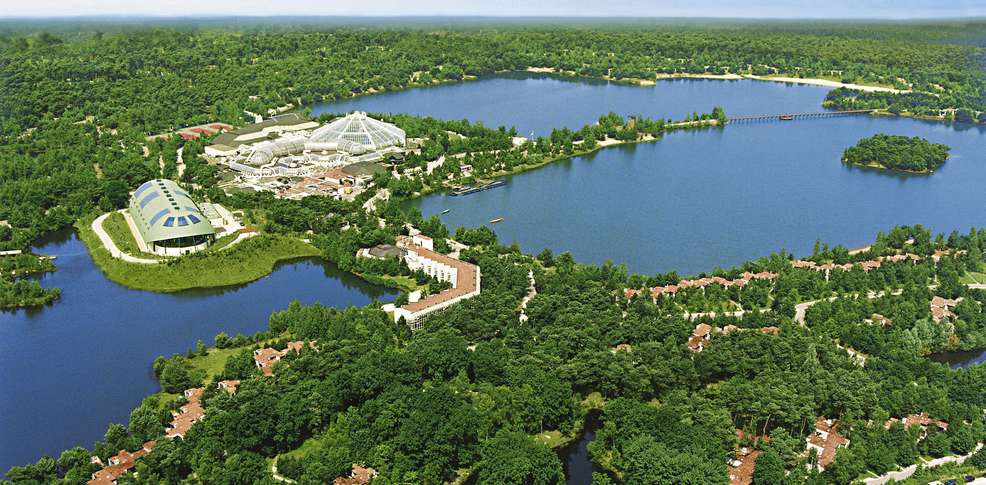 When you talk about motorcycle the place is well known for its annual national MX Grand Prix in the world-championship (it took place in August). But nothing else special, in particular when you are Harley Davidson minded …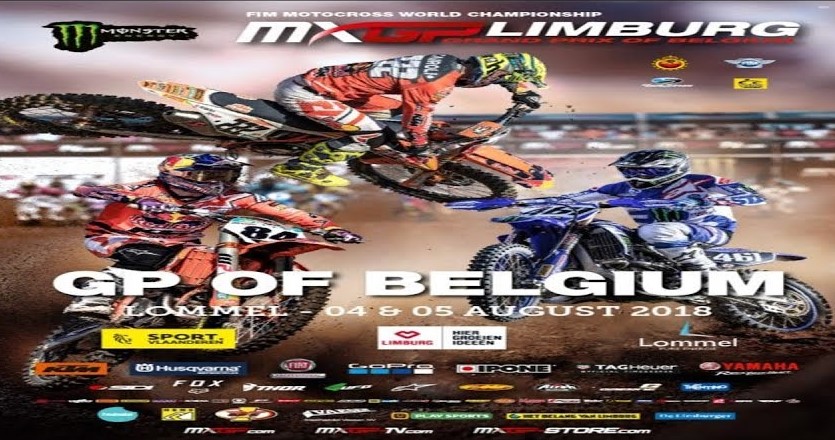 So, you can imagine my total surprise when some years ago (in 2007 precisely), in a late rainy afternoon, getting out of the local supermarket I saw in the distance a very special / specific signboard which made my heart running faster …this how I discovered this place where I shall use to come back year after year with such a great pleasure.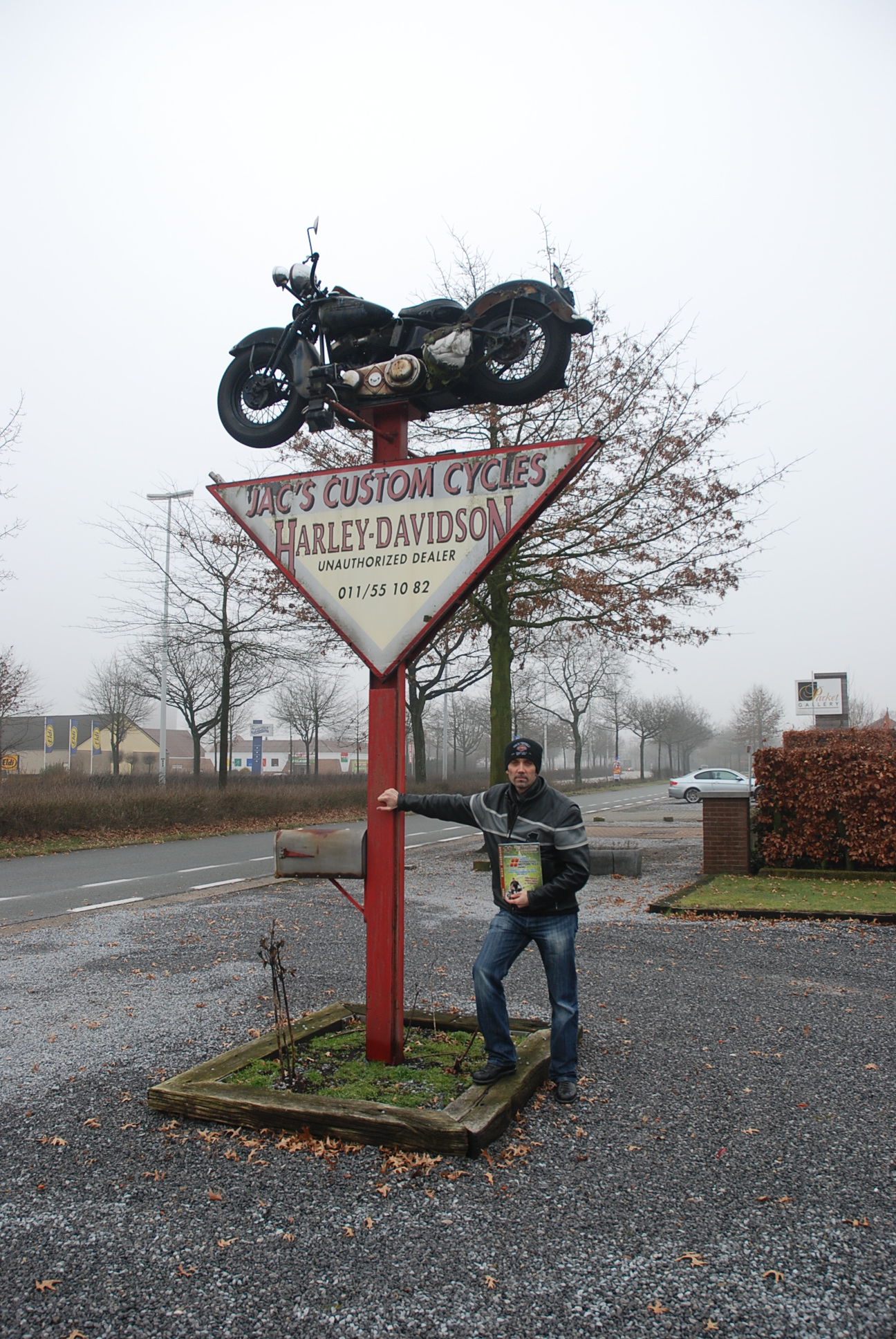 How can I describe this Jac's Custom Cycle unauthorized dealer (established in 1989) and its incredible owner?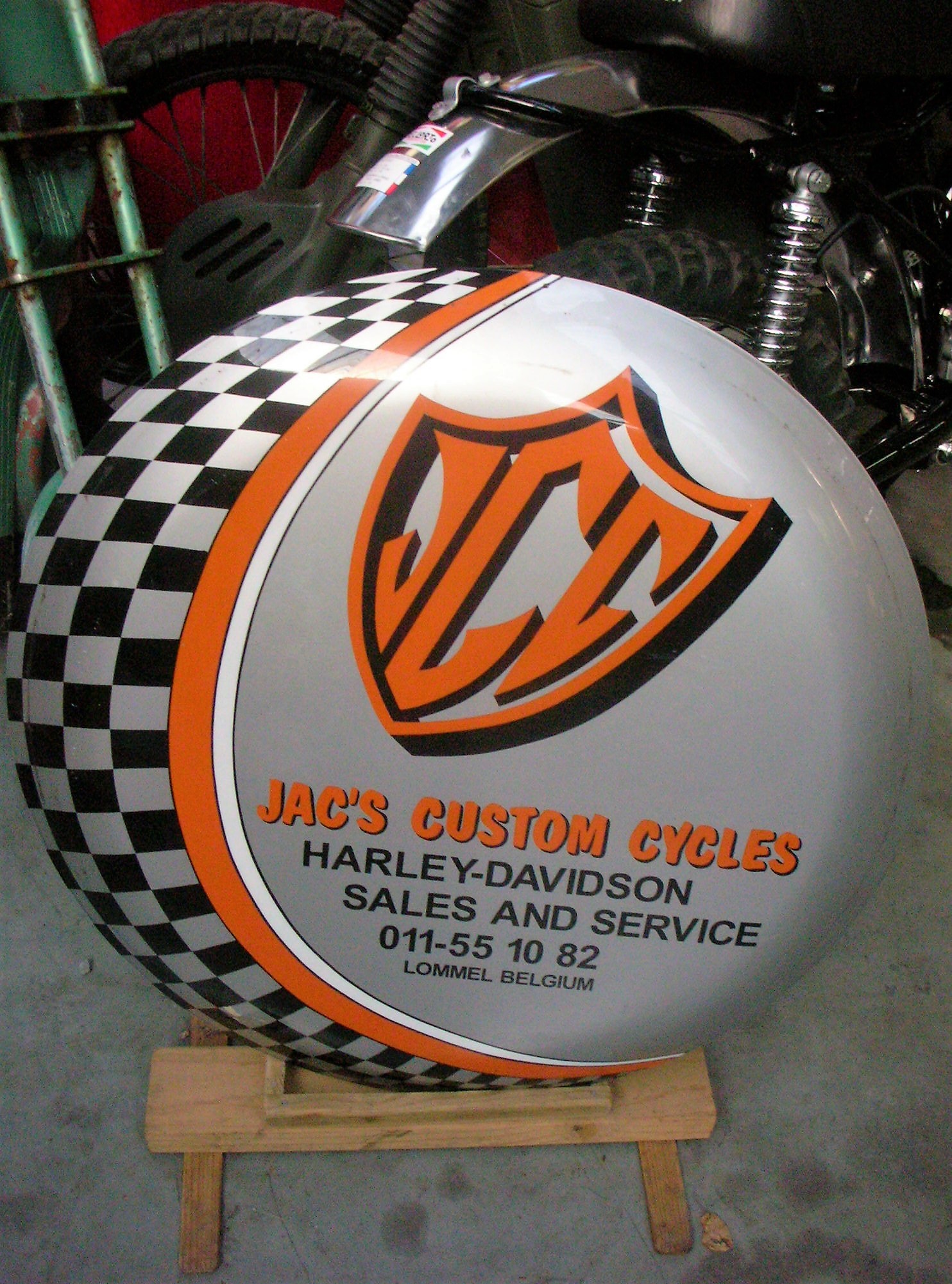 When you push the door your first sensation is olfactory: it smells like oil and old engines.
Immediately your second sensation is visual: what a mess!! Parts and (old) Harley motorcycles everywhere.
Third, you can hear …the silence: no one. You are absolutely alone in this shop. No Hoggers buying the last skull tee-shirt, no fashionistas taking selfies on the last CVO bagger (for sure a place made for me).
Fourth: you feel you're gonna cry in a very short time because after all these years of wandering you begin to think you finally have find the paradise. Yes Lord, I did it in the end!!!!!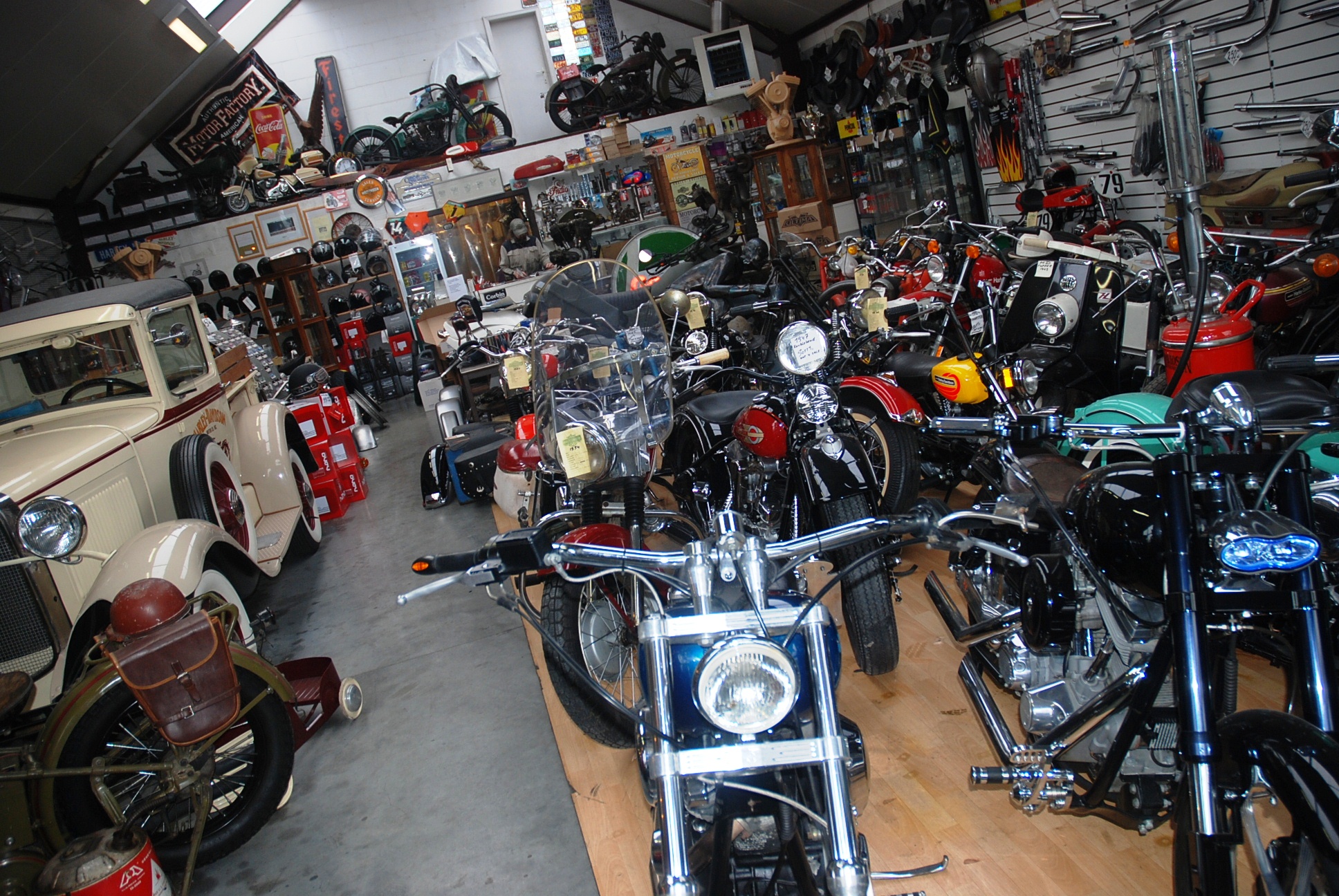 Next step: understand which is this strange feeling you have when you have a look on many of these bikes you are looking at with such a respect and are touching with your wainkering little hand …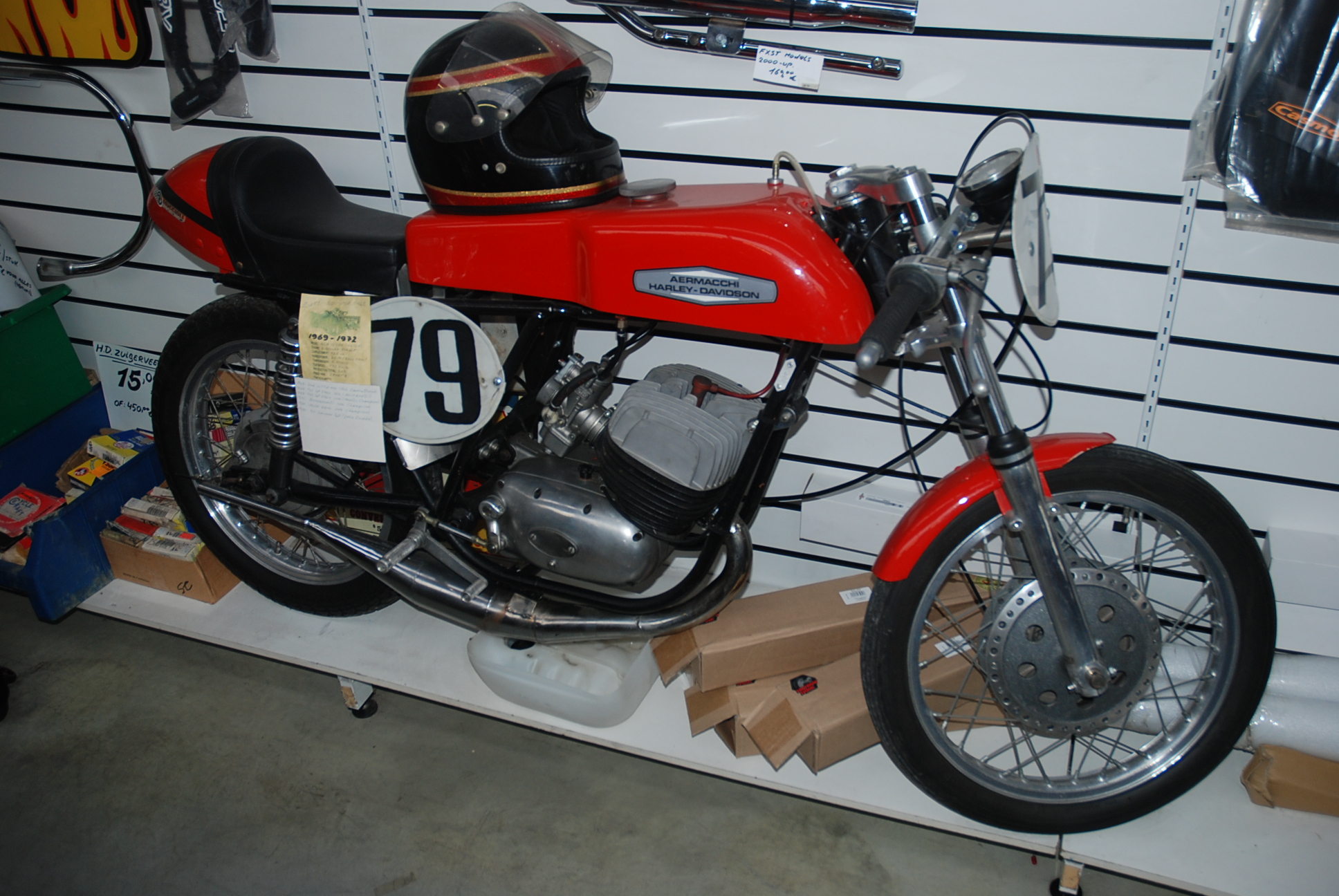 And, suddenly, you understand: you have right in front of you an entire collection of the most "surprising" time of the MoCo. The sixties/seventies AERMACCHI and AMF periods!!!!!! Incredible these machines are so rare, especially in this part of the world.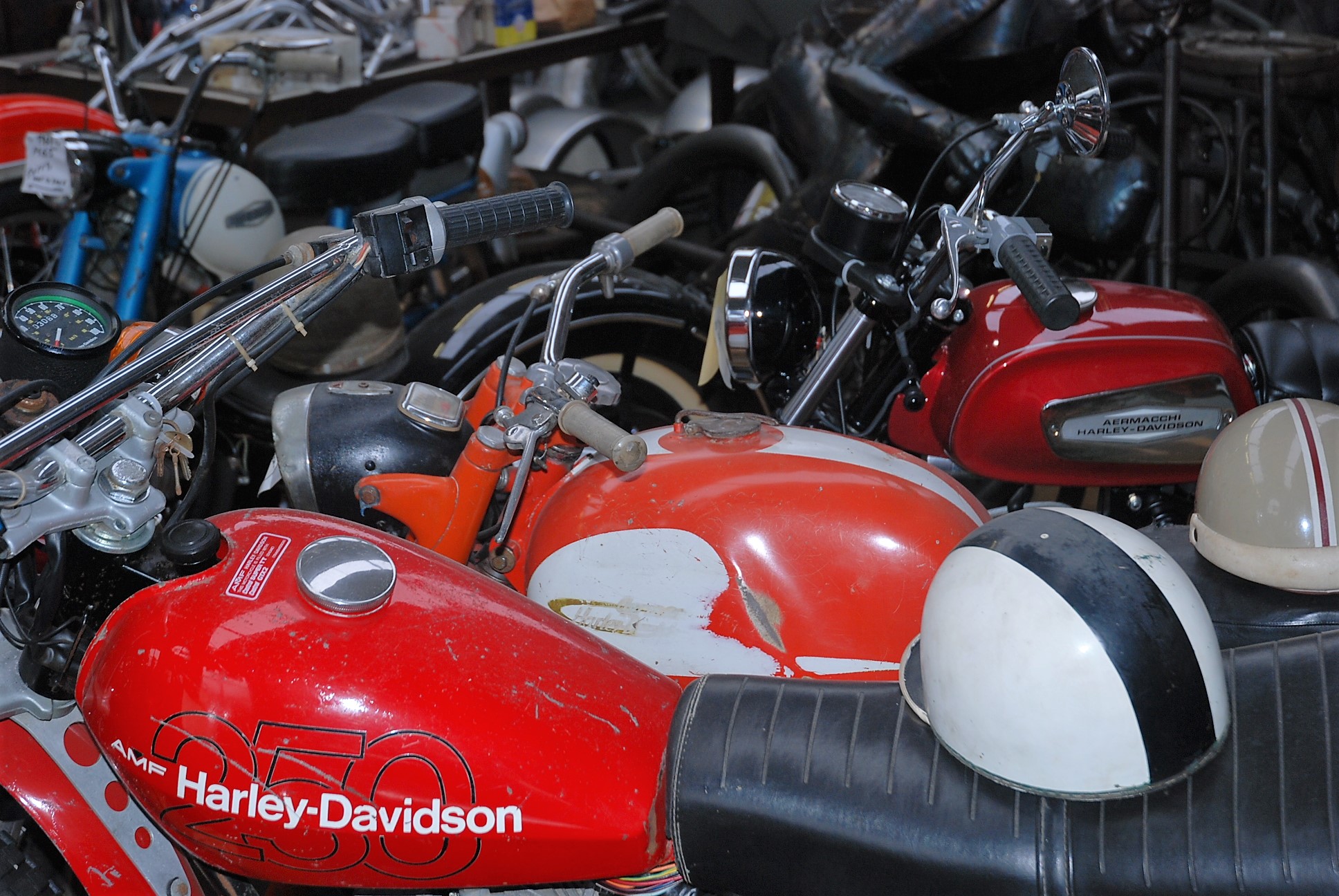 And some of them are in an exceptional state! It's simple, when you look at this (rare) orange MX-250cc AMF, you have the feeling that bike is issued of the factory yesterday …
Ok, I see, it's a serious place, I absolutely have to meet the owner, I must to talk to him, I must touch the hands of this master-builder, I must to be his friend till the end of the times … for sure!!!! It's a question of life or dead.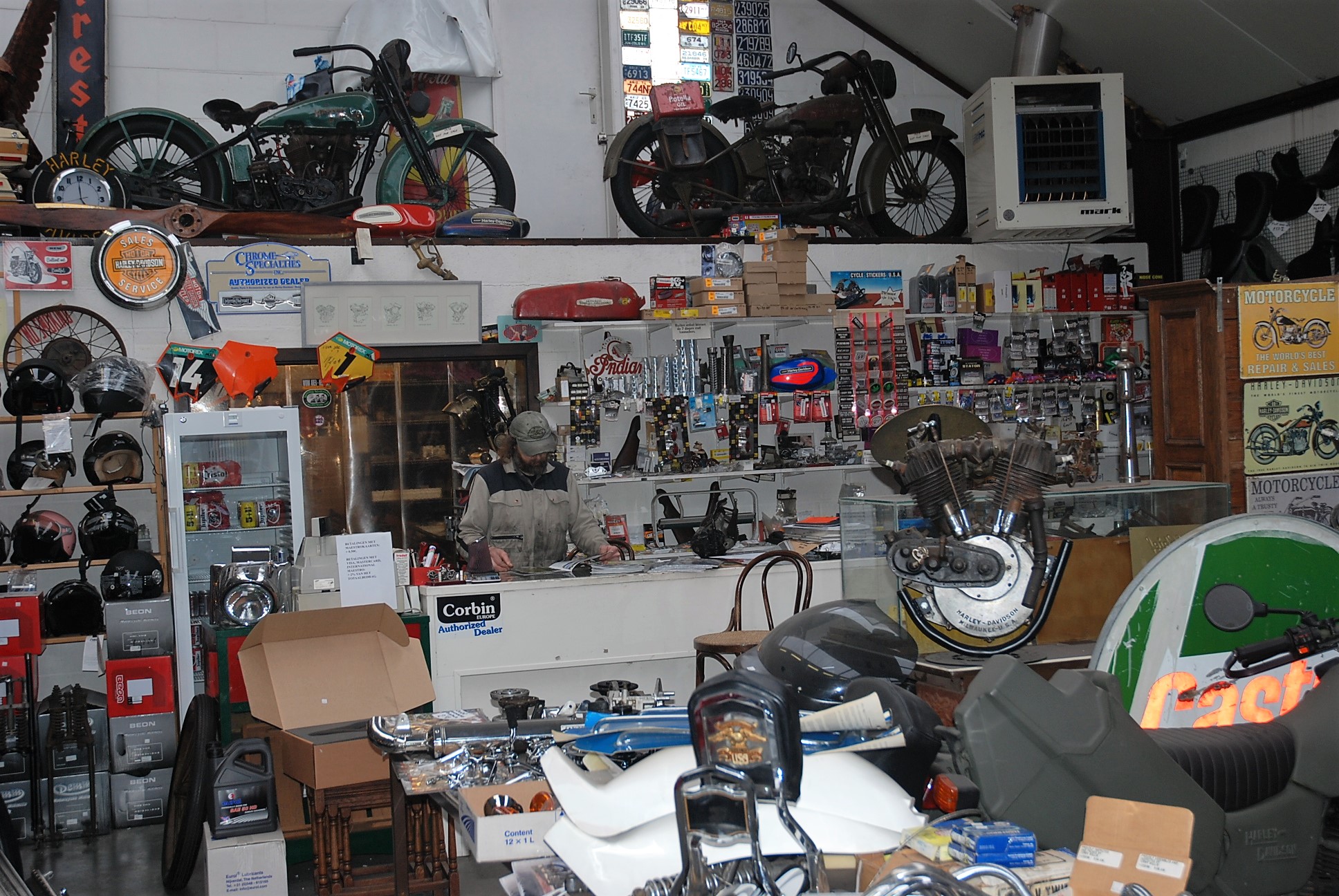 He is there, behind his counter, but he does not look at me, says barely hello and disappears in his workshop …what a disappointment for such a nice good little boy like me. Lol!!!! It will take me two years before Jac accepts to frankly talk to me and to open his private workshop to me.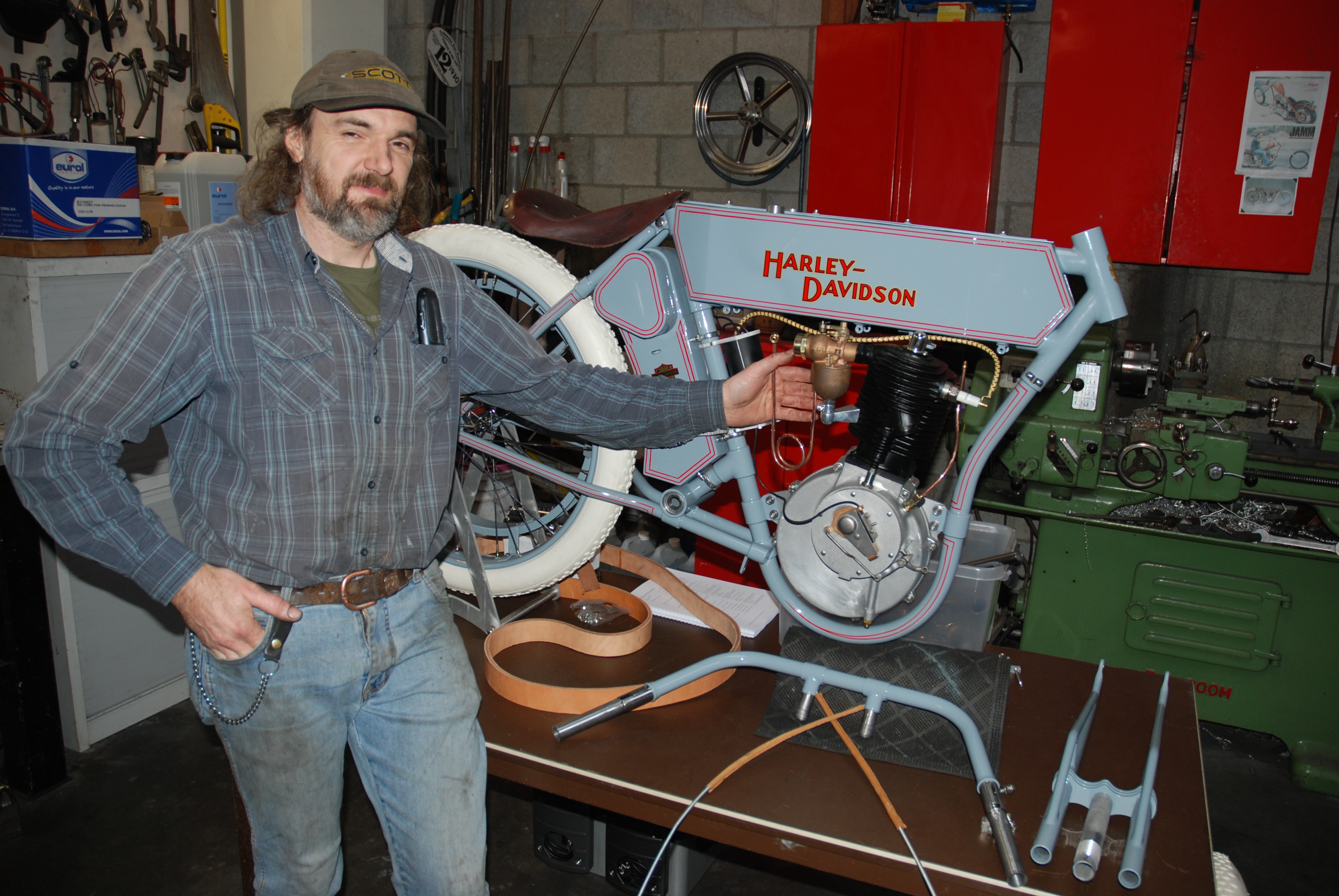 Finally, in this cold afternoon of March 2007, it was not so important Jac didn't talk to me … I had so many things to admire in his amazing and unlikely shop. As for example, the amazing scale 1 steel sculpture of this boardtracker …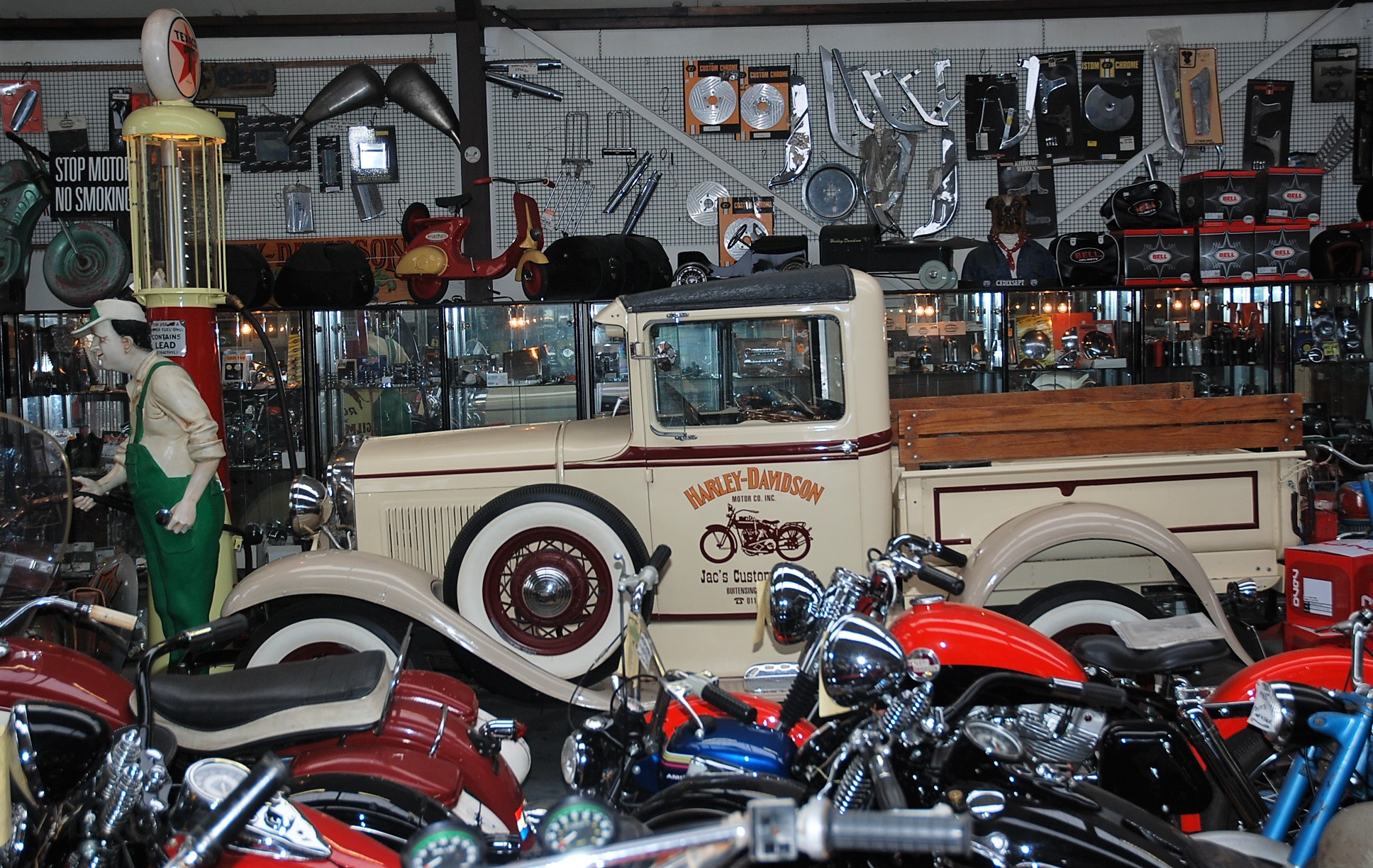 And what could I say in front of this magnificent restauration of this WLA with its complete equipment? … No words.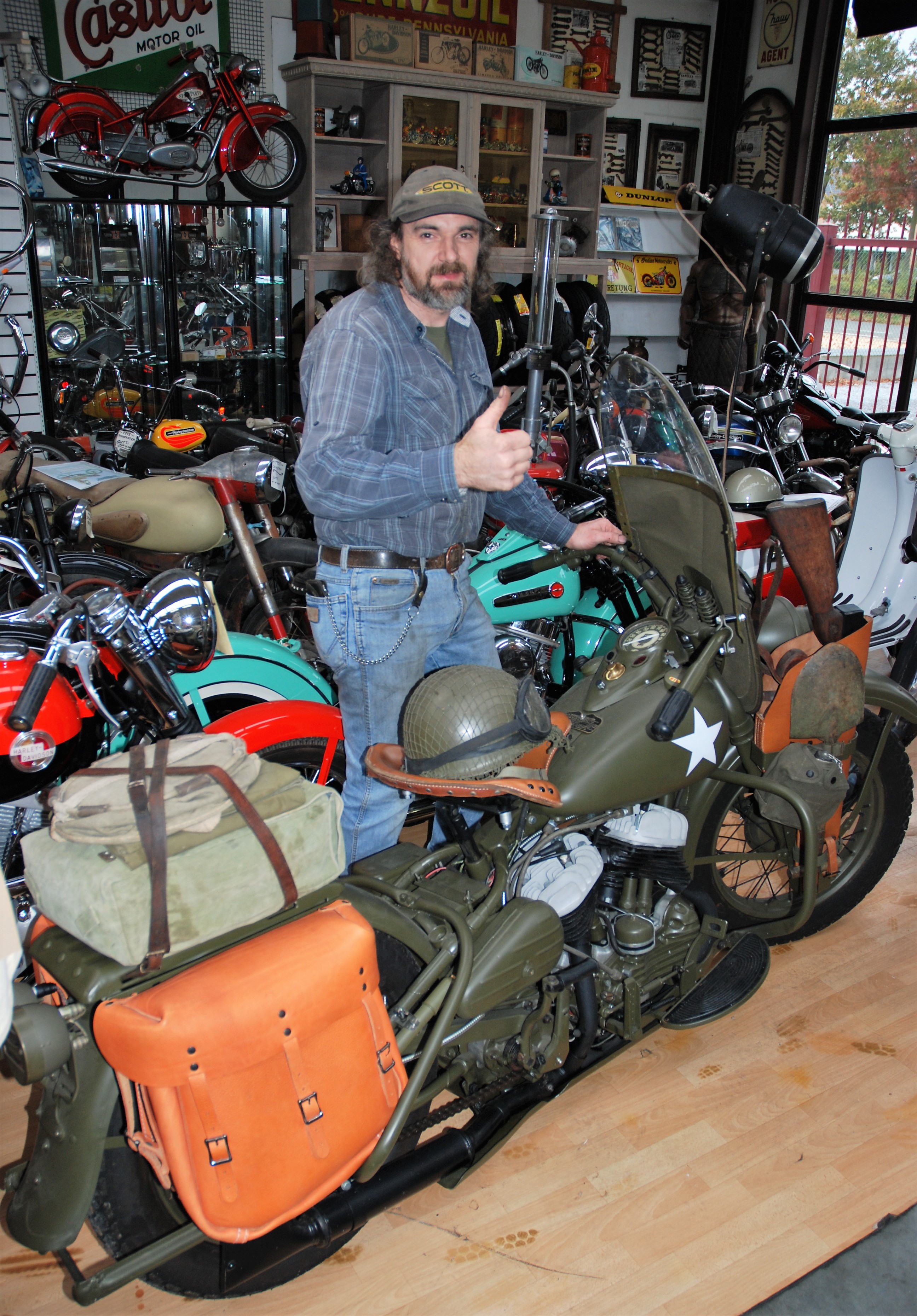 But maybe you prefer the Aermacchi-Harley-Davidson 150cc 2-stroke scooter Brezza?  (It was a daring venture on a market where 2 major competitors, namely Vespa and Lambretta, were the masters of the market. The Brezza never became a real hit. 2,200 models were manufactured between 1963 and 1969).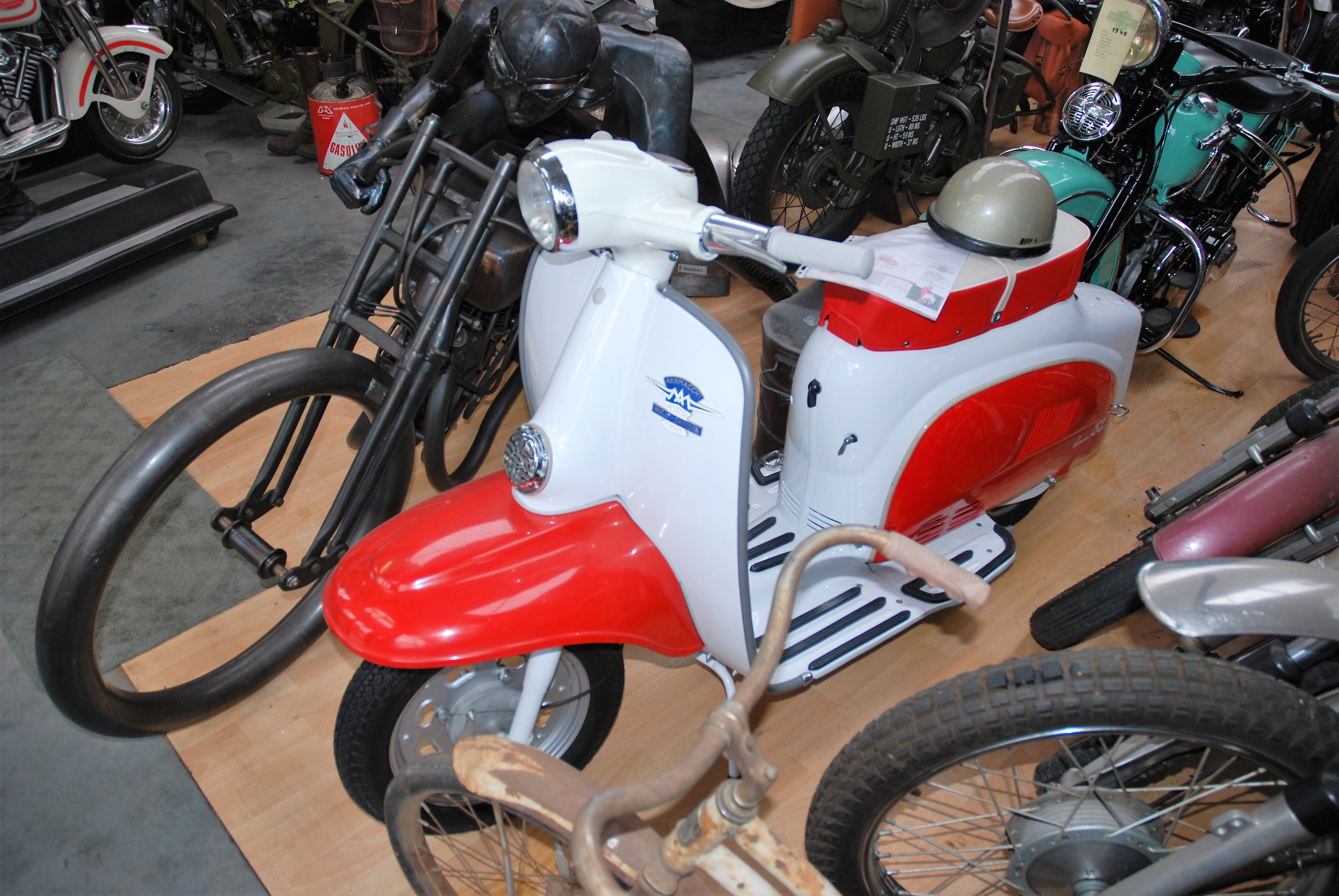 And what do you think of this BAJA 100? And its sad (for the buyers) story …
In the late 1960s, the market for small-bore two-stroke trail bikes was exploding. Harley-Davidson decided to jump into the 100cc trailbike market. Harley build an Italian-sourced Harley dirt bike called the Harley Baja 100 and was hopelessly tall, short wheel-based, underpowered and ill-handling. But Harley didn't give up on the Baja 100. They had their race team hire some of the best desert racers in SoCal (Bruce Ogilvie, Terry Clark, Earl Roeseler, Larry Roeseler and Mitch Mayes). As you would expect, Baja 100s were soon dominating the trailbike class. Unfortunately, what the customers were buying wasn't what the Harley team was racing. The stock Baja 100 had rigid footpegs, no horsepower, a huge overlay sprocket on the rear wheel (that often came loose), a tank shaped like a lunchbox and a very hard seat. It didn't take long for Baja customers to realize that they had been duped. Harley-Davidson tried to enter the dirt bike market twice after that — once in 1976 with the rear-forked 250 and again in 1978 with the ill-fated MX250.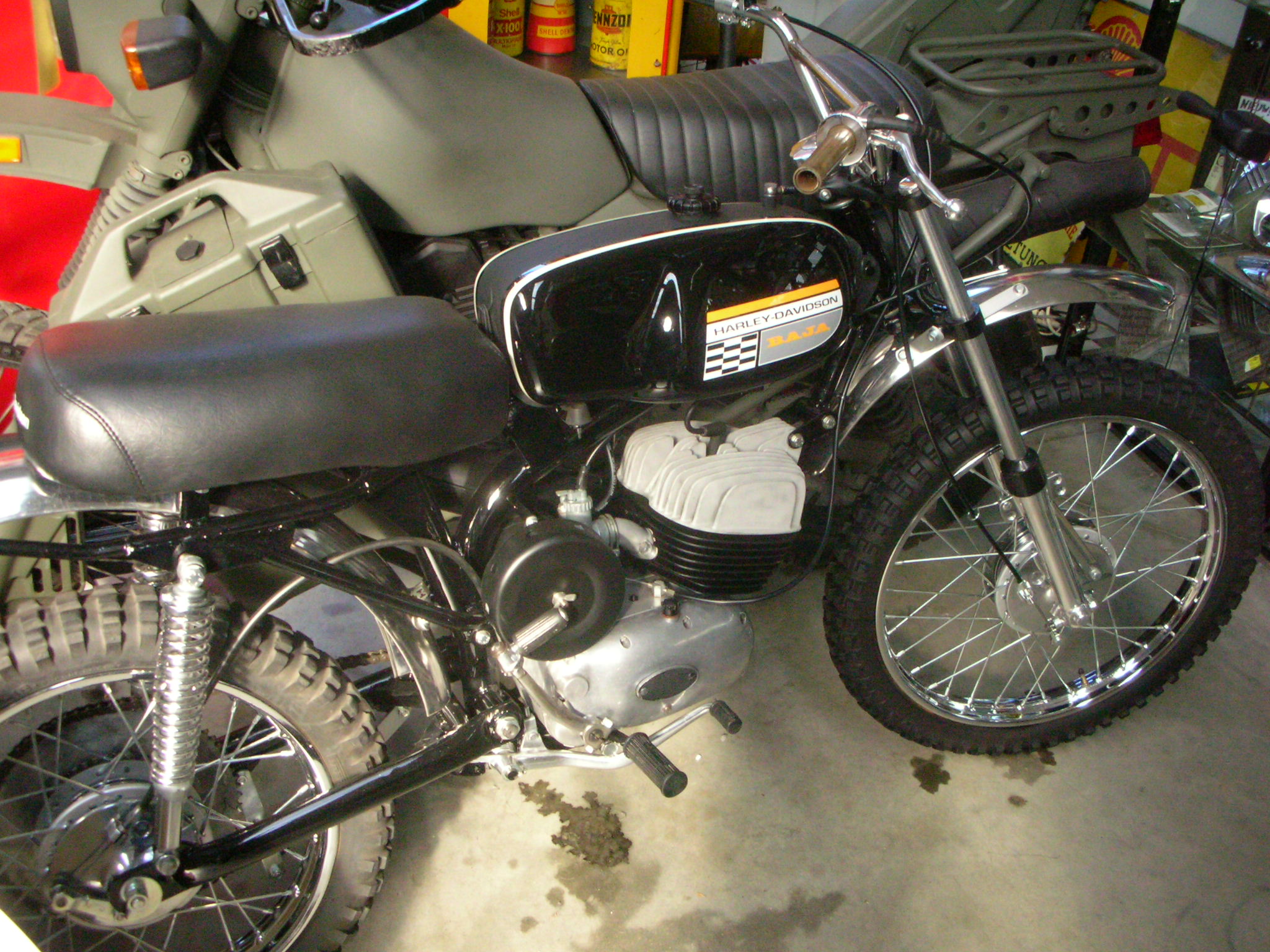 With time, I've discovered that Jac is an incredible man, discreet, a great technician, almost a magician …people come from all over the world to known his opinion or send him boxes of spare parts to rebuild some bikes (he has many clients from the USA).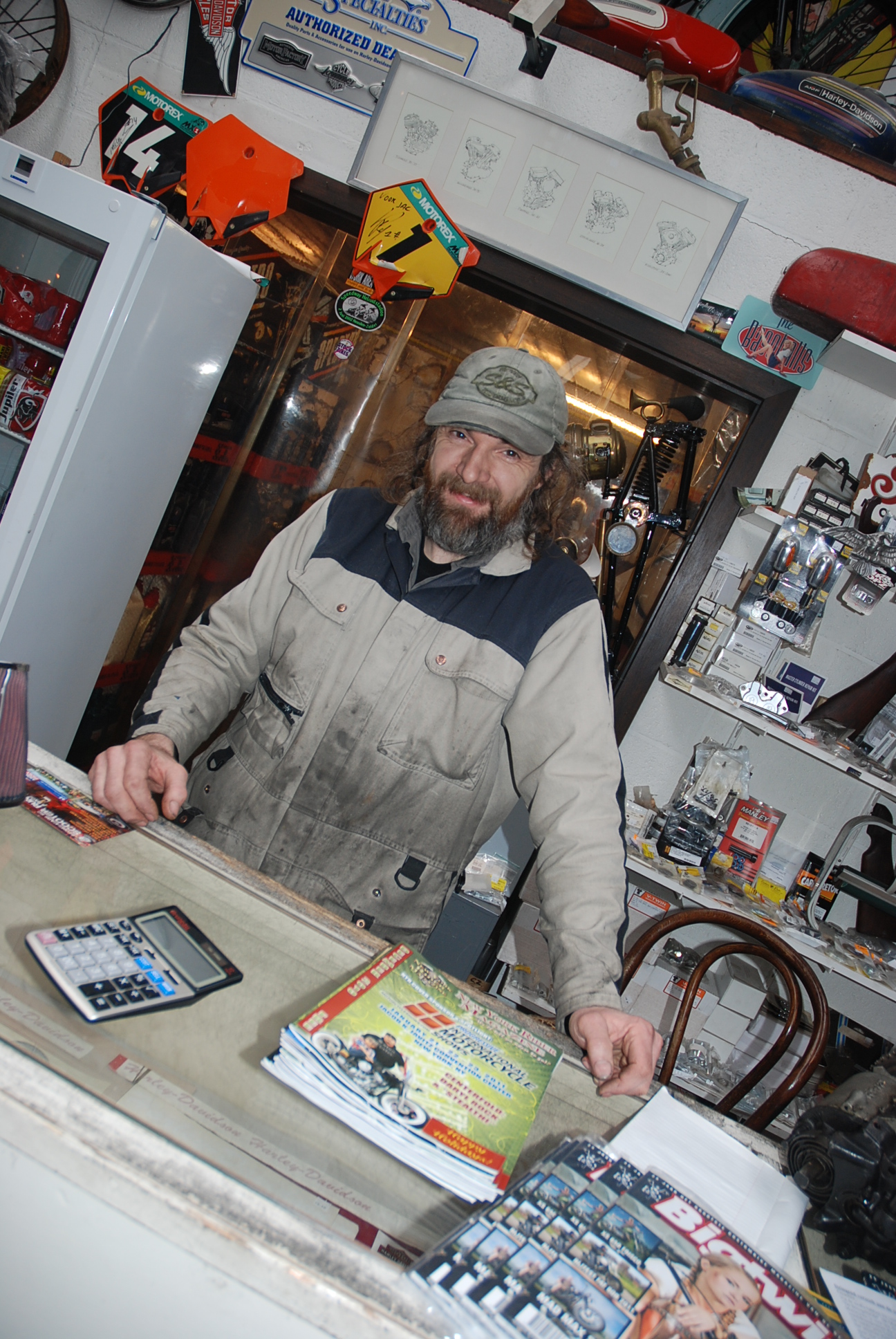 Jac is a specialist. He doesn't have to talk too much to explain his work. When you enter his shop, you only have to see the quality of the work done on these old bikes. But the more surprising is that … more than 50% of all these bikes are labeled with a sticker "Not for sale / private collection".
Next time you will be in Paris, we'll ride straight north to cross the border between France and Belgium, then after about 7 hours we'll in be in Lommel. Do not forget you camera. It will be one of your European trip you will remember for a very long time for sure.
See ya soon on the road! Who knows?
Hervé your French biker friend.
Jac's Custom Cycles
Buitensingel 8 – 3920 Lommel – 3920 Belgium +32 11 55 10 82