Story and Photos by ITN European Reporter Herve' Rebollo
Salut à toi American rider,
Today is fun day!
Do you know the incredible British artist GRAYSON PERRY?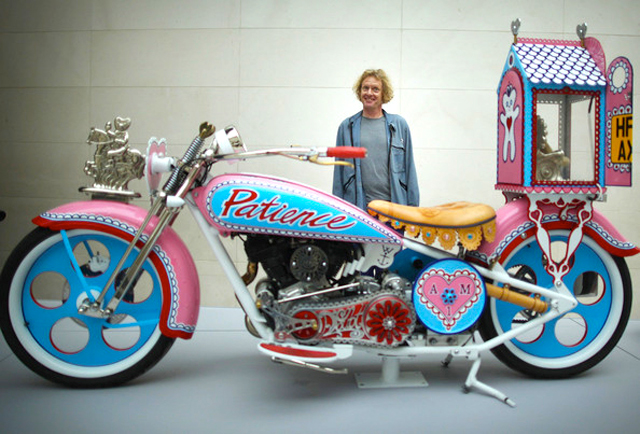 Grayson Perry (born 24 March 1960) is an English contemporary artist. He is known for his ceramic vases, tapestries and cross-dressing, as well as his observations of the contemporary arts scene, and for dissecting British "prejudices, fashions and foibles". Perry's vases have classical forms and are decorated in bright colors, depicting subjects at odds with their attractive appearance. There is a strong autobiographical element in his work, in which images of Perry as "Claire", his female alter-ego, and "Alan Measles", his childhood teddy bear, often appear.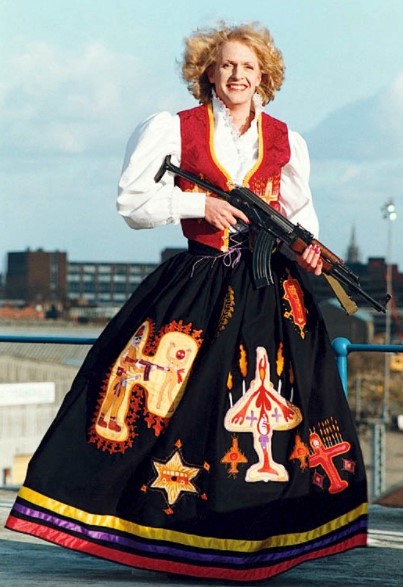 He was awarded the Turner Prize in 2003 and in 2008 he was ranked number 32 in The Daily Telegraph's list of the "100 most powerful people in British culture. He is known for his bizarre crossdressing as his alter ego 'Claire' and his even more bizarre, but highly acclaimed art!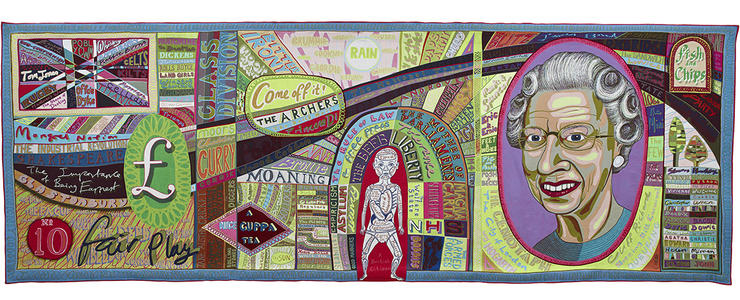 I was lucky to catch Perry's show and admire his amazing artwork some days ago in Paris, at the Hôtel de la Monnaie museum and I absolutely want to share it with you my friend.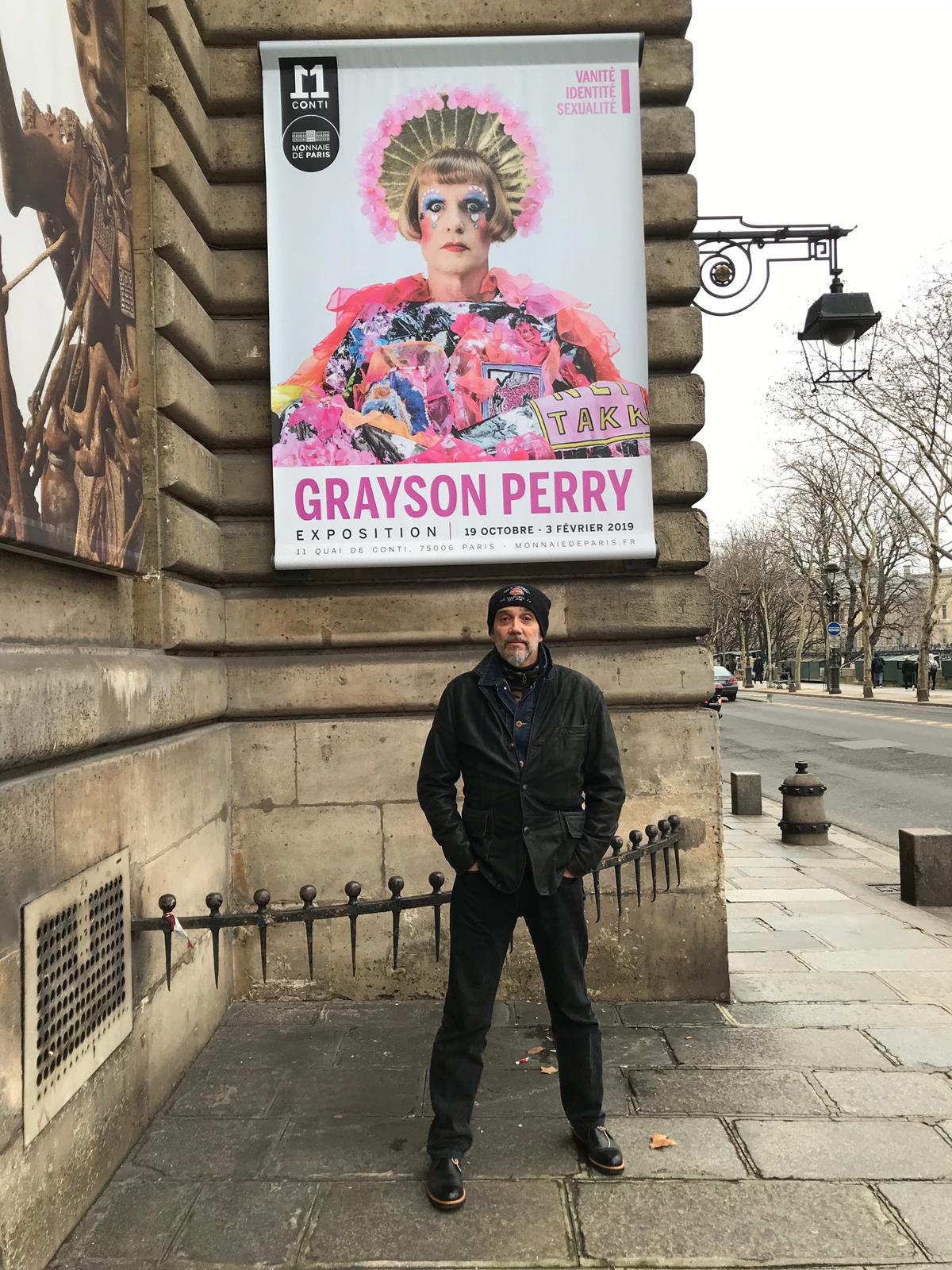 As a ceramist Perry introduces regularly motorcycles in his artwork.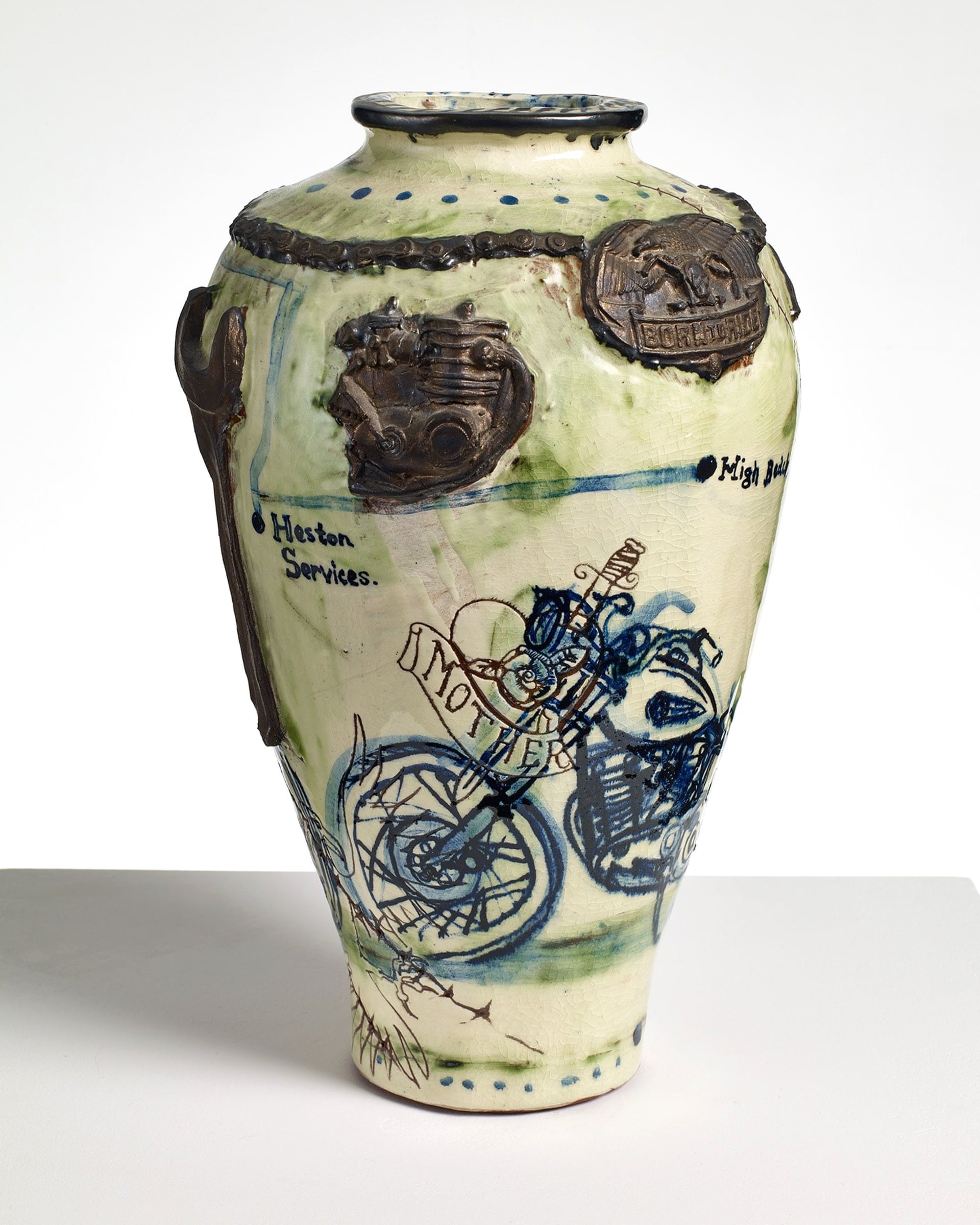 Not many people know about his kickass motorbike journey where he toured halfway across Europe on a pink madly decorated motorbike (a Knuckle) carrying his teddy bear and childhood hero, Alan Measles, in a glass shrine on the back. A glass shrine? Yes Perry had seen the popemobile and knew his teddy bear deserved nothing less than the pope … I really definitely like this crazy man!!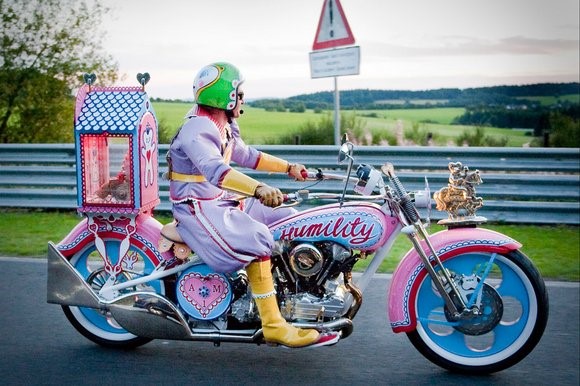 Perry, who has never owned a car, has had a lifelong love of motorcycles and is reportedly a daily user of his currently owned Harley and KTM.
"I've never owned a car. I love motorbikes. I've got a Harley, which is perfect for summer when you want to go slow, pose and enjoy the scenery, and a KTM, which is brilliant for getting from A to B fast when it's wet and cold and you want to feel safe. In 1989 my wife Philippa bought me a set of motorbike leathers – the first thing I ever had made for me. I designed them to be like the Cerne Abbas giant . I used to wear them to art openings so I could go there on the bike but still feel dressed up…. Motorbikes aren't manly. Look at mine. If a bloke has to prove his machismo with a motorbike, then he isn't very macho."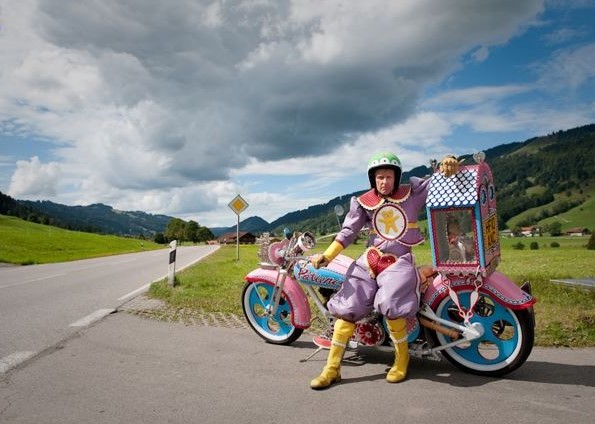 The bike named the 'Kenilworth AM1' is actually a custom built Harley-Davidson Knucklehead. The bike was sketched out by Perry, and built by 'chopper shop' Battistini's UK  who, curiously, don't claim credit for their work online, but do link to one of Perry's later exhibits of the bike in  their blog . According to Perry the bike is a cross between the, "Mexican Day of the Dead meets Chitty Chitty Bang Bang."
It is quite likely Perry got inspired by this pink motorbike trip – carrying a wooden tall-ship on the back – across Vietnam….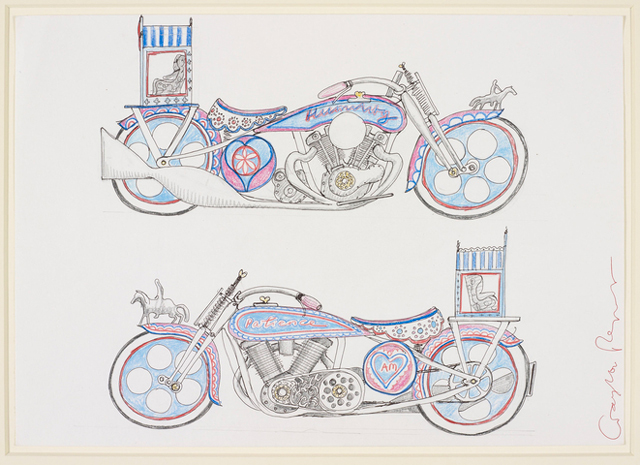 The 'Kenilworth AM1' is therefore Perry's two-wheeled 'popemobile', a performance-art prop created to carry Alan Measles in grand comfort to Germany, in a glass-sided reliquary mounted prominently on the back of his custom Harley.  The custom Harley is built and painted up much like Perry's trademark 'drag' outfits, using highly saturated colors and shapes reminiscent of 'Outsider' art.  The elongated pink-and-blue petrol tank is painted either side with 'humility' and 'patience', which Perry notes are the "opposite of rocker lifestyle texts."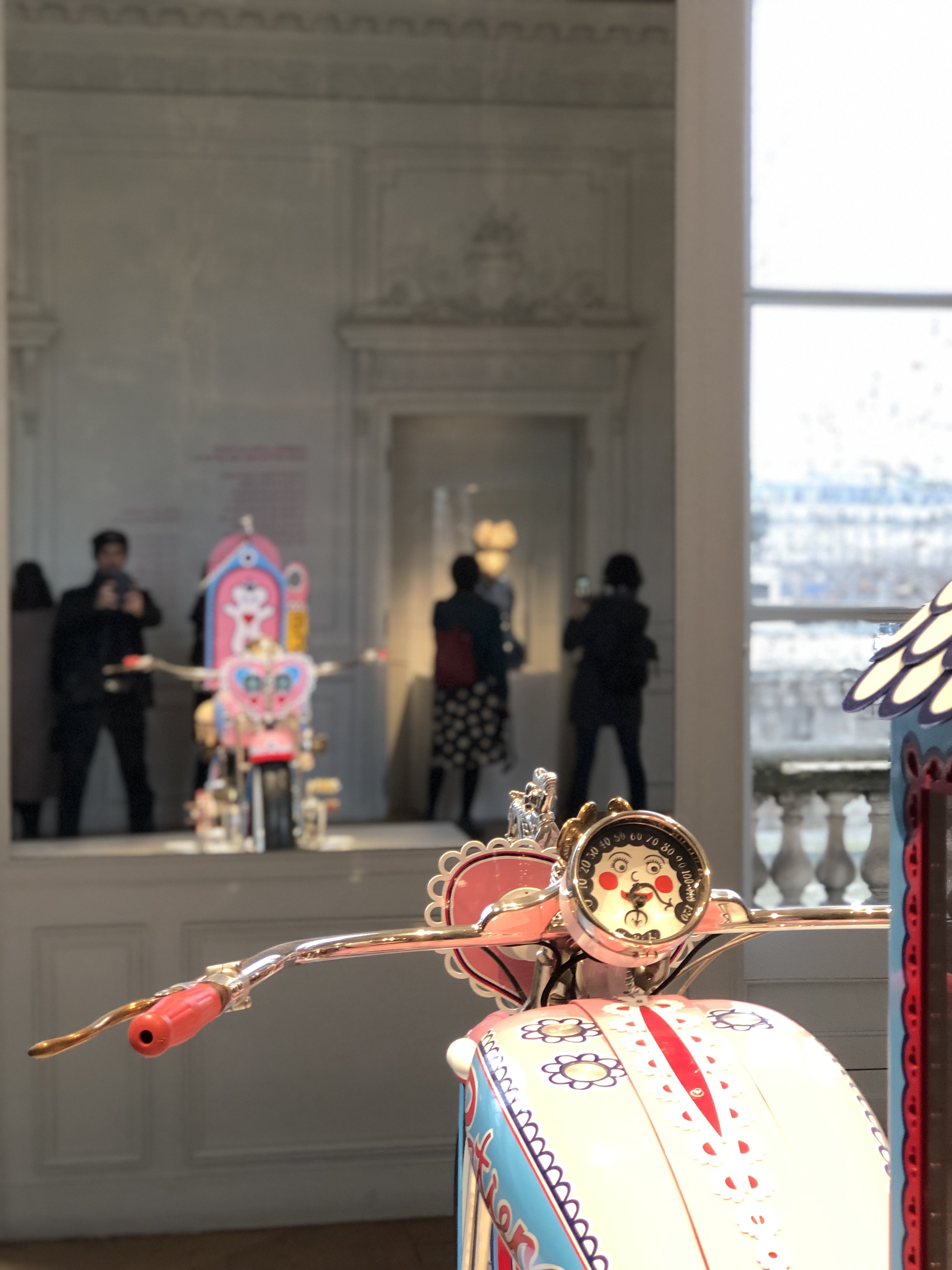 The pink bike's inaugural voyage to Germany, aptly named  "Ten Days of Alan", took them across Europe on a mission of reconciliation with their old enemies. And the eccentric Perry dressed for the occasion…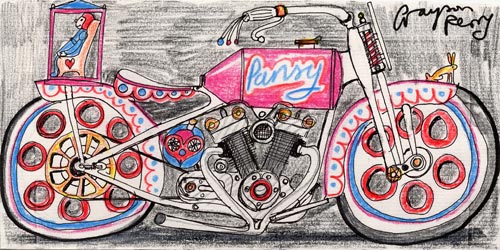 With a matched riding suit of bright yellow boots, an outrageous lavender Peter-Pan-collar jumpsuit, and spring-green helmet, Perry's riding ensemble creates a motorcycling image which borrows nothing from anyone or anything…there's simply nobody else on the road that would dare to even touch an outfit like that!  While custom shops, tattoo parlors, and clothing outlets are busy selling 'individuality', Perry has taken a brave and lonely path, to be an individual.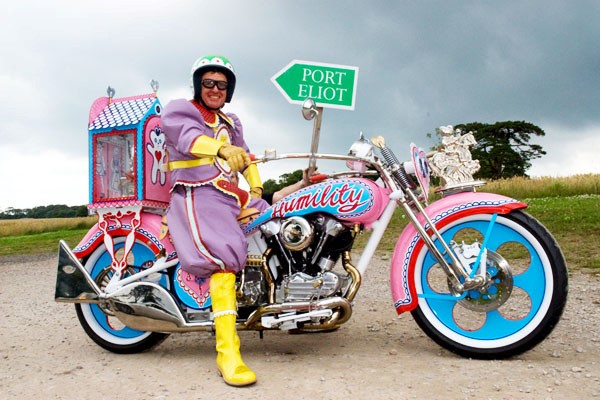 Motorcycles are frequently present in the Perry's artwork.
This one is named Selfie with political causes.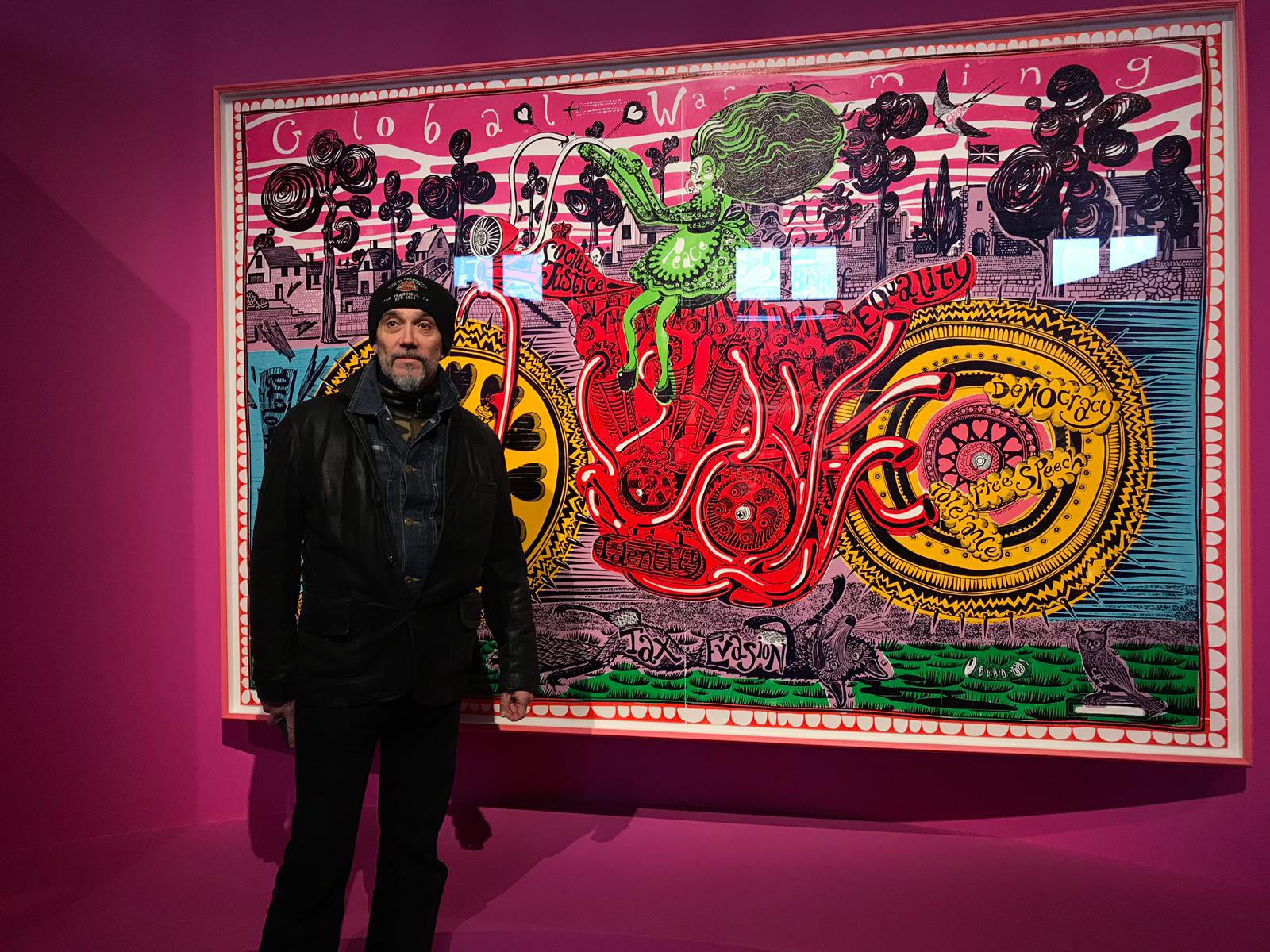 And this second one Reclining Artist (yes, look attentively, there is a motorcycle in the back).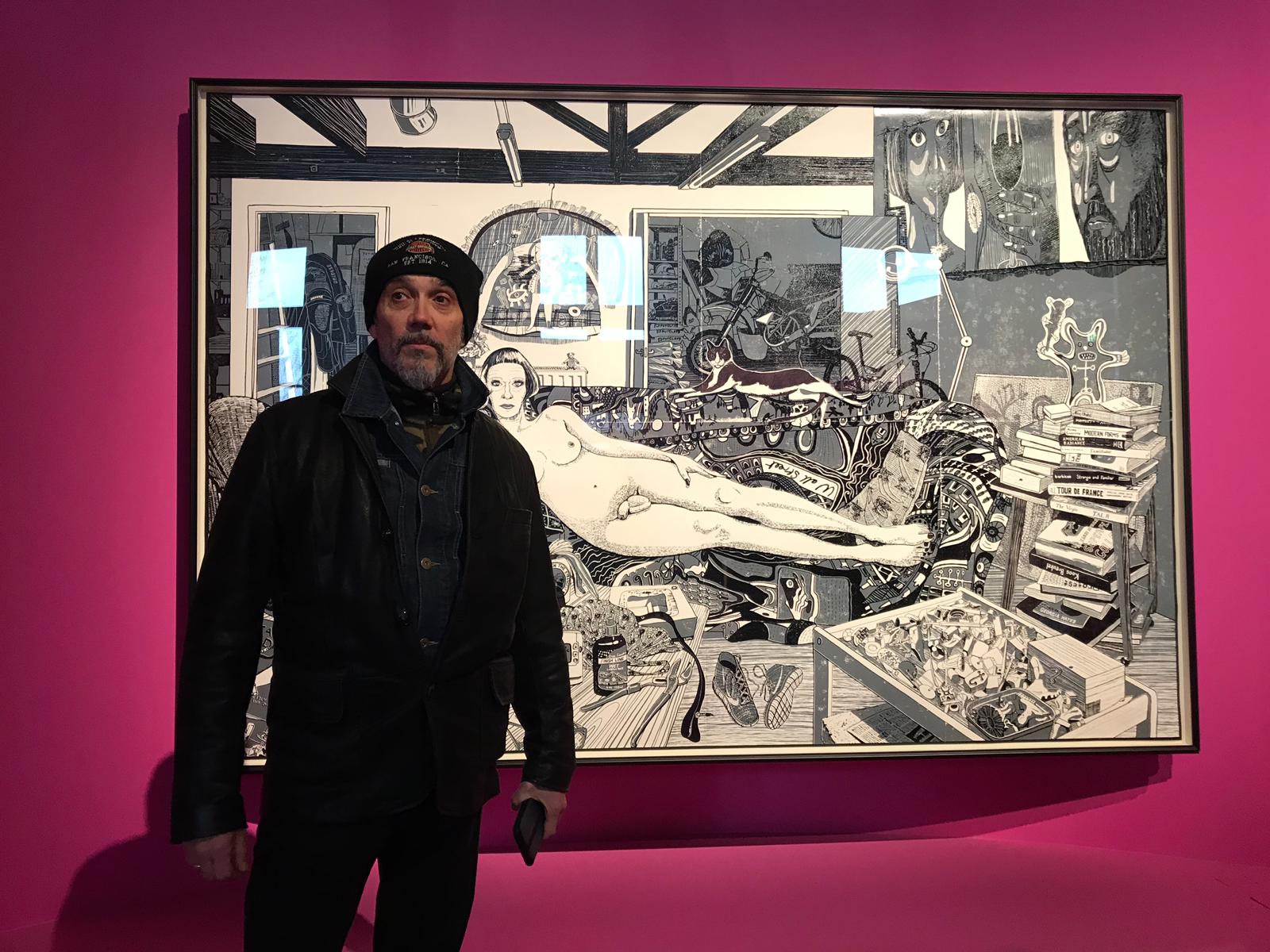 And you know what? It's not over, Perry is really part of the motorcycle culture … He rocked up at the Davida Stand at Bike Shed Show 2017 to receive his special Davida Speedster V3 helmet. Called 'The Flying Bogey Man' the helmet design features a green-faced splat and white radial lines on a metal flake orange base . Designed by the artist and created by the Britain's only helmet manufacturer, Davida UK Ltd, the design incorporates all the typical humor and  bright colors Grayson artwork is known for.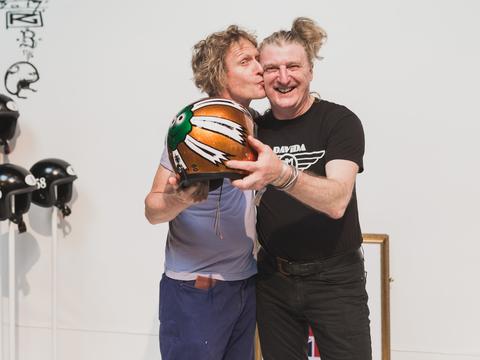 Grayson then spontaneously celebrated the occasion by creating a self-portrait of The Flying Bogey Man on the Davida stand wall.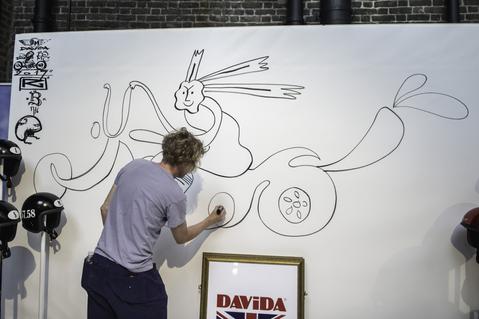 Perry has finally always been close with the products of the MoCo. In October 2018, the British press published some amazing photos of Grayson / Claire with his / hers Harley Davidson … No comment, simply totally crazy!! On tweeter, Perry published a photo of this motorcycle with a comment :-" I was always the uncool kid on his sister's bike. Not that it affected me in later life."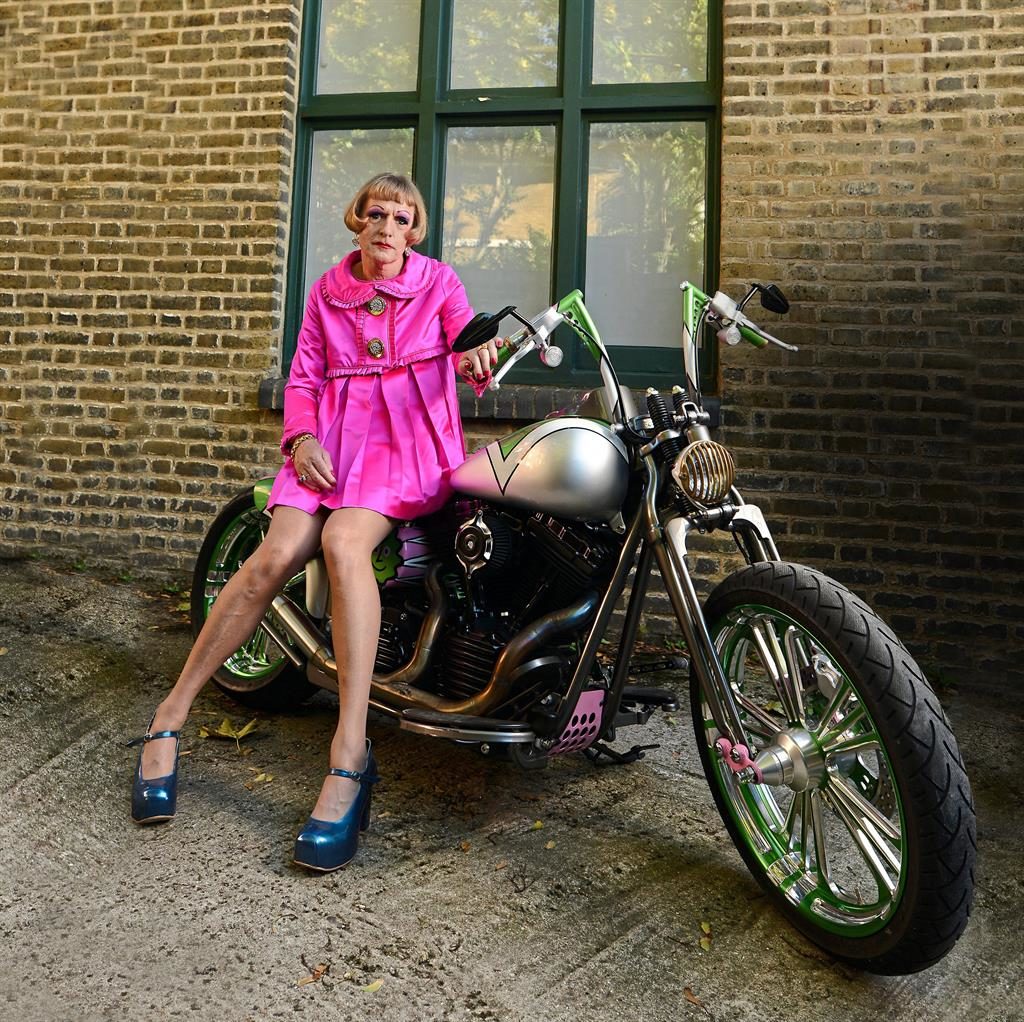 And it's not over. Perry ordered to SHAWS SPEED & CUSTOM a special work on a 2007 Harley Davidson FXSTB Soft tail Night Train with a 1687cc twin cam engine and hand built exhaust system. The paintwork was applied line by line and took 150 hours at a cost of £8,500 to complete and was painted by Image Design Custom. This bike was the Shaws Speed & Custom's 2018 AMD World Championships entry.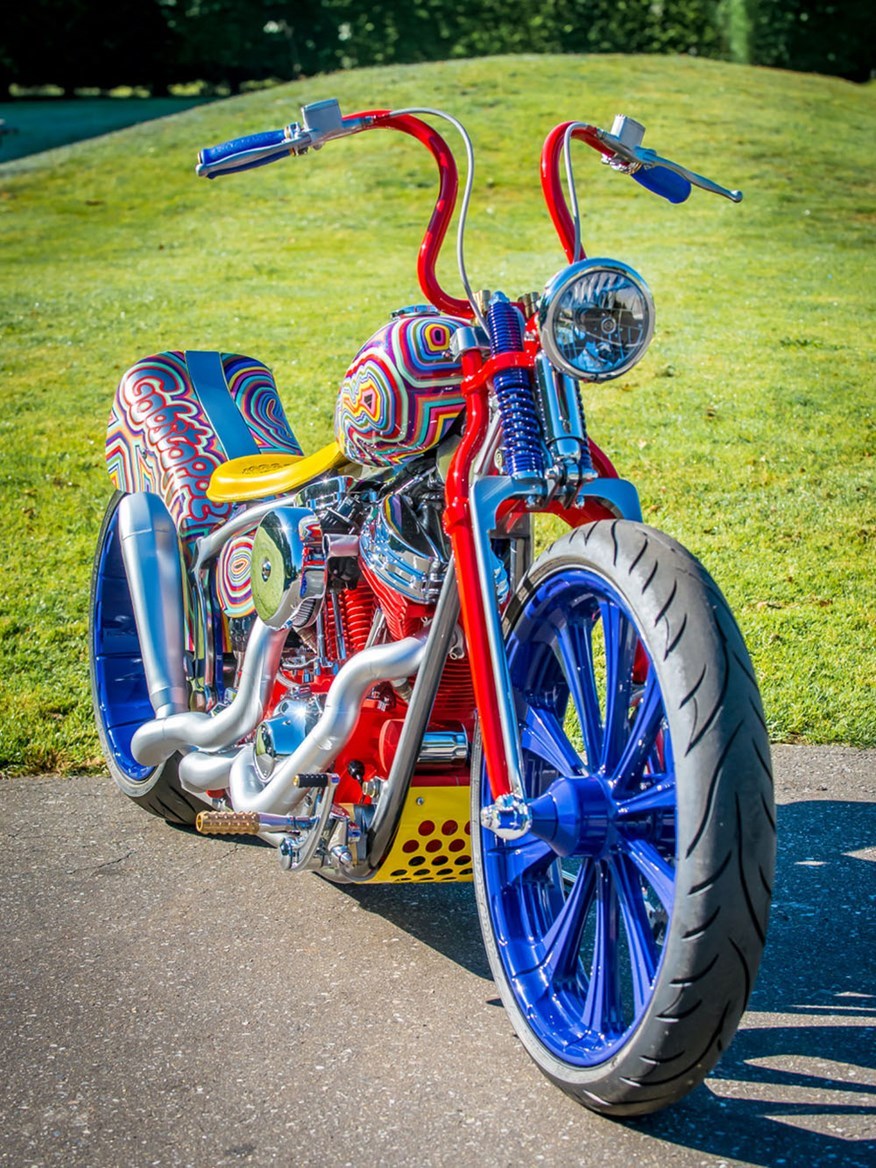 Named THE GOBSTOPPER, you can see all its specifications there: http://www.amdchampionship.com/bikes/2940-shaw-harley-davidson-gobstopper.html
So, you can love or hate the Grayson Perry's artwork and way of motorcycling but at least you can't stay indifferent. I'm so happy that it was given to me the opportunity to see for real this incredible Knuckle. Next time Perry has a show in your town do not hesitate, go to see it!!!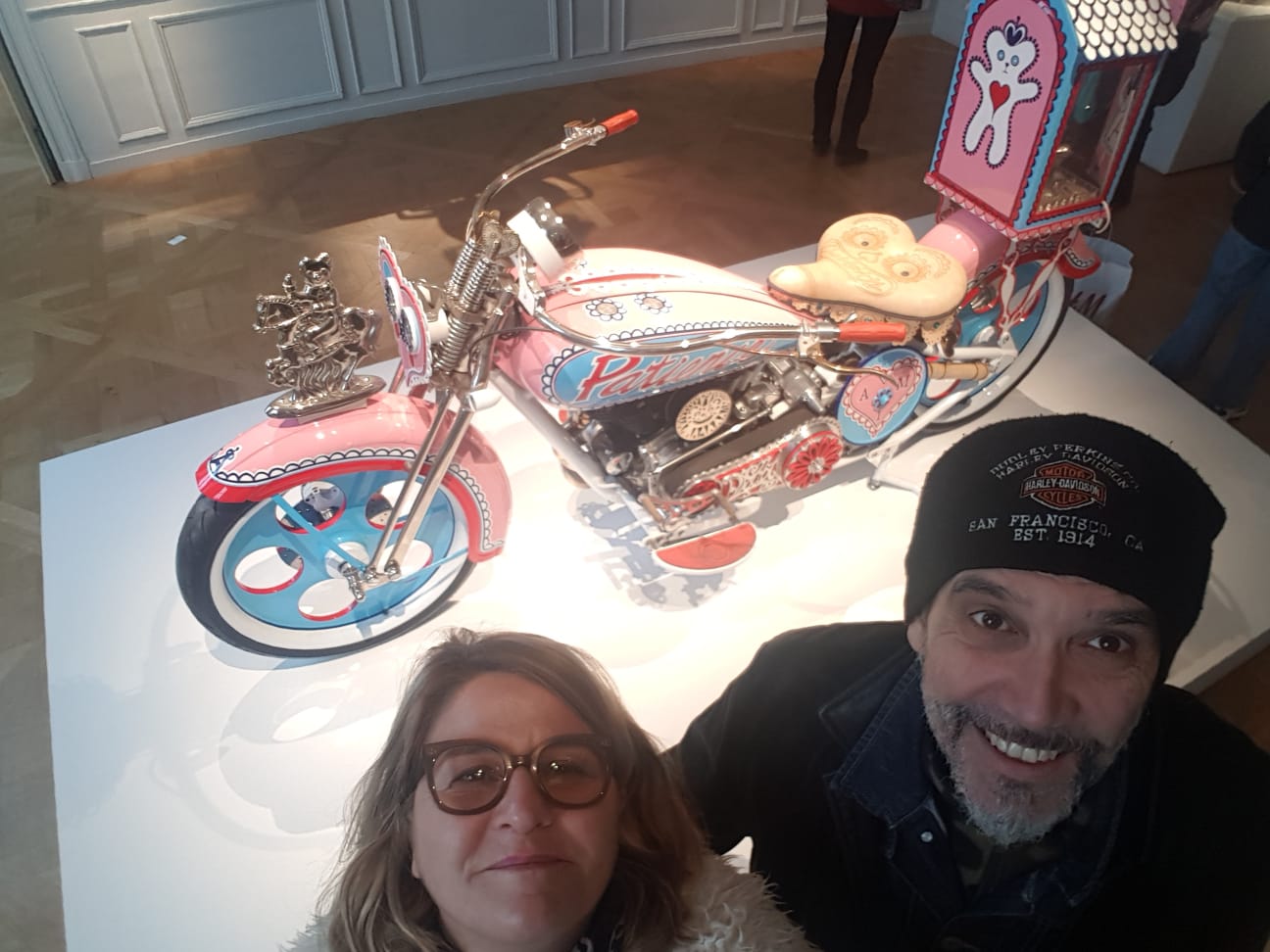 See ya soon on the road my American rider friend (who knows?).
Hervé, your French friend.