One of the best hours at the AIMExpo in Orlando in mid-October was the performance by Lee Rocker and his band. The concert was open to everyone at the show and took place just after the show closed on Saturday. Those anxious to leave the convention center missed an awesome performance.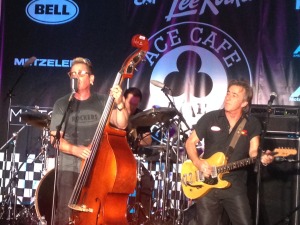 According to a news release: Rocker was a member of the "Stray Cats," a New York-based rockabilly band that consisted of Rocker on stand up bass, Brian Setzer on guitar and vocals, and "Slim" Jim Phantom on drums.
Since the "Stray Cats" broke up in the mid 1980's, Rocker has embarked on a successful solo career while also starting the band "Phantom, Rocker & Slick." He is widely considered to be one of the most influential upright bass players in rock n' roll history.
"The Ace Cafe holds an iconic place in the history of the jukebox and rock n roll," said Lee Rocker. "With some of the greatest ever — Gene Vincent visiting on one of his tours, even The Beatles are reported to have visited before they became famous."
The Ace Cafe, the legendary British hub for vintage motorcycle, car and music events, announced plans to open its first U.S. location in Orlando in Spring 2015.
Keep in touch with plans for the 2015 AIMExpo at AIMExpoUSA.com. To learn about the opening of the Ace Café' Orlando, visit: www.acecafeusa.com.