ORLANDO, FL – The most famous motor-diner on the planet welcomed the world's fastest motorcyclist during Ace Cafe Orlando's world debut back in May. Rocky Robinson, three-time motorcycle Land Speed Record holder, was on hand to give the Ace the green flag. What was kept under wraps was the fact that Ace Cafe is joining the quest for 400 mph with Rocky and the TOP 1 ACK ATTACK. The team is headed to the world's highest salt flat in Bolivia for the Top of the World Landspeed Trial on August 3-8, 2017.
"It is go time," says Mark McKee, CEO and Chief Gearhead of Ace Cafe North America. "As the home for all who share a passion for speed, thrills and rock 'n roll, Rocky's quest for 400 mph on a motorcycle is the perfect place for Ace. We are honored that Rocky is taking us along for the ride!"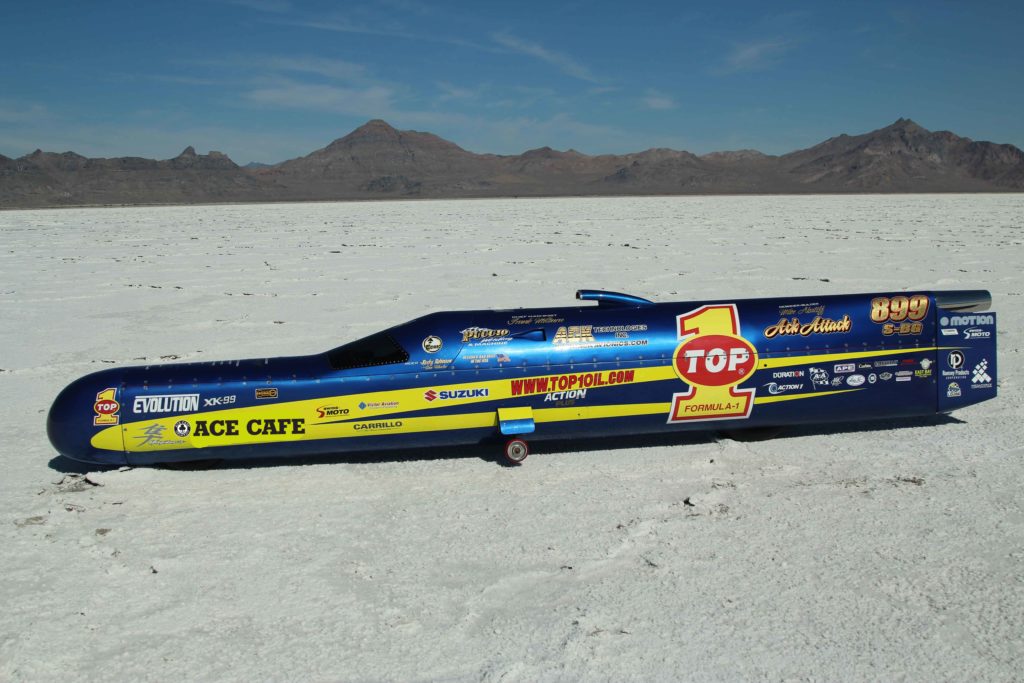 "Records are made to be broken – especially Land Speed Records," said Robinson. "The TOP 1 ACK ATTACK is headed to the Salar de Uyuni salt flats in the Andes mountains and we are going to go faster than 400 mph." All systems are go for the twin-engine streamliner. "Bolivia has been selected because it has a much longer run up and down of more than 15 miles versus about 7 miles at Bonneville," he explained to the crowd at the Ace.
The making of a Legend of Speed: On September 3, 2006, Rocky rode the TOP 1 ACK ATTACK to a new motorcycle land-speed record at the Bonneville Salt Flats, reaching a top speed of 342.797 mph, a whopping 20 mph faster than the previous record, which had stood since 1991. In 2007 he tried to better his speed, but crashed at speeds in excess of 320 mph and rolled 16 times! 
Undaunted, Robinson returned to Bonneville in 2008 and piloted the ACK ATTACK to a second world record of 350.884 mph. On September 25, 2010, for the third time in four years, he set a new world's record, blasting his own record to oblivion by traveling 376.363 mph.
"Conditions are even better in Bolivia than they were at the Bonneville salt flats," said Robinson. He has spent the past month training in high elevation in the Colorado Rockies to be ready for the nearly 12,000-foot elevation of the Andes mountains."
"Our team is honored and humbled to be part of Rocky's quest for 400 mph," said McKee. "Let's rock 'n roll."
"TOP 1 ACK ATTACK is ready to rock, but we will skip the roll this time," joked Robinson. Follow the TOP 1 ACK ATTACK's the quest for 400 mph at: https://www.facebook.com/top1ackattack/
Or come by the Ace Cafe for video updates during the run for the record! Click here to see more:
https://www.youtube.com/watch?v=I-DwV52tpSU&list=PLTDKb7dHymNBAfZ_OaCADPYeJUs_02JZx&index=3
About Ace Cafe:  Ace Cafe is the most famous motor-diner on the planet. Since 1938, Ace Cafe London has been a mecca for those passionate about cars, bikes and rock 'n roll culture. The original location on London's North Circular Road began as a simple roadside cafe for truckers, then evolved into a popular destination for rock 'n roll- loving teens riding motorbikes during the '50s and '60s. Today, the Ace has a multi-generational appeal from motorsports enthusiasts from all over the world. Ace Cafe North America holds the exclusive licensee rights in North America and South America for this world-famous brand. Ace Cafe Orlando is the first North American venue for Ace Cafe. For more information, visit www.acecafeusa.com, and connect on Facebook, Twitter @AceCafeOrlando and Instagram @acecafeorlando_official. #GOAceCafeOrlando #AceCafeOrlando #SpeedThrillsTeaSpills
About ACK ATTACK — Built by Mike Akatiff, owner of Ack Technologies, an avionics company, ACK ATTACK is a brilliant piece of engineering. Chief Engineer Akatiff, pilot Rocky Robinson, and team have set the Land Speed Record on three separate occasions, first in 2006 and then breaking their own record in 2008 and 2010 with a current record of 376.363 mph. The 20-foot long streamliner is powered by a pair of turbocharged/intercooled Suzuki Hayabusa engines, producing more than 1000 bhp. The quest to be the world's fastest motorcycle hasn't been easy – the ACK ATTACK crashed three times during record runs, in 2004, 2007 (when Rocky rolled 16 times) and 2011 – but with great risks come great rewards: http://top1ackattack.com
About TOP 1 Oil — Founded in 1979 by William "Bill" Ryan, the TOP 1 Oil Products Company has traveled a path that has taken the company from startup to now being identified as a premium synthetic lubricant brand. Marketed and distributed globally, TOP 1 has built its brand by developing long-term partnerships and producing the highest quality products. TOP 1 prides itself as being an American brand and being run by the 2nd and 3rd generations of the Ryan Family. For more information, visit www.top1oil.com and connect on Facebook @top1oil, Twitter @top1oilusa, and Instagram @top1oilusa
Media Contacts:
Steve Glum, CMO, Ace Cafe North America, sglum@acecafeusa.com, 407.506.5084 Jennifer Bisbee, APR, Bisbee and Co., Inc., Jennifer@BisbeeAndCo.com, 407.257.4667