Austin, TX March 8, 2021 – Motorcycle Missions is proud to announce it will be a Carry The Load non-profit partner for the 2021 Memorial May campaign. As a part of Carry The Load's Continuum of Care program, this partnership helps raise awareness and funds that are essential to helping our military, veterans, first responders and their families. All funds Motorcycle Missions raises through it's team page now through Memorial Day 2021 will directly assist Motorcycle Missions.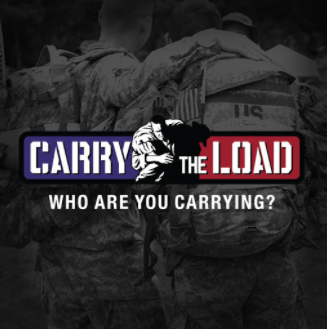 "Carry The Load (www.carrytheload.org) is a national non-profit organization that inspires people to actively honor and remember the heroes who sacrificed it all for our freedom," says Krystal Hess, Executive Director and Founder of Motorcycle Missions. "This year, Carry The Load has invited Motorcycle Missions to participate and add our own flare, on MOTORCYCLES of course!"
Here is what you can do to help us. Please help us raise money by donating and picking a date on which you will go for a motorcycle ride in honor of a veteran, military member, first responder, missing in action, or soldier who made the ultimate sacrifice. Don't have a street bike? That's ok, ride your dirt bike. Don't have a dirt bike? That's ok, ride your scooter. No scooter? Just ride your bicycle. Bicycle tires flat? Just go out your front door and start walking. Every one of you who participates in this endeavor will be helping raise money for Motorcycle Missions while raising awareness of the sacrifice so many brave men and women have made for our freedoms.
STEP 1: Supporters are encouraged to join TEAM MOTORCYCLE MISSIONS  and click "DONATE NOW" to donate and help in supporting our efforts with Carry the Load.
STEP 2: Once you have donated, please email Motorcycle Missions a picture of the hero you are carrying and their name, and what date you are carrying them by riding, walking or cycling. Please also send us a picture of yourself on your bike for our social media so that you can share your endeavors with your followers. Please send them to info@motorcyclemissions.com. The example below is what we will send you back to post on your socials.
STEP 3: Share that you are riding for Motorcycle Missions on your social channels with #CarryTheLoad and encourage your friends to do the same. Set a fundraising goal for yourself and help Motorcycle Missions reach its goal.
Our goal is to raise over $50,000.  For the many of those who have already donated, thank you! One hundred percent of funds raised through Motorcycle Missions team page now through Memorial Day will go directly back to our organization.
"It is important that we take the time to recognize the sacrifices of such valuable members of our communities," says Stephen Holley, co-founder, president and CEO of Carry The Load and veteran U.S. Navy SEAL. "Peer-to-peer fundraising throughout the month of May goes toward our goal of raising $1.25 million that helps improve the lives of our military veterans first responders and their families."
ABOUT CARRY THE LOAD
Carry The Load is a 501(c)3 nonprofit founded in 2011 by veteran U.S. Navy SEALs Clint Bruce and Stephen Holley. Carry The Load's mission is to provide an active way to honor and remember our nation's heroes by connecting Americans to the sacrifices made by our military, veterans, first responders and their families. For more information, visit http://www.carrytheload.org. Like us on Facebook and follow us on Twitter, Instagram, LinkedIn and YouTube.