Santa Fe Springs CA – August 5, 2022 – Vance & Hines, which earlier this week announced its innovative new PCX (Power Chamber Exhaust) technology, is now adding two new 2-into-1 exhaust systems to their product line. The introduction includes the return of the ultra-popular Pro Pipe 2-into-1 exhaust system and a system inspired by the one used on the company's King of the Baggers racers, a series that has inspired a new level of custom and performance in Harley-Davidson touring bikes. PCX technology ensures that these Vance & Hines systems meet all EPA emissions criteria.
Pro Pipe is a classic design that has twenty years of evolution and improvement built into its return to market. It has all the ingredients for making power: stepped headers, an oversized collector and long megaphone muffler. The new generation Pro Pipe now features the innovative PCX™ technology, which integrates a chambered high-flow catalyst in the megaphone for a bigger boost in torque and a more robust rumble of a big V-Twin motor. The placement of the catalyst deeper into the muffler moves heat away from the rider and improves rider comfort.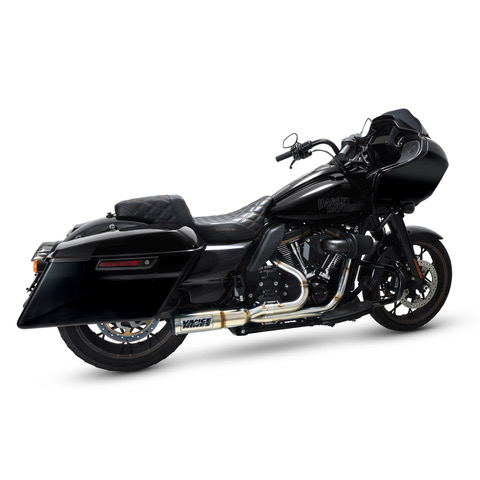 The Pro Pipe system fits Harley-Davidson Milwaukee-Eight Touring (2017-2022) and Softail (2018-2022) models, as well as late model Twin Cam Touring models (2010-2016).
The Vance & Hines Hi-Output RR exhaust system comes directly out of the development work done for the riders in the King of the Baggers class of the MotoAmerica Road Racing Championships. Constructed of high grade, 304 stainless steel, the hand TIG welded headers of the Hi-Output RR step from 1.75″ to 1.875″ to 2.0″ and feed into the same oversized collector used on the race exhaust system. The collector is even rotated to add extra ground clearance to enable steeper lean angles through the turns. Finishing off the system is the Vance & Hines mid-length 4″ Hi-Output megaphone muffler featuring the same laser-cut riveted badge as the race system. The consumer version of the system includes PCX technology using a chambered, high flow catalyst which increases torque, especially at mid-range RPMs.
The Hi-Output RR system fits Harley-Davidson Milwaukee-Eight Touring models (2017-2022). An optional accessory heat shield kit will also be available.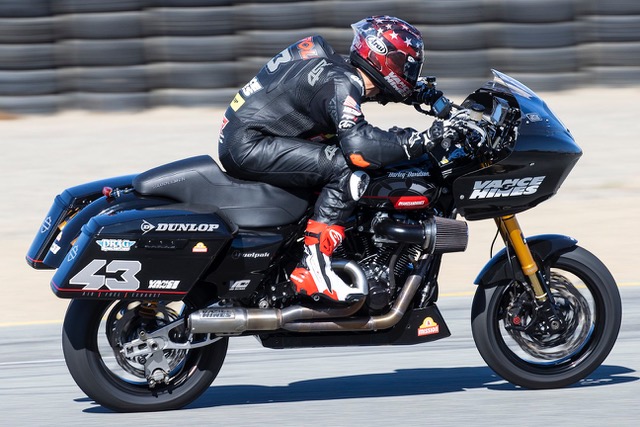 "The Pro Pipe is a rider favorite and we're so glad to bring it back with PCX technology," said Vance & Hines President and CEO Mike Kennedy. "With our company's roots in racing and our excitement about this year's King of the Baggers program, the race-replica high-output system was a no brainer. I can't wait to see a bagger ride by with the same pipes that James Rispoli has on his Vance & Hines race bike."
Both systems are available this week at Vance & Hines' two locations at the Sturgis Rally. Vance & Hines staff at both Black Hills Harley-Davidson and at J&P Cycles in Sturgis are showing all the company's top products to attendees at the rally.
Pro Pipe System Details 
PCX™ (Power Chamber Exhaust) Technology
Chambered High-Flow Catalyst Cartridge Designed to Increase Torque
Stepped Headers and Oversized Collector
Available in Chrome or Matte Black
Meets EPA Emissions Criteria
Retail price $1,199.99 (Chrome), $1,249.99 (Black)
Hi-Output RR System Details 
PCX™ (Power Chamber Exhaust) Technology
Chambered High-Flow Catalyst Cartridge Designed to Increase Torque
Lightweight High Grade 304 Stainless Steel Construction
Hand TIG Welded
Available in Brushed Works Finish or Matte Black
Fits with Standard (Non-Stretched) Saddlebags
Meets EPA Emissions Criteria
Retail price $1,399.99 (Brushed), $1,549.99 (Black)
ABOUT VANCE & HINES
The Vance & Hines brand has always been about enhancing the exhilaration of the motorcycle ride. It started over 40 years ago, when Terry Vance and Byron Hines were two young enthusiasts in the fledgling Southern California motorcycle drag race scene. Terry always wanted to go faster, and Byron knew how to make that happen. In short order, their on-track success and innovation drew the attention of other racers, riders and motorcycle manufacturers, which ultimately translated to commercial demand for their products and services. Today, the Company's mission and activity is the same; make bikes go faster on the racetrack and take those learnings to make impactful products for riders around the world. Since the Company's inception in 1979, it has run factory race programs in partnership with Suzuki, Yamaha, Ducati and Harley-Davidson in drag racing, road racing and flat track. Vance & Hines is based in Santa Fe Springs CA and has its Racing Development Center in Brownsburg IN. Learn more about the company's history and products at www.vanceandhines.com.