If your next road trip takes you near the four corners area of the southwest, here's a place you'll want to stop. The Retro Inn, located in Cortez, Colorado, isn't fancy, it isn't posh and it isn't sophisticated. But it IS super friendly, perfectly comfortable and quite reasonably priced.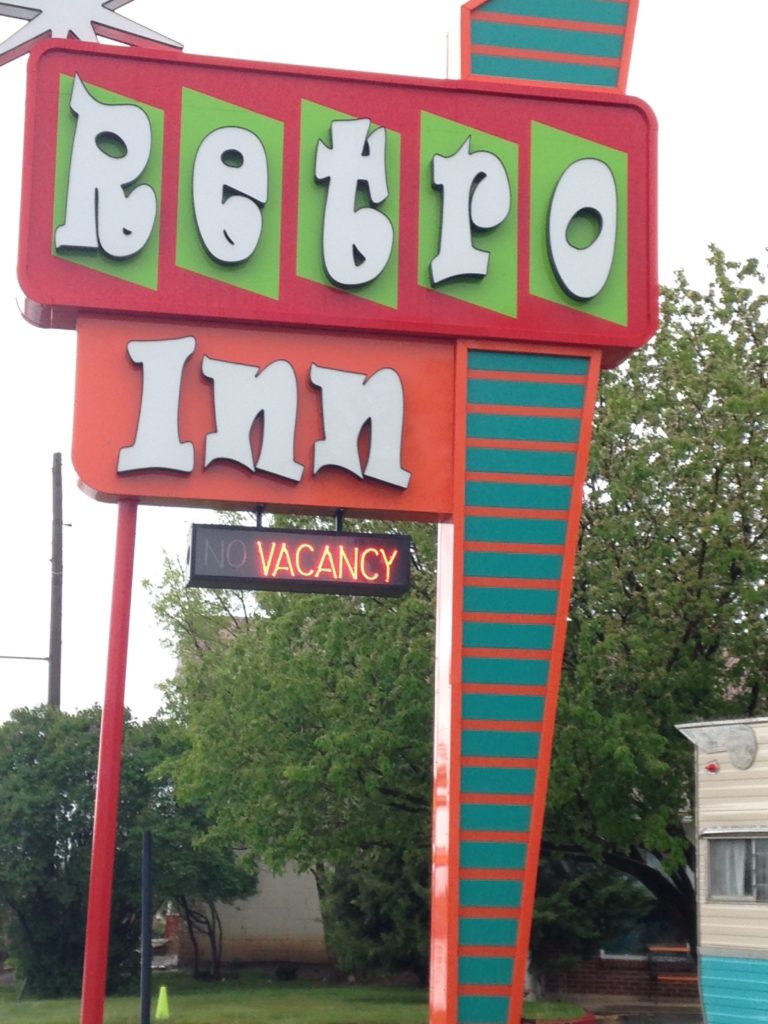 We happened on the Inn toward the end of a road trip that looped north from Albuquerque along the Turquoise Trail, into Taos and up to Pagosa Springs, CO—making stops in Ojo Caliente and Abiquiu. After heading west to Durango, we turned back south toward Albuquerque via Mesa Verde, cruised through Shiprock, NM, and stopped at Chaco Canyon. Less than an hour west of Durango and close to Mesa Verde, the Retro Inn in Cortez was the perfect overnight stop.
The Retro Inn is a basic L-shaped motor inn, the sort of no-frills motel that was built when Esso gas station signs proclaimed, "Happy Motoring!" The inn's owners have amped up its period style by adding a vintage camper out front complete with pink flamingoes. Fresh colorful paint is hard to miss and Elvis sits outside the lobby on a park bench.
They've numbered the rooms with year designations, from 1950-ish to 1980-ish, so ask for the room that represents your own vintage. Room interiors reflect their timeframe with pictures from each era prominently placed and there are two motorcycle themed rooms as well. And though the decorating approach in the rooms could more strongly reflect period style to emphasize retro-cool, it's a work in progress, up and running under two years in this format.
More to the point, the rooms are quite spacious and impeccably clean. Everything is in perfect working order and neat as a pin. Rooms have microwaves and mini fridges, there's ice for your cooler and a complimentary continental breakfast in the lobby each day.
A guest clubhouse is in the works, which will feature "vintage" Nintendo gaming, a pool table and foosball. There are park benches outside each room and a common courtyard that contains a giant chess set plus grills and picnic tables for guests to use. You can even borrow cooking utensils from the friendly staff.
So next time you're rolling near the four corners looking for a biker friendly stop, you'll find plenty of parking and a cheerful welcome at the Retro Inn.
RESOURCE:
Retro Inn