Post by Jack McIntyre
For those that import and export regularly, the importance of understanding logistics and Customs Compliance is a daily function in their workplace. Knowing your product, it's manufacturer, shipping locations, and import tariffs can be the difference

of paying duty or having a proper Customs Broker assign the product a correct tariff number possible saving duty and taxes on every import or export to a foreign land. Knowing your shipping lanes and local agents can combine your products with others to consolidate creating considerable savings with ocean or air freight. Last, moving your goods, your motorcycles to and from European or Asian trade shows is something that I learned many US Builders are invited to, but fail to attend even with all expenses paid because they simply do not know how to ship their goods.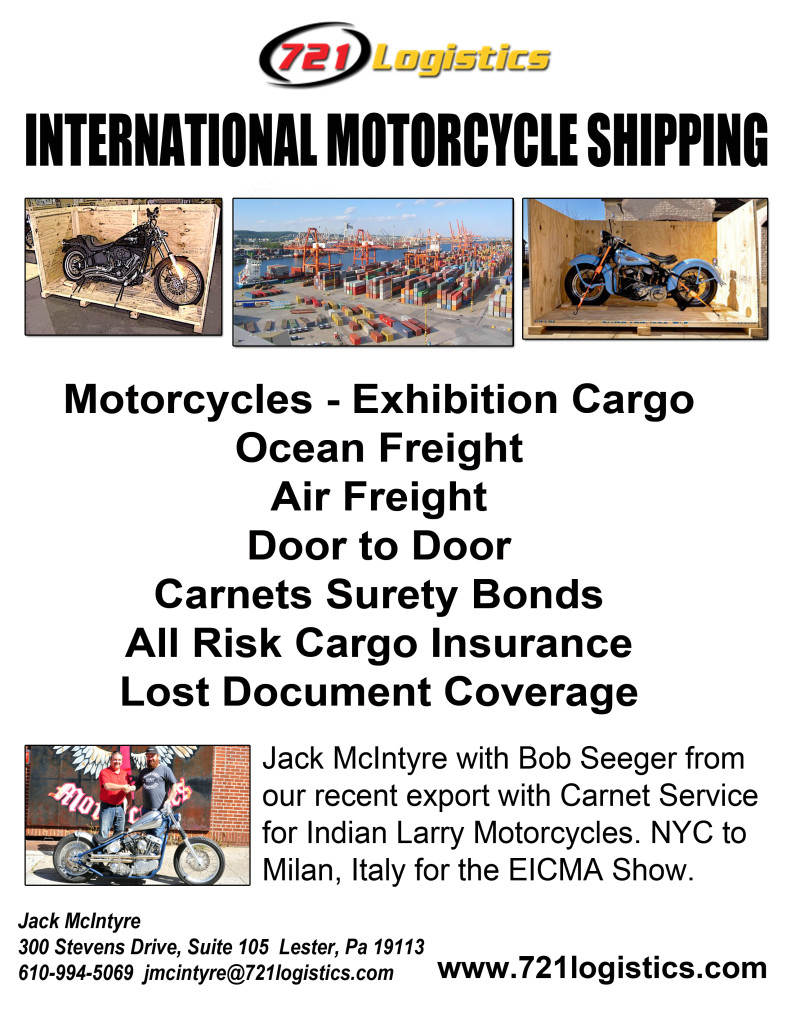 Speaking as a US Customs Broker, Foreign Freight Forwarder, I encourage you to contact your local Customs Broker for assistance. I am always available to help answer International shipping or Customs Compliance questions. A Customs Broker no longer needs to be in the city which your location is at, we have National Permits, so from my city of Philadelphia, I can help anyone anywhere. I'm not trying to discourage the use of Fedex or UPS, but if you want the job to be complete, door to door with just a phone call or email, that is what a Broker is for. The shipping costs are always less, the accuracy is 100% better than the quantity movers, and in the end you will end up with a Broker along with its worldly agents that are willing to assist you no matter where you may be going.
In October of 2014 for example, we were contacted by Indian Larry Motorcycles to move 4 of their classic bikes from Brooklyn NY to Milan Italy for a show. We arranged for the crating of each bike, the pickup with a 20′ container, the loading on the ocean vessel, the arrival in Italy,  the Italian Customs Clearance, and the delivery directly to the show. The folks at Indian Larry simply got on a plane and arrived at the show with the motorcycles delivered. That's what a trusted Customs Broker can do for you. Don't hesitate to call, I can seriously assist your company with ideas, compliance, and so much more.
JACK MCINTYRE  721 LOGISTICS LLC
610-998-5069   jmcintyre@721logistics.com