To help our readers get a real-world look at how H-D boots can take a beating in very different circumstances when put to the test by very different riders, this was the premise: We asked three riders to choose a pair of boots from H-D Footwear's vast line-up. Once they all took their choices to the pavement, they compared and contrasted their results. Here is their story: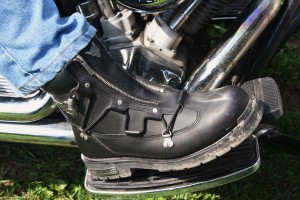 Sam Kanish
These Boots are Made For Walking—and Riding
I have to admit that when I was first contacted to be part of this Harley "boot-off" I was very apprehensive. You see I have big wide feet and normally can't find a pair of footwear that fit properly, and I thought Harley boots only came in limited size widths. But it just happened that I was in the market for a new pair of boots. My Corbin boots are nearly twenty years old with over two hundred thousand miles on them. In that time they'd been rode hard, put away wet many times, re-shod and re-soled numerous times. But now the insides were worn-out, too, so it was time.
I chose H-D Footwear's "Brake Light" boots for a couple reasons, and neither of them are the extra bling (metal tags and emblems) on the boots. First of all they were one of the styles that Harley offers in the biggest, widest sizes. Secondly they have double zippers and a tab on the back of the collar so you can use boot hooks to pull them on easier. Still I was worried they wouldn't fit but I ordered them because I figured what was the worst that could happen? If they didn't fit I'd just send them back.
When they arrived I took one look at them and said there's no way my feet are going in there. I unzipped both zippers, loosened the adjustment cord and pulled the boot's tongue out. Imagine my surprise when my right foot (prominent, i.e. biggest) easily slid inside without any extra effort. I didn't even have to use my boot hooks. The left foot went in its boot just as easily so I zipped them both up and then tested them out with a stroll around the house.
Now naturally the upper leather parts of these Wolverine made boots felt stiff, but the innersole felt nice and cushiony. My feet felt better after that first short walk in these boots than in most of my other footwear and far better than my old riding boots. But these are riding boots so the next day I tried them out on a three hundred mile excursion. Right away I noticed that the "Brake Light" boots were higher than my old boots so that made for some foot angle adjustment when shifting and braking. Not a big deal.
The "Brake Light" boots now have a couple thousand riding miles plus a few walking miles on them. I'm happy to report that they are starting to loosen up and are still very comfortable. Best of all I haven't developed any of the blisters on my toes, heels and ankles that I usually experience when breaking in a new pair of boots. BTW I'm also getting used to the extra decorative do-dads.
All-in-all I give the Harley-Davidson "Brake Light" boots a big thumbs up!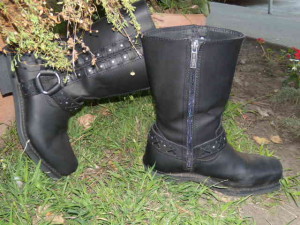 Margie Siegal
Boots, On and Off
I chose Harley Davidson's Auburn boots for three reasons: (1) they come in my (women's) size (2) They are functional (3) I liked the looks.
Size: Despite the fact that women now make up 12 percent of the riding public, manufacturers continue to be irritatingly reluctant to make boots for women riders. Comfortable, protective boots for women who shift gears are not easy to find. Harley has teamed with Wolverine to manufacture several appropriate styles for a woman who rides. Most manufacturers only make boots in one style for women, and it's nice to have a choice.
Function: I found the Auburn boots, right out of the box, to be stiff, a function of the stitched on sole. Many manufacturers glue soles on these days, which is cheaper and produces a more flexible boot- which can't be resoled, so there goes your $200 plus investment. After about an hour break in time, the Auburn boots fit and felt good. There was an event in California's gold country, in a town named, of all things, Auburn, so I put on my boots and rode there, about 130 miles each way. My feet were comfortable, despite ninety degree heat and a traffic jam on the way back.
I have been wearing Italian made boots, and there is an interesting difference between Italian ideas of boot design and American designs. Italian designers expect that riders will wear racing leathers or skinny pants, and design boots with narrow tops and elastic gussets, intended to fit close to the leg. They also assume that riders will be riding sportbikes with low bars and rearsets, so the boots are configured to work best with feet further back. American designed boots are built with the expectation that the rider will have feet on either footboards or highway pegs. They are also designed with the expectation that the rider will be wearing heavy jeans, and pull their pant legs over the boots, cowboy style.
There is limited packing space on even a big touring bike, so your boots must multitask. If you are out on the road, your boots must work for riding all day, walking around rallies, going for short hikes,and going out to dinner. It's also nice if you can wear them to go to work to pay for it all. The Auburn boots will work for all of these endeavors if you work in a casual office or factory setting. For the "going out to dinner" part, a broomstick skirt can be tucked into a corner of your saddlebags, and pulled on over your jeans if necessary in a corner of the parking lot. It works well with the Auburn boots, and will transform a grubby biker into a chic lady.
3.) Looks: Beauty is in the eye of the beholder. "I know, it's only rock 'n roll but I like it!"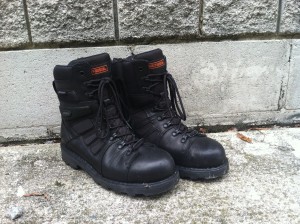 Vincent Stemp
FXRG-3 for me!
Youth has its advantages, to be sure. Time and time again, I've lucked into hard-earned advice handed down to me from a fellow rider with decades of experience and wisdom on me. From simple stuff like "don't let your passenger wear sandals, no matter how pretty she is!" to tips that have saved my skin on a dark, rainy road, I've learned to listen to my elders. But the best piece of advice? "Do what you can while you're young."
So I do. I stay up late wrenching on my bikes, I ride a tube-frame Buell on the weekends, and I rode a Sportster with the full cafe racer treatment to Sturgis and back, nearly 4,000 miles round trip. It's all well and good to burn up youth's energy like this, but as I learned last summer crossing Indiana in a pitch-black squall, there's lots you can't control.
Having put more miles down with wet boots than seems reasonable, I decided to strap on a pair of Harley-Davidson's FXRG-3 Performance boots after looking through the selection of H-D Footwear's waterproof offerings. I suppose riding in the rain isn't a priority for most normal folks, but call me a fool before you call me normal, thank you! While the other boots in our Iron Trader News Boot Off don't have this feature, it wasn't the only advantage they had to offer.
But I'm getting ahead of myself. Waterproof boots are great, but there's always a compromise. Being waterproof when the rain catches you off-guard a dozen times a year isn't worth a spun bearing if they're too stuffy, heavy and uncomfortable to wear every other day of the year. So to see how these boots balanced water resistance and daily wear, I put the FXRG-3's through a simple test: I pulled them on for a long rainy Saturday. Between burning around town on the Sporty, spending time in the garage, and helping a friend move, I was surprised to find my socks dry at the end of the day, except for some dampness around the top where they extended above the top of the boots. My riding jeans, however, were another story…
So they wear nicely in all sorts of situations, but there's a reason for that. These H-D boots aren't actually made by Harley-Davidson…they're made by Wolverine, an American company that's been around even longer than our beloved Harley-Davidson. Food for thought…or rather, for the road.
While these boots aren't suited for a dip in the pool, they've held up to jaunts around town in the rain just fine. More importantly, they're comfortable to wear off the bike! They took about a week of "pedestrian" wear to break them in, but that's to be expected with any pair of decent boots. Support is excellent, and they're nicer to walk in than any road-ready riding boot I've worn, despite the weight that comes along with features like waterproof assurance and crash protection.
While I set out to prove that the FXRG-3 boots are the best in this lineup, the fact is that they're only the best for me and how I ride. No piece of riding equipment, from boots to baffles, can be better than the purpose it's designed for.
Margie responds to Vince:
Interesting that Vince talks about waterproofing. I log a lot of wet miles. Sometimes I think my throwing a leg over a bike is enough to get it to rain. As a result, I have two pair of waterproof boots, one made in Germany (Daytona) and one made in Italy (Sidi) The Sidi boots are light but very warm, and almost unwearable in summer heat. The Daytonas are better in a wide range of temperatures, but heavy.
Given the choices available, I ordered two pair of Sealskinz waterproof socks from my favorite mail order company, Aerostich, and opted for breathable boots.
Vincent says:
"I'd have to agree with Margie about the importance of multitasking when it comes to serious riding footwear. While walking around town or wearing the FXRG-3 boots all day is possible, it's not ideal when you cross-shop these boots against other protective but lighter and less featured options. What it comes down to is intent – and being honest about your intent when you go shopping! No one can see how cool your boots look while they're making a racket in the dryer after a surprise squall."
Vincent continues:
Sam's thought about the new boots being higher than the old ones reminded me of an embarrassing story with a lesson. The hell-beat boots I had worn when I first started riding were work and general-use boots for some time before I started riding, so the many walking miles had worn and shaped the soles to account for the unique motions of walking in larger, heavier shoes. When I started riding my first Sportster, I adjusted the shifter and brake pedal just so while wearing those old boots. A couple months later with a new pair of boots ready to be broken in, I jumped on the bike and took off down the road…only to lock up the rear brake when I brought my right foot onto the peg! Nearly an extra inch of material meant an unexpected deployment of the rear brake, which I fortunately recovered from. Lesson learned: everything you change about your gear or bike makes a proportionally huge difference on the road. Consider that the next time you're eying some drastically lower or higher handlebars…"
And Sam wraps it up:
It's funny that even though all three participants in the Boot-Off come from different areas of the country and have different riding styles, we all wanted the boots we chose to be able to multi-task. Margie wanted a boot that has good looks, Vincent wanted boots that are waterproof, and I wanted boots that I could walk in after the ride. But we all wanted boots that we could wear while riding. After all isn't that the whole idea of owning a motorcycle and wearing motorcycle boots? From the sounds of it we all got what we wanted.