Text & photography Onno "Berserk" Wieringa / G-Rat – www.madnessphotography.nl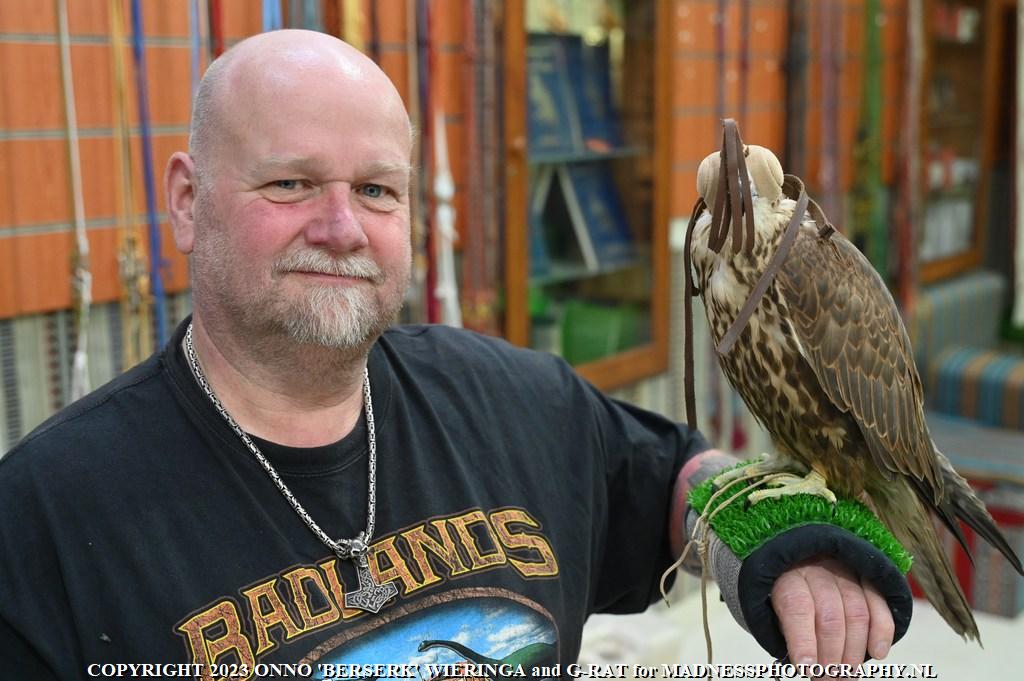 Being in Qatar is an experience you will not forget, ever. This year it was the 4th edition, the Batabit show is growing rapidly and with many international guests having visited the Batabit from the first show on, it is becoming one of the most important and best custom bike shows in the Middle East. Batabit means motorcycle, Batabit is a foundation to promote motorcycling in Qatar and with a strong attendance of over 100 cool customs it sure is a good showcase of what customizing means to the Qatari.
Upon arrival in Doha, Qatar's capital, we were heartily welcomed by our good friends, whom already had planned a full program for us to see Qatar. So, partly by car and mostly on great bikes we could borrow from them, we went to see the impressive Sheikh Faisal Bin Qassim Al Thani Museum, the tour takes you through 30 galleries with immense collections of, well about everything! From beautiful old Dows (wooden ships) to halls full of cars and motorcycles, art, weapons etc., over 30.000 pieces are on display. Other museums, like the Qatar National museum, shaped in its world famous Sandrose shaped building, breathtaking inside as well outside! And of course the city of Doha, with its old Souk Waqif (market) and high-tech buildings, a bigger contrast you can't imagine! Riding camels and off-road trucks in the dessert, enjoying traditional food, the hospitality and friendship of the people is heartwarming!
Last year's jury with the Ness family (Cory, Zach and Max Ness) accompanied by Christine LePera, G-Rat and me, made quite an impression, and this year's jury with Brian and Vanessa Klock (USA) Bimo Custom bikes from Indonesia and Luigi and Niko (Nikobikes) from Italy, all being world's best customizers and true experts, had to make tough decisions of choosing the best three of each class and even harder, choose the Best of the Best, winning the astonishing amount of Qatarise Rial 50.000,00; in US Dollars that's almost $15.000,00! No pressure here at all… It took them most of the day to get the final results. With over 100 bikes in 19 classes, with many extremely built old school choppers, baggers, cafe racers, trikes and many others, it took all day to get the winners sorted! Visiting several motorcycle dealers and shops, and private custom builders, it's clear that customizing is reaching a professional level here in Qatar. Mohammed Al-Hashimi, the owner of Moto Clinic Katara, is one of the customizers who does build extremely well built and detailed customs, such as choppers, baggers and more. It's not just a shop, it's a well-known meeting point for bikers, as on the top floor a bar and lounge is, and next to their workshop a restaurant. Sure worth a visit!
On Friday (weekend in the Middle-East) in the afternoon thousands of motorcyclists gather at the Port, from where a Parade through Doha starts. We ride through the beautiful city, along the beaches, in the sun and feel blessed, this is a once-in-a-lifetime experience! All along the route people wave and cheer, big smiles everywhere as the rumbling caravan passes by. Upon arrival at the Batabit Show, even with a motorcycle, proved to be challenge because of the many, many bikes joining! The sun sets early here in this region and in the evening the place comes alive, with live-music, a motorcycle track where everyone could show his skills, many vendors, and street-food trucks opened up and who could resist the smell of the booths with delicious coffee, tea and local sweets?!
The show with 19 classes, proved to be one of the best ever, with bikers coming from all over the Middle East, showing that friendship is more important than politics! And the Prize Money is impressive; in all 19 classes 1st place winner receives $ 1.250,- US Dollars, 2nd $ 750,00 US Dollars and all 3rd prize winners $ 500,00 US Dollars! Winner of Best Display, again like last year, was the ever creative Saoud Al Kwuri. He created a lovely sort of campground, with on it his rather unconventional Softail with trailer, and in the trailer he brought a sheep! A good initiative is the 'Batabit Cup' which means 'Best local Built' and was won by Mubarak Jassim A A Al-Muhannadi, winning $5.000. Best Paint, winning $2.500,- was won by Ali Mubarak A B Al-Badr and a stunning amount of prize money, almost $15,000,00 for the Best of the Best, a beautiful purple Panhead chopper, went to Abdulazez Yousuf J A Alkuwari!
Qatar is a beautiful country, where hospitality and friendship is deeply embedded in their culture. Plan a visit, you'll love it. Come to the Batabit Custom Bike Show in February!
Big thanks to the Batabit Crew, Ibrahim, Ali-Alsafar, Albakar, Big Mo, Big Boy and of course Rahman for letting me ride his H-D CVO Softail Springer!
Also big thanks to Vanessa and Brian Klock (Klock Werks USA) Niko and Luigi (Nikobikes Italy) and Bimo (Bimo Custom Bikes Indonesia) for judging.
Result Qatar Batabit Custom Bike Show 2023:
Abdulazez Yousuf J A Alkuwari winner Best of the Best (QAR 50.000,-)
Mubarak Jassim A A Al-Muhannadi winner Batabit Cup (QAR 20.000,-)
Ali Mubarak A B Al-Badr winner Best Paint (QAR 10.000,-)
Saoud Abdullatif S A Al-Kuwari winner Best Display (QAR 5.000,-)
www.batabit.com.qa
https://www.instagram.com/qatar_batabit_show
https://m.facebook.com/Qatar_Batabit_Show-102041515592267/?ref=nf&hc_ref=ARS9h7_tjQocXJJUr1Gc3whYTpyHLtNw3XArbmat7i4tcasziHFh1Ro2c7vYOIv_ZjY