The geometry of biking: if it ain't long, it's wrong
Sugar Bear Springers are made in the USA alright, and they have been since the first one left the shop in 1972. And they're not production pieces, either. Each front end is hand made, one at a time, by Sugar Bear himself using a mill, lathe and welder he's had for decades. What else? Just Bear's two steady hands and the solid, unwavering engineering he's built in from the time he began experimenting in 1969. "I didn't sell one till I got it just right," he said, and since then there's been no need to change a thing. "It ain't broke," he smiled.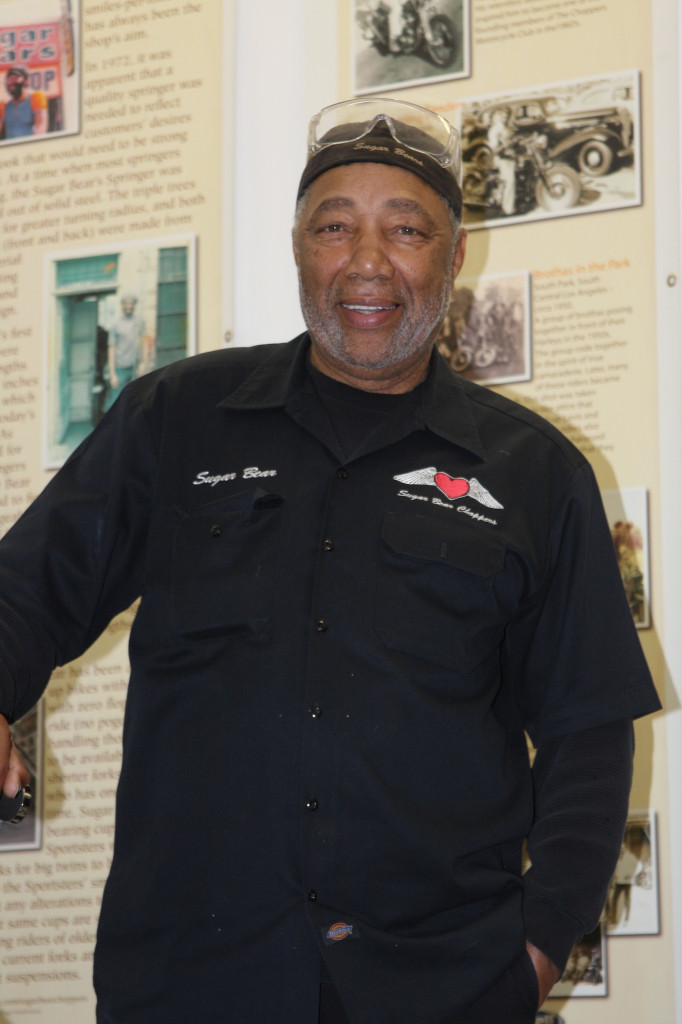 Every component down to the bolts on each of Bear's "babies" is hand fabricated from bar stock except for the springs, which are sourced locally near Bear's central L.A. shop. And here's a record worth recognizing: "I've not had one fail or returned since I started making them," he said. That's remarkable, we say.
Clearly, there's a solid foundation here. "My front ends are the only ones that work," said Bear. "There's no flop. They're so well balanced I park my bike, leave the front end angled, and it's just like that when I come back to it."
And running an extended front end doesn't mean you need wide bars for turning leverage; not if it's a Sugar Bear front end anyway. Why? "It's geometry, it's math," Bear explained. "The frame never moves as you turn the front end. You're never fighting the weight of the bike so it's easy to steer."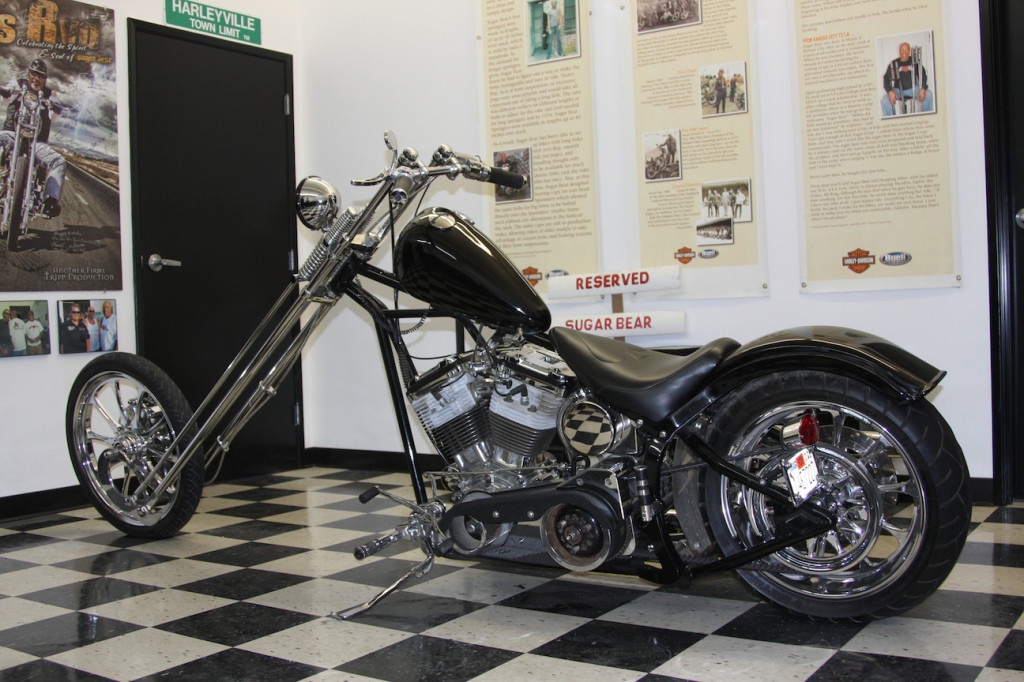 There's a secret to it, no question. "Interesting enough, everyone thinks the rockers are the key, but more plays into it than just the rockers," he explained. "I just smile when I hear that," he added, smiling of course. The engineering is substantially more complicated, but Bear's not talking. "The devil is in the details," is all he'd say.
The first extended springer he made, over four decades ago, mind you, was eight over. "Someone saw it and said, 'I want a twelve over.' Next guy wanted to beat that and wanted a twenty over," he said. And so it went, up to the forty over bike that finally got some industry notice in 1977 from Street Chopper. (When magazines wanted to show Bear's bikes but wouldn't agree to put his picture in too, he just said no—and 25 years passed without recognition in print.) The Sugar Bear springer you buy today is the same unaltered unit Bear made then, with one difference: "Back then we didn't have front brakes. Later when we had to add them I made the downtubes 1-3/4" wider. That's the only difference between then and now," he said.
Sugar Bear got his nickname from the kids he worked with in a youth probation program. They figured he could swoop in and put things straight, like the Sugar Bear cereal hero, and I figure those kids were right. I'd dare anyone to shake this man's solid, centered presence.
As for the moniker, "It just stuck," he said with a sense of pleasure. See, working with kids has been Sugar Bear's MO all along. Fact is, he originally set out to be a math teacher. His shop walls are evidence of his continued involvement with local youngsters: he visits schools on his chopper, first getting their attention with the noise and eye candy then explaining that it was mastering math that helped him learn how to build cool things and make them work right.
That's why it was natural for Bear to become an ally of Kevin "Teach" Baas who runs the Chopper Class at Kennedy High School in Bloomington, MN. It was a logical alliance for two talented and innate teachers. [See sidebar.]
And speaking of teachers, Bear's own mentor, who taught him a wealth of knowledge about both biking and life, was Benny Hardy. Benny was legendary in African American bike circles in the '50s and '60s but he wasn't well known otherwise. And that's just plain wrong, because Benny Hardy built two of the most famous motorcycles in U.S. biking history: Captain America and the Billy Bike for Easy Rider.
But Benny was never credited for his work on those iconic bikes, until Bear broke the news on Jesse James's History of the Chopper series in 2006, 12 years after Benny had passed away. "He never got any recognition while he was alive," said Bear. "I'm proud of what he did and it would have been nice if he had known that other people were proud of it."
Amen to that. Good work should never be ignored for stupid reasons.
"Back then, even the outlaw bikers brought their bikes to Benny. They knew he'd fix them right the first time," said Bear. Benny got a solid rep as the go-to guy for good work in those days. Bear hung around him, grateful for the chance to watch, listen and learn. "He told me to do good work, and keep doing it. And not to expect anyone to notice," said Bear. "He said, 'Do it for yourself and let the word spread.'"
The result of Benny's sage advice? "I've been busy all through the years," said Bear, and he's hasn't advertised, either. "You don't ever see a commercial for a Rolls Royce or a Bentley, do you? But you know what they are."
The huge collection of pictures on the walls of Sugar Bear's shop tell the story of Black biking from the early '50s, and even before. Maybe that's why he can go to the Born Free or Dave Mann shows and say he hasn't seen anything new. People tell him: Look at the twisted frame rails, or the single front downtube frame, or the welded chain link front end, and he just smiles. Bears's shop walls tell the original story, testament to a time when details like those were truly new. And that, friends, was long before CNC'd anything.
It won't surprise you that Sugar Bear only rides bikes that have his own front ends. At 73 years old, he's building what he says will be the last bike he'll do for a customer, a clone of his own regular ride. He has his own projects he's itching to tackle, such as restoring the frame and front end of that forty over bike he built all those years ago. That's a bike we'd like to see completed, too.
Resource
Sugar Bear Choppers
Gardena, CA
www.sugarbearchoppers.com
310-768-4158
Stepping Up
Showing how it's done
By Kevin "Teach" Baas
"He's an amazing man. I met Bear at Michael Lichter's show the last year it was at the Thunderdome. My chopper class bike was on display with a poster describing how it was built with high school kids and Bear wanted to know more.
"He said, 'Tell me about what you're doing with these kids.' I did, and he told me about his years working with troubled youth. He really cares about kids. Before Sturgis ended he told me he wanted to donate a front end for a future chopper class build and right after Sturgis he followed through."
"Bear and his wife Fuji even came to our school open house and met the students. That's when we made the sign and gave it to him. The bike was just a roller then. We had a ways to go.
"Later that fall Bear was doing a presentation at the H-D museum and he invited me to be there. I had tried to get through to someone at H-D to tell them about my class for a few years, with no luck. As Bear was wrapping up his talk he introduced me to the crowd and let me tell them about my program. And right there in front of Willie G., Bear said that for the first time in his career he was donating a front end—to my program. Then he added, 'Oh, and Kevin needs a motor and transmission, too. I wonder where he could get those?' Bear and I just looked over at Willie G. and Willie G gave me a thumb's up. Not too long after that I was on the H-D assembly line working side-by-side with their people to build a motor and trans that H-D gave me for the build."
"That finished bike, with a 25-over Sugar Bear front end and H-D powertrain, was in Michael Lichter's Eternal Combustion show the following year. It will be on display at the H-D museum this June during the Motor Company's 115th anniversary. That'll be really nice for the kids; and for Bear.
"He's a great friend. It's amazing how big his heart is. Bear's the real deal, a true blue guy.
"I can't believe how chopper class has grown and how much support and love we get. It's fun to tell the story over and over again."