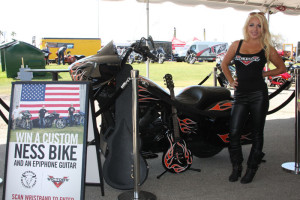 The Sturgis Buffalo Chip unveiled its official 2014 Sturgis Rider Sweepstakes Victory motorcycle and matching Epiphone guitar during Daytona Bike Week in Daytona. This highly anticipated annual sweepstakes gives 1 Buffalo Chip fan a chance to ride off on a customized Victory Motorcycle, plus a matching Les Paul Studio Epiphone Guitar. Renowned builder, Cory Ness of Arlen Ness Enterprises will customize a 2014 Victory Cross Country 8-Ball with a slew of distinctive custom Ness parts and unique features. No purchase is necessary to win this bike and guitar, all you have to do is simply register (online at www.BuffaloChip.com) for a chance to win. The bike and guitar will awarded to the sweepstakes winner at the Buffalo Chip during its annual Motorcycle and Music Festival this August.
"It's not every day you get to give away a custom bike and a guitar," says Brian Kirkendall, Marketing Director for Victory Motorcycles. "To see the look on the lucky person's face when they win — it's one of the coolest things ever."
"This year's bike is loaded up with the best of the best from Arlen Ness," exclaims builder, Cory Ness. "We started at the front with our new Beveled 23" billet wheel, 6 degree raked trees and a 23" Ness front fender. We added some Ness ape hanger handlebars and Fusion grips to give the bike some additional attitude. We also stretched the tank to accept the custom leather seat from Le Pera. The rest of the bike is covered in Ness Beveled accessories. I'm confident this bike is going to make someone very, very happy."
The Sturgis Rider Sweepstakes bike and guitar will feature matching custom paint jobs courtesy Kirk Taylor of Custom Design Studios. The award-winning painter's affinity for retro styling and eye-catching paints from PPG let him realize his imaginative vision for both the bike and guitar's striking exterior.
"When the Buffalo Chip approached me about the Sturgis Rider Sweepstakes bike, they were thinking something traditional," says Taylor. "I immediately thought of 'California Kid,' a traditional iconic hot rod from the '70s. It was a '34 Ford that was black with orange flames and white pin stripes. I didn't think you could get much more traditional than that. So I contacted my friends at PPG, who happened to have a gorgeous orange color in their Vibrance line. The guitar and bike will be both a basic black with a pearlized orange flame and a white stripe, and the custom guitar is named the 'California Kid.'"
"Cory Ness and Kirk Taylor have truly outdone themselves with this year's sweepstakes bike," says Rod Woodruff, president of the Sturgis Buffalo Chip. "Bike Week visitors will absolutely be blown away when they lay eyes on this beautiful piece of machinery and its matching guitar. The Sturgis Rider Sweepstakes is one of the ways we say thank you to folks who call the Buffalo Chip home during the Sturgis Rally. With great partners like Ness Enterprises, Victory, Epiphone, Custom Design Studios and PPG, the Chip can continue to offer world-class sweepstakes prizes alongside the greatest concerts of the Rally!"
If you're interested in registering for the Sturgis Rider Sweepstakes or want more information you may do so on the Buffalo Chip website, www.BuffaloChip.com, or visit any participating rider-friendly businesses. The Sturgis Buffalo Chip will randomly select 1 fan to receive the Victory motorcycle and Epiphone guitar on the main stage during its 33rd annual Motorcycle and Music Festival on Thursday, Aug. 7, 2014.
Source and image: The Sturgis Buffalo Chip
Posted by Sam Kanish