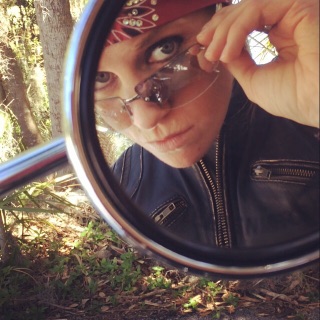 Story and photos by Indian Leah Misch
I've toured the country on my Indian Scout, but after riding the 2017 Indian Springfield during Daytona Beach Bike Week, I'd say my Scout now has some competition.
I've ridden everything from the smallest to the biggest of bikes. From putting 700 miles in one day on my single cylinder Suzuki Boulevard to riding the S&S Cycle Dragon 143. So I was excited to review the new Springfield bagger.
Where I rode
I do admit I was a little intimidated coming into the riding season on a new Indian Springfield because of the increase in weight from my 533# (dry weight) Indian Scout. However, I was shockingly surprised how easy the 860# (wet weight) motorcycle was as I rode through congested traffic exploring unfamiliar roads.
I loved the 26'' seat height which allowed me, a 5' 5" rider, to have a solid flat footing on the ground at stops. Soon I relaxed and had fun testing out the power in the 111 cubic inch engine. I made my way on to the Interstate and was tempted to take it to the speed way and roll-out a few laps with the 119 horsepower!
My favorite part of riding the Springfield in Daytona Beach was riding over the Broadway Bridge. "Born Free" by Kid Rock came in my head set as I rolled back the throttle and hit some speed, gliding smoothly over the bridge. Riding the Springfield literally was the closest thing I've felt to flying since the last time I flew an airplane.
About the bike
I could see myself touring the country with the Indian Springfield. It had a super comfy seat, cruise control and floor boards making long distance traveling more comfortable. Also, fuel capacity of 5.5 gallons is larger than my Scout's 3.3 gallon tank, which makes running out of gas in the desert less likely (true story).
I loved the hard saddle bags, mainly because I could click the keyless fob and the saddle bag would open without me having to de-glove to open the bag. It may not seem like the big deal, but it eats away from riding time when needing to spend extra minutes taking off gloves to get into the saddle bags. Also, the saddle bags had spacious room allowing me to finally pack that extra pair of boots.
At first I was apprehensive about the added weight, but after putting on 260 miles I found the added weight actually made the bike more stable and safer. Also, for those riders who like to pick up a little speed around corners I found the bike to be extremely well balanced and fun to ride!
What I'd change?
I'd like to see modified ergonomics in the hand grips to accommodate a woman's smaller hand size. I found I needed to use strong pressure, which is comfortable for minimal shifting and braking but for the long-distance riding I like to do I would anticipate hand fatigue if I was shifting a lot. But hey… who can complain too much about riding more to improve their hand strength!