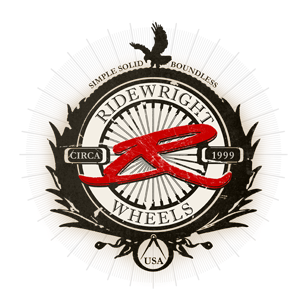 Ridewright Wheel's premium "Fat 30-Round-02's" Fat 30-spoke custom motorcycle wheels are a solid investment that now comes standard with our real steel Omega rims. The steel format is intended for professional builders and to those who are customizing their motorcycle using the integrity of American steel. Made in the USA, these wheels are made of the finest materials and a pool of dedicated, talented wheelwrights assemble them.

The MHE's (Modular Hub Ends) hubs allow Ridewright to rapidly assemble a wheel so owners can enjoy one of the fastest turn-arounds on custom wheels in the industry. The end caps of the hubs are the interface between the bike and the hub so they can make sure a wheel that precisely fits a motorcycle quickly simply by keeping a large supply of these MHE hubs. With this method, Ridewright Wheels are a better long-term investment: These same MHE's allow customers to keep wheels if they sell their motorcycle, also allows them to modify the rotor configurations (single/dual) or sell their Ridewright wheels in the future.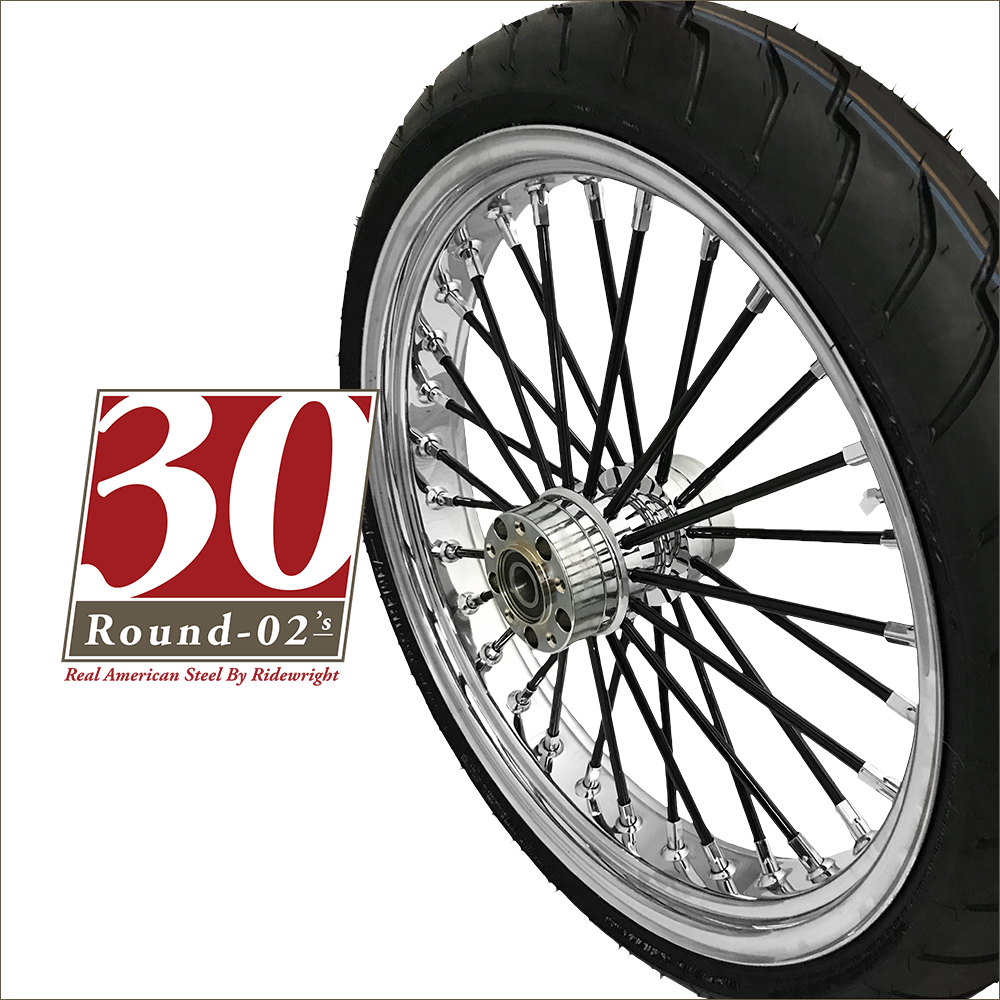 Warranty
The lifetime structural warranty and 6-month chrome warranty lessens any significant risk in buying a wheel. Ridewright as got the tools, expertise, talent and passion to make you a solid, one-of-a-kind custom motorcycle wheel.
Solid Features
Lifetime Structural Warranty

6-Month Chrome Warranty

Fast-Turnaround

Made In The USA

Many colors available for each component

Many spoke styles

Many upgrade options
Boundless Colors
8 popular house colors available. If you are interested in something more unique, please visit the Colors Page to learn more. Ridewright has a relationship with two leading American out-sourced color houses.
Customers choose the color code desired from Tiger or Prismatic and then let RWW know what they are in the order notes during the purchase process online, or verbally with a call. RWW will call back the customer with a final quote before they proceed. If customers don't see the color or style that desired on the website, or if special ideas are in mind, customers can use the help tab to the top/right or call Ridewright at:  (714) 632-8297 
Popular Options
If you would like learn more about the options that we offer, then please visit the "Options & Details" page to get the details on the ABS Bearing Upgrade, Cush Drive, Tubeless Seal Upgrade, Spoke Styles and Omega Steel/Exotica Aircraft Alloy hoop options.
On the website, Ridewright has included a place where customers can include any special notes, or thoughts one may have, to accompany an order so one can make certain the company are clear with your needs. RWW will also ask customers what motorcycle make, model and year so they can double-check their Wheel Fitment Matrix (H-D only) and see if the wheel ordered will fit the customer's motorcycle.