NEW SCREAMIN' EAGLE
®
 131 CRATE ENGINE OFFERS BIG POWER FOR SELECT HARLEY-DAVIDSON
®
SOFTAIL® MOTORCYCLES
The Biggest, Most Powerful Street-Compliant Engine Harley-Davidson Has 
Ever Created Now Available for Select Softail® Models
MILWAUKEE (August 25, 2020) – Harley-Davidson offers power-hungry street riders a new performance option with the introduction of the Screamin' Eagle® Milwaukee-Eight® 131 Crate Engine for select Softail® model motorcycles. The new 131 cubic inch (2151cc) V-Twin engine delivers the biggest, most powerful street-compliant engine Harley-Davidson has ever created.*
The Screamin' Eagle 131 is a bolt-in replacement engine for select 2018-later model Harley-Davidson Softail motorcycles originally equipped with a Milwaukee-Eight engine, designed to run at high RPM and to provide a significant boost of torque from cruising speed. Riders will experience commanding performance from the moment the throttle is cracked open on the Screamin' Eagle 131 engine, performance backed by the assurance of a 12-month factory limited warranty when installed by an authorized H-D dealer.
"Our adrenaline-seeking riders asked for thrilling power and torque with reliability," said Harley-Davidson Product Manager James Crean. "The Screamin' Eagle 131 Crate Engine delivers exactly that. Developed by the Screamin' Eagle performance team and factory-assembled at Harley-Davidson Powertrain Operations to ensure the highest quality standards, this high-performance engine is genuine Harley-Davidson."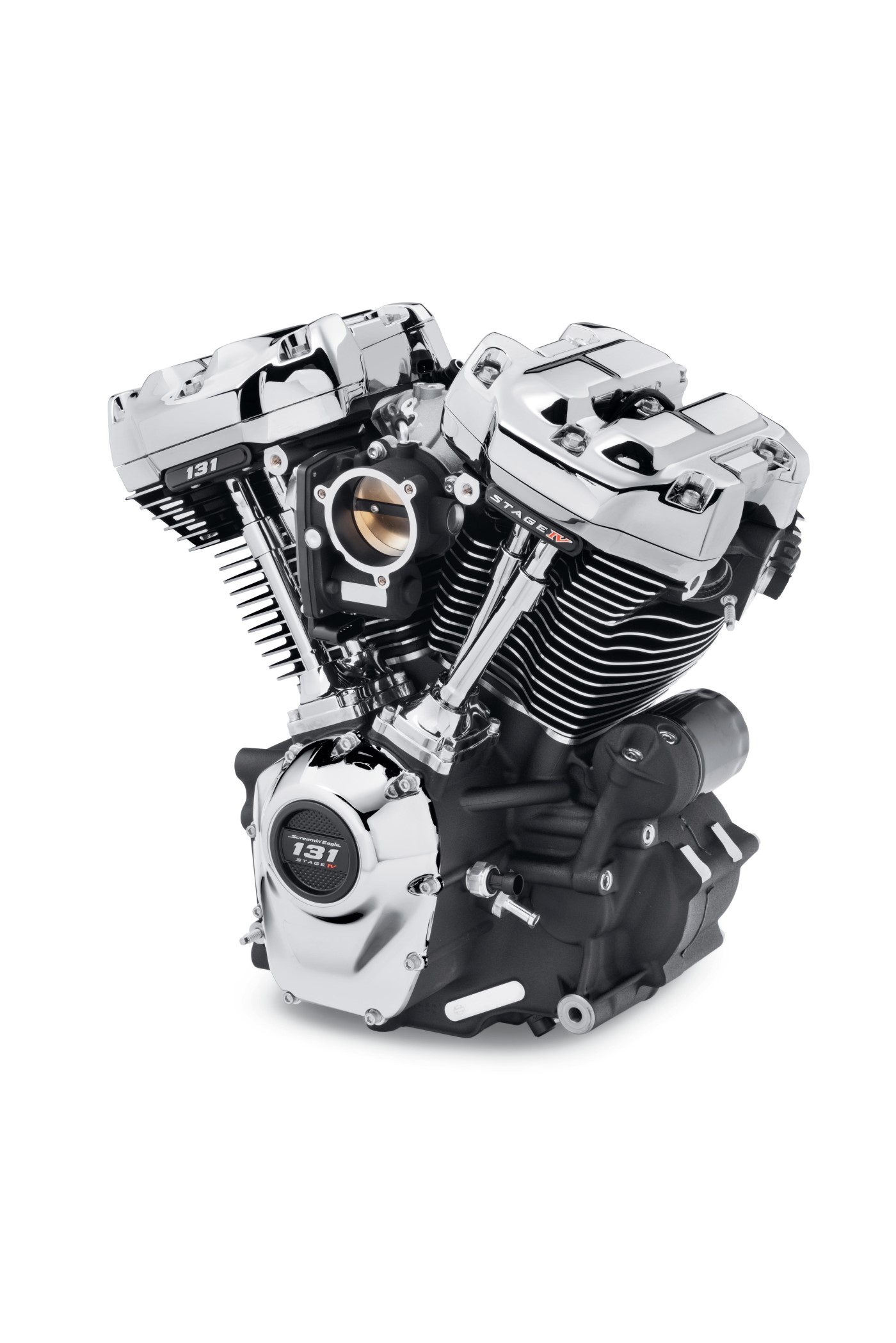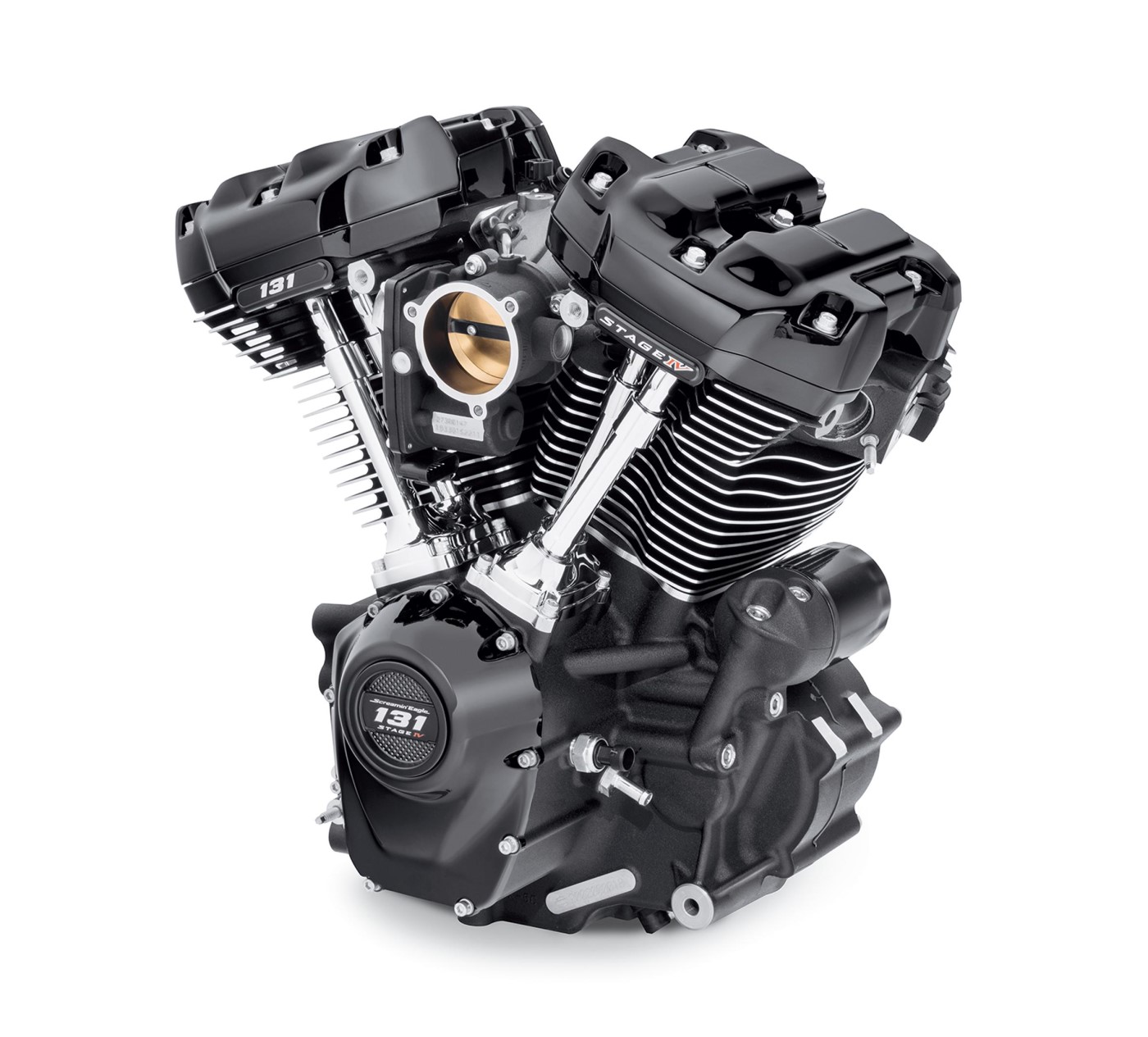 This street-ready performance engine features H-D's finest Screamin' Eagle® components:
·       The Screamin' Eagle 131 engine combines the 4.5-inch stroke of the Milwaukee-Eight 114 engine with new 4.31-inch bore cylinders with a patent-protected design.
·       Milwaukee-Eight Extreme Ported four-valve cylinder heads are CNC-ported and fitted with valves 1mm larger in diameter than the previous generation to enhance air/fuel flow and velocity and feature fully machined combustion chambers shaped to optimize combustion efficiency.
·       The engine is completed with a high-lift SE8-517 camshaft and high-performance cam bearing, high-compression (10.7:1) forged pistons, a 64mm throttle body and intake manifold, and high-flow (5.5-grams per second) fuel injectors. 
It's a combination that produces 135 ft-lb of torque and 124 HP at the rear wheel when paired with Screamin' Eagle® Street Cannon mufflers.
Each Screamin' Eagle 131 engine is detailed with 131 Stage IV badging on the cylinder heads and timer cover. The engine is available in a choice of two finish treatments to match original motorcycle styling or a custom direction – Black and Chrome or Black and Gloss Black.
The Screamin' Eagle 131 engine is eligible for Custom Coverage™ Extended Limited Warranty to run concurrent with the remainder of the motorcycle's factory 24-month manufacturer's warranty. The engine must be purchased and installed by an authorized H-D Dealer within 60 days of vehicle purchase to qualify for the Custom Coverage and is otherwise backed by a 12-month factory limited warranty when installed by an authorized H-D Dealer.
The Screamin' Eagle Milwaukee-Eight 131 Crate Engine ($6,195 oil cooled, $6,395 Twin-Cooled) fits 2017-later model Harley-Davidson Touring motorcycles originally equipped with either a Milwaukee-Eight Oil-Cooled or Twin-Cooled engine and select 2018-later Softail motorcycles. The Screamin' Eagle 131 engine does not fit Trike models. '17-'19 models require separate purchase of High-Capacity Oil Pump P/N 62400248. 17-'18 models require separate purchase of Screamin' Eagle High-Capacity Clutch Plate Kit P/N 37000258. All models require additional purchase of ECM recalibration with Screamin' Eagle Pro Street Tuner for proper installation. See an authorized Harley-Davidson® dealer for fitment details.
Complete fitment information can also be found on 
H-D.com
.
*The Screamin' Eagle 131 Performance Crate Engine complies with noise and emissions standards in all U.S. states other than California on 2017-later Touring Models and select 2018-later Softail Models. Replacement engines must be re-fitted with emission control devices and systems appropriate for the vehicle model and model year in order to ensure emissions compliance.  Replacement engines are legal for use on public roads only when installed in select specified and compatible models. Street-compliant statements may not apply to markets outside the United States. Not eligible for 12-month factory limited warranty when installed in models other than those specified.  Please see the Parts and Accessories warranty statement and your H-D dealer for more information.  The prices provided are the Manufacturer's Suggested Retail Prices. Prices exclude taxes and additional dealer charges, if any, and are subject to change. Actual dealer prices may vary.
About Harley-Davidson 
Harley-Davidson, Inc. is the parent company of Harley-Davidson Motor Company and Harley-Davidson Financial Services. Our vision: 
Building our legend and leading our industry through innovation, evolution and emotion.
 Our mission: 
More than building machines, we stand for the timeless pursuit of adventure. Freedom for the soul. 
Since 1903, Harley-Davidson has defined motorcycle culture with an expanding range of leading-edge, distinctive and customizable motorcycles in addition to riding experiences and exceptional motorcycle accessories, riding gear and apparel. Harley-Davidson Financial Services provides financing, insurance and other programs to help get Harley-Davidson riders on the road. Learn more at 
www.harley-davidson.com
.