2022 G.I. Enthusiast Collection Celebrates Service of U.S. Armed Forces Members
MILWAUKEE (June 21, 2022) – Harley-Davidson today introduced its new 
Enthusiast Collection
, an ongoing series of Harley-Davidson® motorcycles featuring special-edition paint created to celebrate the unique backgrounds and special interests of riders within the Harley-Davidson community. Each Enthusiast Collection design will be launched annually, available in limited quantities across a curated selection of motorcycle models.
"The Enthusiast Collection motorcycles are inspired by Harley-Davidson riders and their unique stories," explained Jochen Zeitz, Chairman, President and CEO Harley-Davidson. "Harley-Davidson is proud to launch this program with the G.I. Enthusiast Collection, which honors the legacy of Harley-Davidson riders who have served or actively serve in the U.S. Armed Forces."
To commemorate the launch, two U.S. veterans, Gary Wetzel, and Brian "Amarok" Critton, will be awarded G.I. Enthusiast Collection models. Wetzel is a Medal of Honor recipient for his heroic actions in the Vietnam War after his U.S. Army helicopter was shot down and came under heavy enemy fire. Severely wounded, he continued to fight back and help other injured soldiers. He is an avid Harley-Davidson rider and veteran issues activist. Critton served for a decade in the U.S. Army, including a tour of duty in Iraq, and now is active with veterans service organizations like Wounded Warrior Project® (WWP). In March, he was riding a Harley-Davidson motorcycle to a Muay Thai meeting in Jacksonville designed to help combat veterans deal with PTSD when he saw smoke billowing from a vehicle involved in a three-vehicle accident that happened moments earlier. His instincts turned into action while others watched as he pulled a woman from the burning car. These two Harley-Davidson riders exemplify the spirit of Harley-Davidson Enthusiasts.
2022 Enthusiast Collection Features
The G.I. Enthusiast Collection is draped in stunning Mineral Green Denim Deluxe paint, an all-new color created specifically for this collection, and completed with service-inspired graphics. The G.I. Enthusiast Collection is available only as factory-installed for the Pan America™ 1250 Special and Tri Glide® Ultra models, in limited quantities primarily for the U.S. market.
"The new Mineral Green Denim Deluxe paint pays homage to the Olive Drab paint used on Harley-Davidson WLA models," said Brad Richards, Harley-Davidson Vice President of Design. "This color features a metallic effect resulting in a subtle gold highlight, allowing the color travel to be more dramatic and show off the shape of the surfacing.
"The tank graphic celebrates the iconic white five-point star, which was used during WWII on military vehicles," adds Richards. "The tank graphic also features a stenciled 'H-D' and a location of Milwaukee, Wisconsin abbreviated, inspired from the spec tags found on government-issued military equipment. The stenciled approach is a treatment often found on military vehicles as lettering was frequently done in the field. Here we're calling out the birthplace of the Harley-Davidson Motor Company and the original WLA model."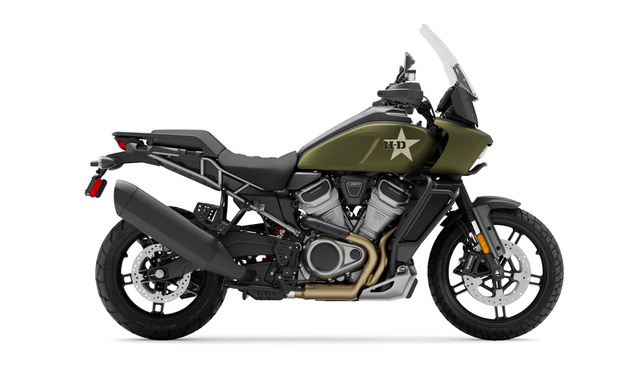 Pan America™ 1250 Special G.I. (Enthusiast Collection)
A rugged, powerful, technologically advanced motorcycle powered by the liquid-cooled V-Twin Revolution® Max 1250 engine, the Pan America model is designed from the ground up to inspire rider confidence and fuel the spirit of adventure on and off-road. Since its launch in February 2021, the Pan America 1250 Special model is the #1 selling adventure touring motorcycle in North America and was named Best Adventure Bike and Motorcycle of the Year by 
Motorcycle.com
. The Pan America 1250 Special G.I. model will have a U.S. MSRP of $20,799.
Mineral Green Denim Deluxe paint
Enthusiast Collection logo on front of fairing
White Star with H-D graphic on both sides of the fuel tank
Mechanical features identical to Pan America 1250 Special model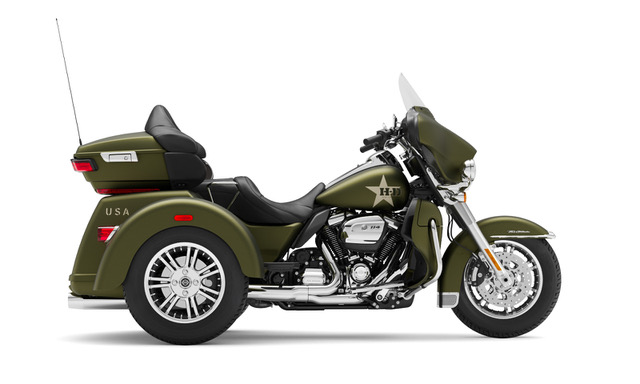 Tri Glide® Ultra G.I. (Enthusiast Collection)
A long-haul American touring trike, the Tri Glide® Ultra model is designed to go the distance with comfort, torque and style. Features include Tomahawk™ custom wheels, premium Boom!™ Box GTS infotainment system, trunk and King Tour-Pak® luggage carrier, Daymaker® LED headlamp, standard Cornering Rider Safety Enhancements by Harley-Davidson and the Twin Cooled™ Milwaukee-Eight® 114 engine. The G.I. Enthusiast Collection Tri Glide Ultra model will have a U.S. MSRP of $38,099
Mineral Green Denim Deluxe paint
Special graphics
Enthusiast Collection and Harley-Davidson on rear of Tour Pak luggage carrier
White Star with H-D graphic on tank sides
White Star on trunk door
Mechanical features identical to Tri Glide Ultra model
About Harley-Davidson 
Harley-Davidson, Inc. is the parent company of Harley-Davidson Motor Company and Harley-Davidson Financial Services. Our vision: 
Building our legend and leading our industry through innovation, evolution and emotion.
 Our mission: 
More than building machines, we stand for the timeless pursuit of adventure. Freedom for the soul. 
Since 1903, Harley-Davidson has defined motorcycle culture with an expanding range of leading-edge, distinctive and customizable motorcycles in addition to riding experiences and exceptional motorcycle accessories, riding gear and apparel. Harley-Davidson Financial Services provides financing, insurance and other programs to help get Harley-Davidson riders on the road. Learn more at 
www.harley-davidson.com
.