Zippers has always been there to help V-twin riders punch up their rides, and they've been sure to stay current with the latest models from the Factory. Check out this top end kit for 110″ Stage I motors. Your stock heads get massaged, new valves and springs let the air in, and compression is raised with machine work and new pistons.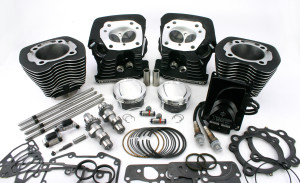 The kits are rounded out with Red Shift cams, Pro-Taper pushrods and an uprated oil bypass valve and cam chain tensioners for a healthier valve train. Built to increase maximum horsepower as well as usable torque, Zippers knows what riders want…and need.
Find out more on Zipper's website, here!