In collaboration with former National Champion Roland Sands, Motul creates an engine oil for V-Twins and Twins of all kinds
Cypress, California – Motul, the leader in synthetic oil technology, announced today the TWIN line – a 100 percent synthetic line of products designed to achieve a new level of performance and protection for V-Twins and twins of all kinds. Developed specifically for V-Twins, Café Racers and cruisers found on the canyon roads and highways of North America, the TWIN line will be made in the USA with USA-sourced raw materials.
"North America has the largest population of Twins in the world – nearly one out of every two bikes are powered by a twin engine," said Guillaume Pailleret, President of Motul USA. "We considered the growing number of vintage and classic bikes that are being restored and modified, and decided it was time for us to develop a product to support these riders. The Motul TWIN line of products utilizes all of our expertise of ester-based synthetic oils and adapts it for use in modern and vintage twin-cylinder engines."
Motul TWIN line products and features:
Motul TWIN 20w50 engine oil is designed for high-performance street motorcycles, using a motorcycle-specific additive system which is developed to withstand extreme pressure and high heat and results in exceptional wear and thermal protection – even under extreme conditions. It is also compatible with all catalytic converters and oxygen sensors.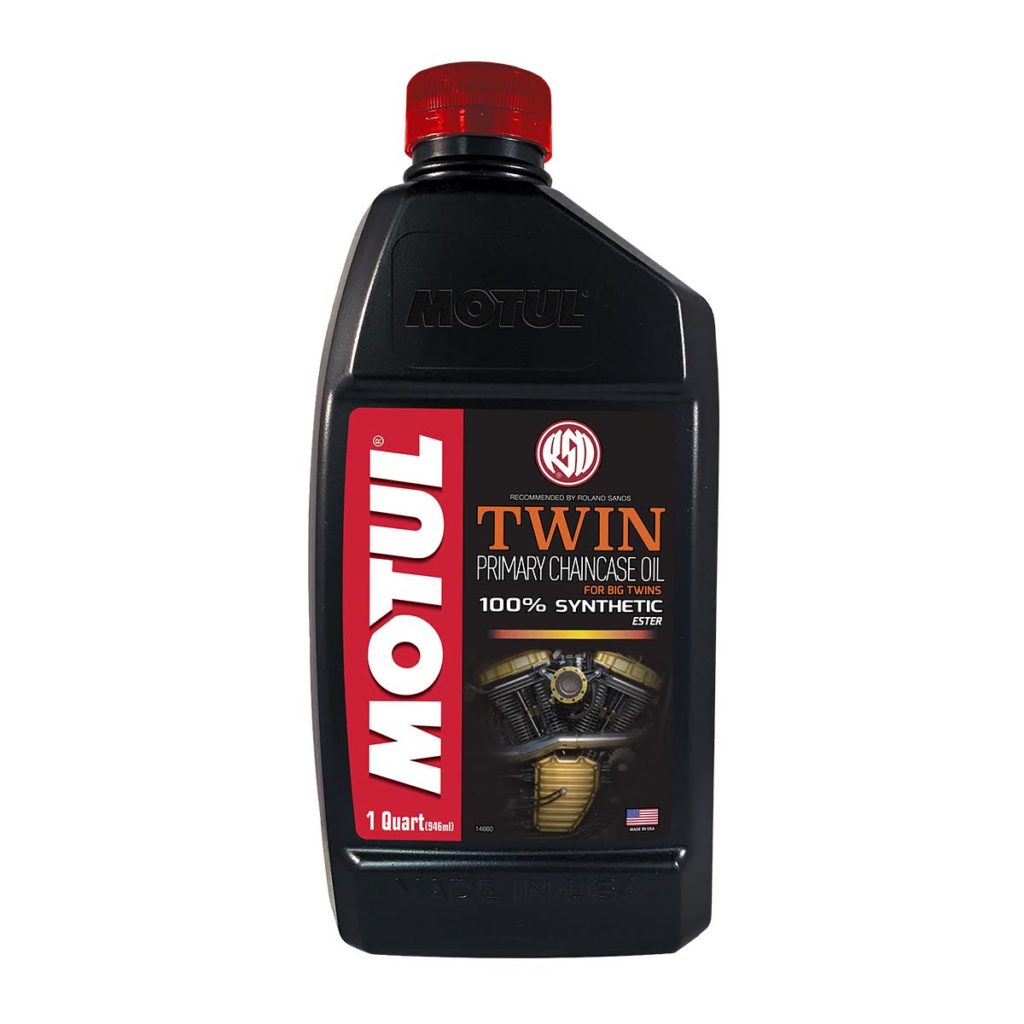 Motul TWIN 75w90 Gear Oil is a super heat-stable GL-5 transmission oil perfect for 4-speed, 5-speed and 6-speed transmission and gearboxes. Designed to go the distance required by modern maintenance schedules, this gear oil delivers increased protection for gearbox components and exceptionally smooth shifting. Due to its fully synthetic base oils, it can handle much higher running temperatures when compared to other gear oils.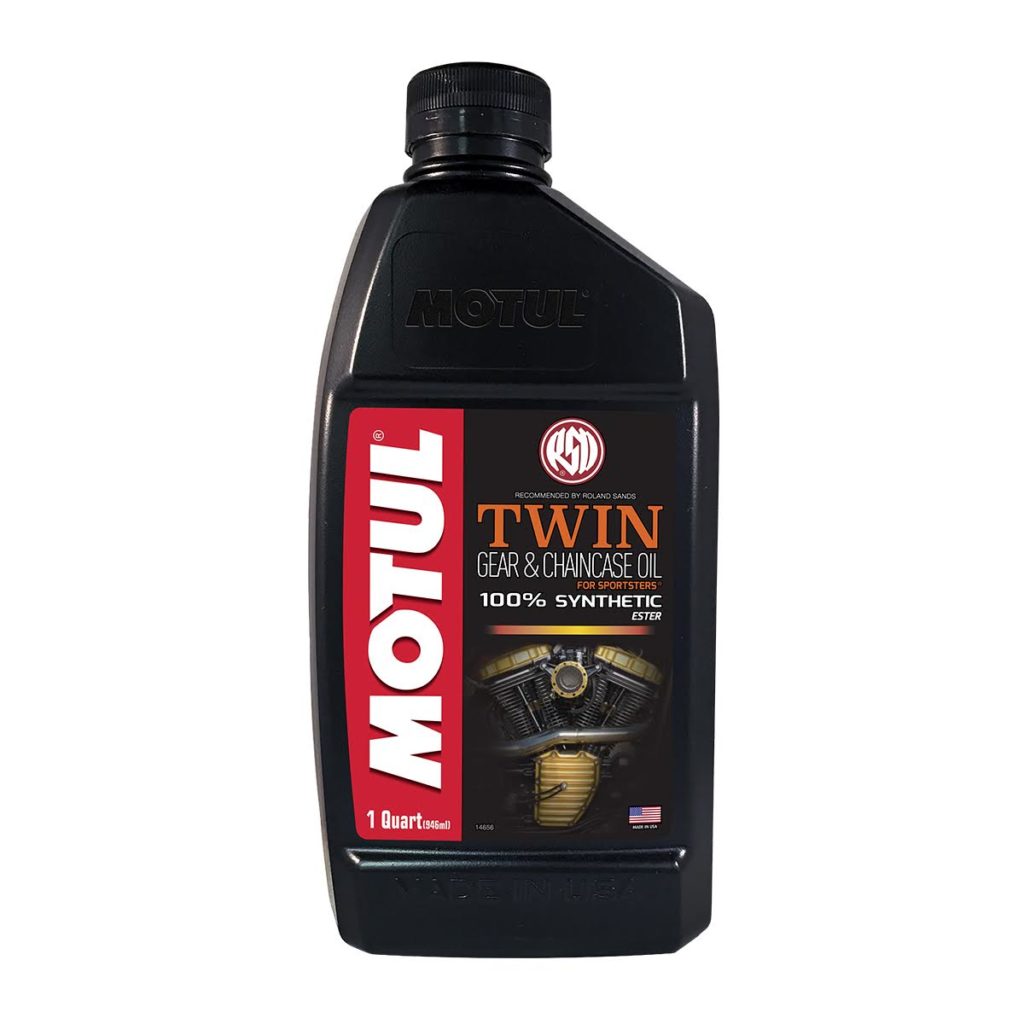 Motul TWIN Primary Chaincase Oil and Motul TWIN Gear & Chaincase oil for Sportsters is 100 percent synthetic with Ester and uses a Motul-developed motorcycle additive system which provides excellent protection for primary drive chains, sprockets, clutches and baskets against wear. These gear oils deliver exceptionally smooth shifting and wet clutch grip even under harsh conditions.
Roland Sands – former AMA road race champion and founder of Roland Sands Design – drew upon decades of experience racing and rebuilding motorcycle engines to assist in the development of the TWIN line.
"The TWIN line has been developed with the custom and high-performance Twin cylinder motorcycle in mind," said Sands.  "We build quite a few twins every year and race high-performance twins on the street and dirt. Putting these machines though high stress environments in varying weather conditions, and using the expertise of Motul, we've developed a great collection of lubricants to meet the needs of both the hard riding and hands-on bike owner."
ABOUT MOTUL
Motul is a world-class French company specialized in the formulation, production and distribution of high-tech engine lubricants (motorcycles, cars and other vehicles) as well as lubricants for industry via its Motultech division.
Motul is also recognized as the specialist in synthetic lubricants. As early as 1971, Motul was the first lubricant manufacturer to pioneer the formulation of a 100% synthetic lubricant for automotive engines, the 300V lubricant, making use of Esters technology and issued from the aeronautical industry.
Throughout the years, Motul has gained experience as an official supplier to many racing teams and manufacturers and collaborates with them to advance motorsports technology.
Motul supports teams in these competitions:  the 24 Hours of Le Mans, FIA World Endurance Championship, AMA Flat Track Pro, MotoAmerica, Super GT, Drift, Pikes Peak, Japanese championship Super Formula, Blancpain Endurance Series, Dakar, Tour Auto, Le Mans Classic, MotoGP, World Superbike, World MX, FIM Endurance World Championship, IOM TT, MOTUL FIM Ice Speedway Gladiators World Championship, Roof of Africa and a score of others.
Media contacts:
Efrain Olivares
Brandware Public Relations (for Motul USA)
Phone: 818 254 7196
E-mail: eolivares@brandwarepr.com
Li-Jay Chu
Communication and Activation Manager
Phone: 909-625-1292 Ext. 200
E-mail: l.chu@us.mutul.com